GaNFast chip is at the heart of smallest charger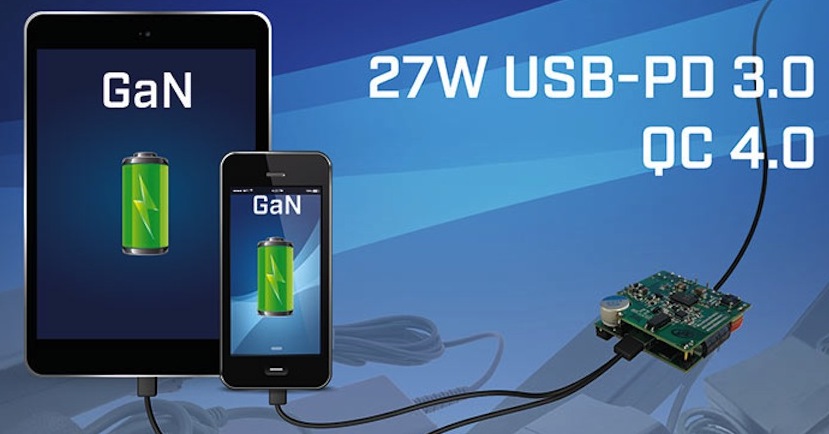 Navitas announces mobile adapter design with five times greater power and twice the power density of standard chargers

Navitas Semiconductor has announced what is believes is the world's smallest, fastest charging mobile adapter enabled by GaNFast power ICs.

The 27W design delivers five times greater power than standard smartphone chargers and is twice the power density, according to the company.
The lightweight reference design has world-wide input voltage capability and a new Type C connector with USB-PD 3.0 and Qualcomm Quick Charge 4.0 features.
"The 27W is another size and speed breakthrough for consumers enabled by GaNFast technology, and with Quick Charge 4.0 compliance, you can decrease the amount of time you spend tethered to an outlet giving your device "˜five for five' - that's five hours of battery life from five minutes of charging" said Stephen Oliver, Navitas' vice president of sales and marketing.
"Now that the high-frequency power eco-system of GaNFast power ICs, new controllers, new magnetics and soft-switching topologies has been established, we'll see a wide-range of fast-charging, high density designs on the market."
Using a Navitas' high-speed, half-bridge GaNFast power IC in the advanced Active Clamp Flyback (ACF) topology, the 27W reference design measures 39 x 37 x 16 mm (uncased) and achieves a power density of 1.2 W/cm3 (19 W/in3) uncased and 0.7 W/cm3 (11 W/in3) assuming a 2.5mm case thickness.
The 27W design (NVE039) will debut at the Applied Power Electronics Conference (APEC) March 5th in San Antonio, Texas.