Automotive lighting: new SSL technologies integration is transforming the industry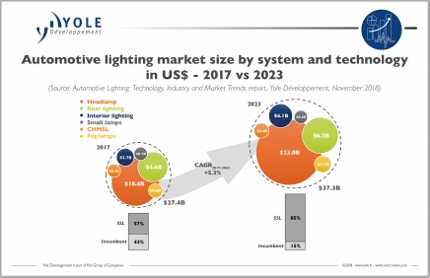 "The growth of the automotive lighting market is driven by natural LED cost erosion coupled with standardization and optimization of LED modules, which result in more vehicles equipped with this technology" asserts Pars Mukish, Business Unit Manager, SSL and Display activities at Yole Développement (Yole).
According to the market research and strategy consulting company, Yole, the automotive lighting market totaled US$27.4 billion in 2017 and is expected to reach US$37.3 billion in 2023 at a 5.3% CAGR during this period. Whereas SSL technologies represented 57% of automotive lighting value in 2017, this share is likely to reach an impressive 85% by 2023.

Analysts from the Photonics, Sensing & Display team release their annual automotive lighting report: the Automotive Lighting: Technology, Industry and Market Trends report - presenting a complete overview of new lighting technologies and AFLS, providing details regarding benefits and drawbacks, integration status, and development roadmaps. Within this update, insights are provided into the future of automotive lighting with analysis on synergies with ADAS.

With the integration of LED technology, lighting has evolved from a basic and functional feature to a distinctive feature with high-value potential in automotive. In addition, LED technology has given manufacturers the opportunity for strong differentiation via lighting design and additional functionalities.

"This is particularly true for exterior lighting, which is profoundly mutating in terms of both technology and supply chain," comments Pierrick Boulay, Technology & Market Analyst part of the SSL & Display team at Yole. And he adds: "The integration of new SSL technologies is transforming automotive front lighting and RCL systems and their applications, offering more design flexibility, increased efficacy, and intelligent functionalities."

LEDs are rapidly gaining popularity as their cost decreases and efficiency, luminance and package size improves. For example, full LED headlamps that first saw commercialization in 2008 on luxury cars like the V10 Audi R8 have since penetrated the compact, or C-segment, vehicle market in 2012, with the new Seat Leon, and are now being commercialized in emerging markets. Nowadays, nearly all car maker and Tier-1 part suppliers have developed full LED-based headlamp systems and such technology is a must-have in the C and also the D – compact executive car – automotive segments.

Yole reports that Laser and OLED sources are still emerging technologies but could also support the development of new functionalities:

• Laser-based headlamps could enable long-distance night vision, up to 600 metres, or be coupled with DMDs to provide high resolution lighting systems, up to 1M pixels.
• OLED RCLs could initiate a design shift from 2D to 3D light sources, made possible by the nature of the OLED device itself…

Automotive lighting devices like headlamps are therefore becoming more and more complex. They require specific know-how and testing equipment to integrate innovative technologies in a reliable manner.

Integrating high current LED with all thermal and reliability considerations, preventing condensation to appear or being able to homologate highly innovative devices are, among other, challenges. Under this context, car makers and suppliers are so facing as it has never happened in the past.

Strong capabilities in optical design and simulation, thermal management, electronics and software design, system integration are key to any headlamp maker who wants to keep the pace of this paradigm change says Joël Thomé, Head of PISEO, part of the Yole Group of Companies and a central hub providing support to several tier 1 and 2 suppliers.

According to Yole's analysts, digital lighting will be the next revolution and is therefore a key area of investigation for the automotive lighting supply chain. And several new technologies/systems have been already investigated, including: DMD/DLP , laser scanners, LCDs , and micro-/mini-LED.

"An interesting fact is that such lighting systems are providing ever more synergy with projection/display systems as their function is evolving toward communication, like projecting information onto the road," comments Martin Vallo, PhD, Technology & Market Analyst, part of the SSL & Display team at Yole. And new parameters now have to be taken into account for related developments, such as resolution, FOV and pixel density.

Connecting the Compound Semiconductor Industry
The 13th CS International conference builds on the strengths of its predecessors, with around 40 leaders from industry and academia delivering presentations that fall within five key themes: Ultrafast Communication; Making Headway with the MicroLED; Taking the Power from Silicon, New Vectors for the VCSEL, and Ultra-wide Bandgap Devices.
Delegates attending these sessions will gain insight into device technology, find out about the current status and the roadmap for the compound semiconductor industry, and discover the latest advances in tools and processes that will drive up fab yields and throughputs.
To discover our sponsorship and exhibition opportunities, contact us at:
Email:
info@csinternational.net
Phone:
+44 (0)24 7671 8970
To register your place as a delegate, visit:
https://csinternational.net/register
Register