Equipping MOCVD tools with dual use capability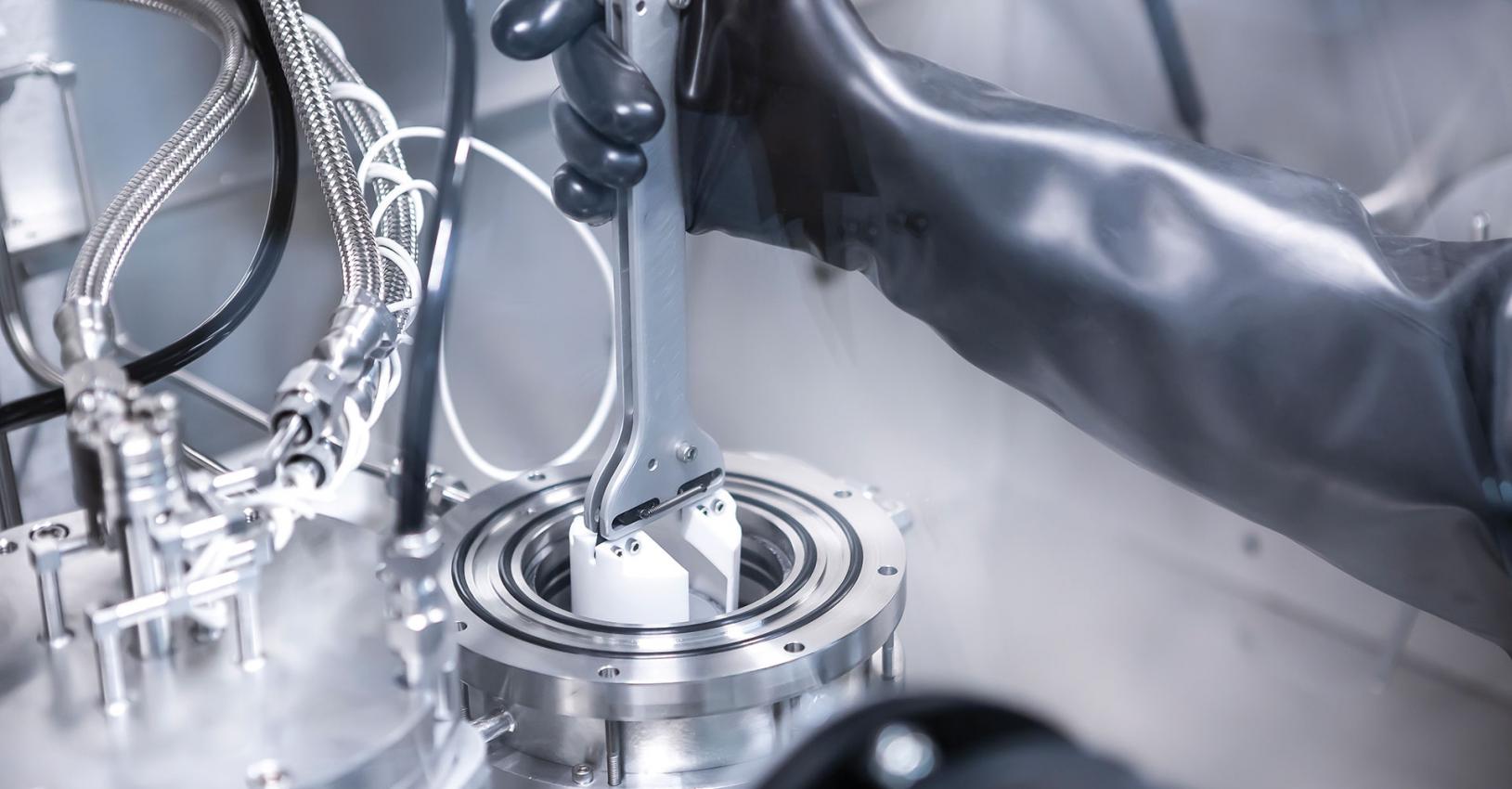 PC-based control and EtherCAT technology from Beckhoff aids Agnitron's modular design of MOCVD tools, which can be used for the growth of gallium oxide and III-nitride epilayers BY ANDREI OSINSKY, DMITRY VOLOVIK AND IVAN YUNCHYK FROM AGNITRON


Gallium oxide (Ga2O3) has tremendous potential. This ultra-wide bandgap material promises to enable a new generation of more efficient, better designed high-voltage switches that can serve in consumer electronics, and also in defence technologies deployed on ships and aircraft.
Before this happens, it is necessary to prove the capability of Ga2O3 and its related devices. To do this, large-scale efforts are underway, such as those run by the US Air Force Office of Scientific Research, and the Multidisciplinary Research Program within the University Research Initiative, which is sponsored by the US Department of Defence. Through these initiatives, researchers in the US are gaining greater insight into how to dope Ga2O3, and the nature of the imperfections in this material.
These programmes involve scientists and engineers at various academic institutions, including Ohio State University, the University of California Santa Barbara, Cornell University, Georgia Institute of Technology, Washington State University and the University of Utah. For all these academic teams, one of the biggest challenges is finding MOCVD tools that can meet the customisation, price and reliability requirements to handle Ga2O3 properly.
When Sriram Krishnamoorthy from the University of Utah faced this challenge, he started to investigate the capability of new systems. This search led him to discover the highly versatile Agilis platform produced by our team at Agnitron of Chanhassen, MN. Our company directs efforts at expanding MOCVD machine modularity, so that this can better serve end users in research and development and at small-to-medium-size production facilities. However, that is by no means all that we do: we also refurbish legacy systems; we have launched an in-sit metrology tool, Agnitemp; and we conduct our own research in ß-Ga2O3 applications.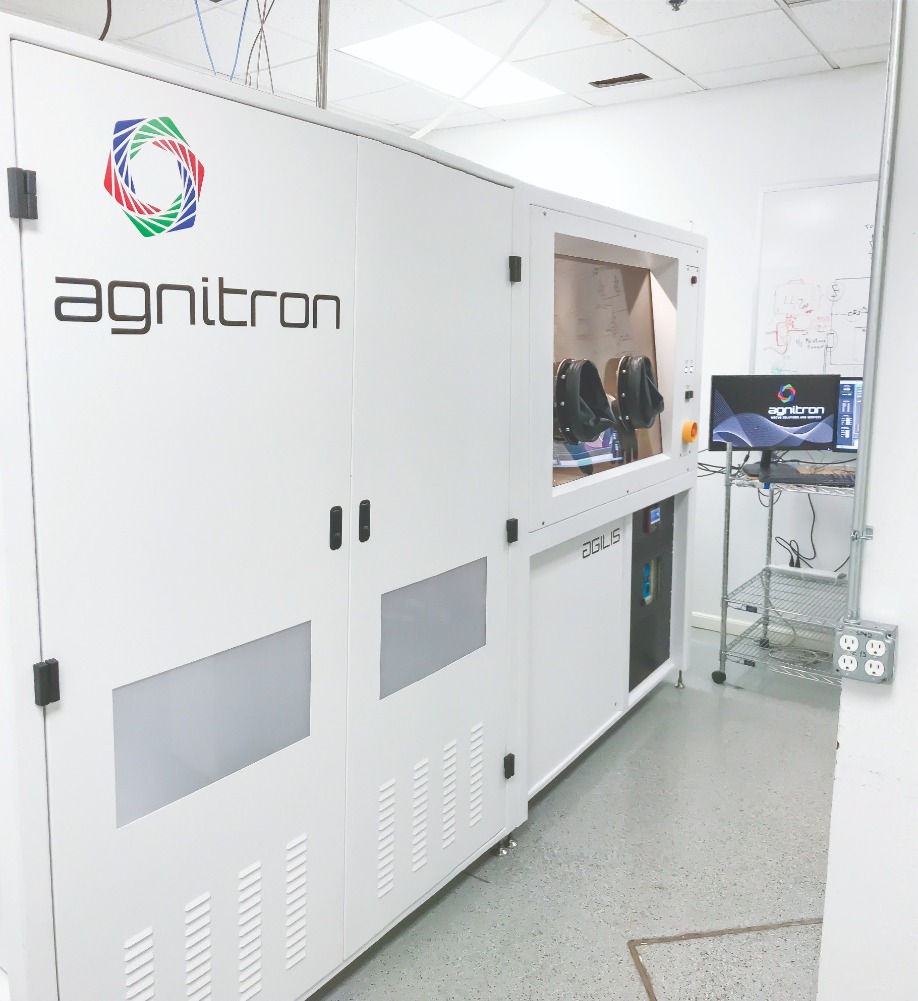 The Agilis machine line from Agnitron provides the optimal MOCVD platform for research and development, as well as smaller production facilities.
Back in 2015, when we started working on the design of the Agilis platform, our goal was to support customisable hardware and control through our Imperium-MOCVD software. Recently, however, this platform has played its part in the release of an unprecedented dual-use machine, which can grow different families of semiconductor material. Minor adjustments that take just a few days enable our dual-use Agilis to switch from growing ß-Ga
2
O
3
to III-nitride materials.
This capability, not a feature on MOCVD machines by other manufacturers, provides incredible value for researchers. If clients require funding for research and development, they can now pursue grants and funding opportunities on more than one material system as a result of the dual use system, increasing their odds of success.
Customising the system
Our experience in refurbishing legacy systems has aided our efforts in the design and construction of a dual-use MOCVD platform. For both tasks, cost and reliability are key priorities, so our design process begins and ends with modularity. From software to individual components, the machines must easily adapt to unique customer requirements, whether that means additional human-machine-interface features, increased input/output count or enhanced processing power. The growth tool must communicate in real-time with existing systems in a lab or production facility. The MOCVD reactors that we offer include developmental reactor design, and showerhead configurations combining high-quality material with rapid growth rates. Supporting our customers as they refine their MOCVD processes plays an essential role in the scaling of their technology, so that it delivers commercial success.
Cost is a major factor when purchasing an MOCVD system, as the price of these tools can easily surpass $1 million. Even equipped with the dual-use capability of the Agilis, this is a significant capital investment for our customers, who typically do not possess the kinds of budgets that giant semiconductor manufacturers do.
Our customers have ever-increasing data acquisition requirements, whether they are undertaking research, or producing epiwafers that must meet high-quality standards and adhere to growth recipes. So it is crucial to add functionality and processing power while avoiding a hike in cost, a dramatic change in system design and any compromise to reliability.
Within the compound semiconductor industry, reliability means that new components retain the deposition recipes of legacy systems, while providing greater dependability. These attributes are invaluable, given that a customer may have devoted years of development work and millions of dollars to define processes. They want a new system that can be programmed to maintain the semiconductor recipe exactly, with no unplanned downtime.
We have strived hard to provide this level of service. It's not easy – there was a time when we encountered reliability issues associated with a previous vendor's automation and control systems. Those issues were so serious that we were on the verge of losing customers. But that is now completely resolved, thanks to our switch to a new supplier, Beckhoff Automation.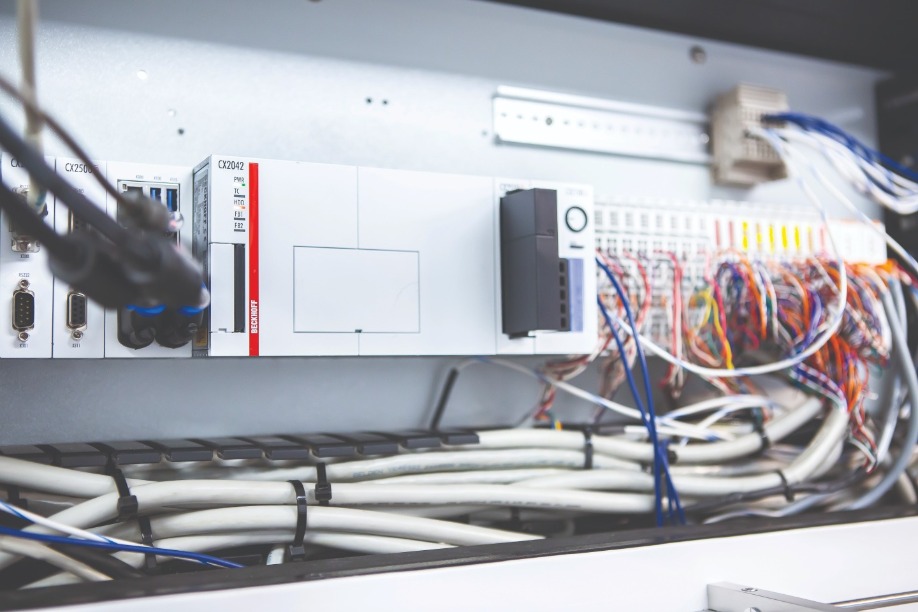 For production intensive applications, Agnitron implements the many-core CX2042 Embedded PC from Beckhoff, which boasts a quad-core, 2.2 GHz Intel Xeon processor with four cores, with a 1 terabyte solid-state drive.
Modular hardware
When we were under tremendous pressure to find a reliable, open solution, our experts visited the US headquarters of Beckhoff in nearby Savage, MN. In Beckhoff, we found a partner with a shared philosophy, with regard to innovation through flexible technologies. We were delighted to work with them, and assured by their free technical support to our engineers, both over the phone and in person. Initially, this set our mind at rest. Now, however, it is hardly ever required, because our engineers have grown so familiar with Beckhoff hardware and software.
Many machines within the compound semiconductor industry still use separate programmable logic controllers and PCs. In our view, though, it is far better to use PC-based controllers, an approach that gives us the edge over our peers.
With modularity in mind, we offer two different variants for the Agilis system: the Beckhoff CX2042 Embedded PC with a quad-core, 2.2 GHz Intel Xeon processor; and the Beckhoff CX2040 Embedded PC with a quad-core, 2.1 GHz Intel Core i7 processor. The CX2040 configuration meets the needs of research and development customers, and the CX2042-based hardware is better suited to production. That's because our growing clientele in the production market require higher RAM and processing speed. The CX2042, which features a Xeon processor and a 1 terabyte solid-state drive, delivers this, providing the optimal controller for round-the-clock production environments. It allows the Imperium software and SQL database to run on the same hardware, thereby supporting more complex operations, with greater data collection, plus the metrology requirements of Agnitemp.
Preserving the recipe
Our Imperium control software takes full advantage of TwinCAT 3 automation software from Beckhoff and the real-time Windows kernel. The TwinCAT real-time kernel executes the time-critical diagnostic, safety and process control tasks, with each task assigned to different cores of a multi-core Intel Xeon processor. These tasks continue to execute even if the Imperium software is closed by the user or interrupted for any reason. Mirroring a typical hardware programmable logic control system, the Imperium process control recipes and execution of routines run outside the Imperium software itself, and are controlled by the TwinCAT real-time kernel. By fully utilising the speed, reliability, virtualisation and multi-core capabilities of the modern Intel processors, the system operates at unprecedented real-time task cycle times and delivers an exceptional level of performance. For example, Imperium production recipes have repeatably performed steps as short as 10 ms in length.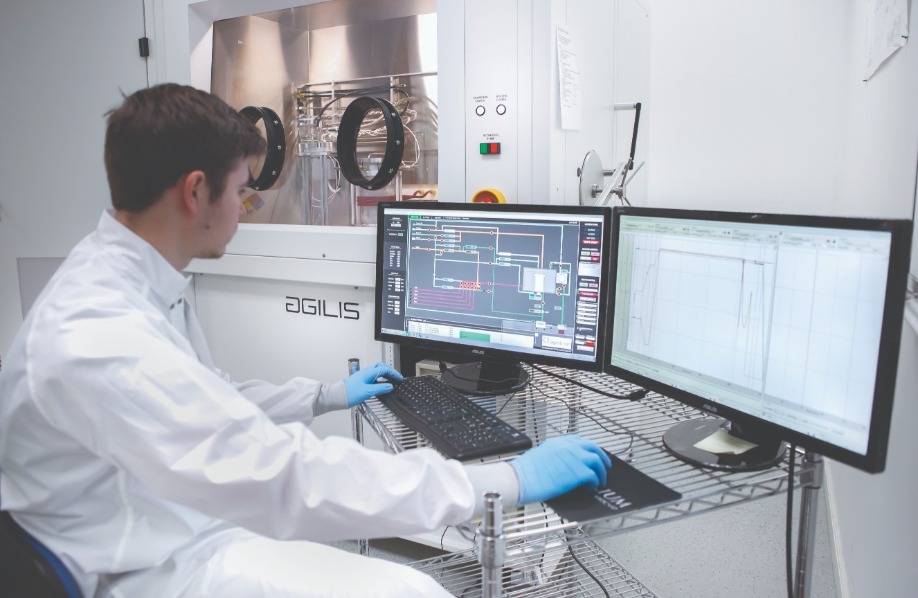 The Imperium-MOCVD software from Agnitron was built with TwinCAT 3 automation software from Beckhoff, and relies on the ability to program the machine logic in C# using Microsoft Visual Studio.
Our approach allows us to offer two classes of product. The first is a complete portfolio of original equipment manufacturer MOCVD solutions, designed and manufactured for various materials and processes. The other is a stand-alone upgrade control package, which can be installed on a variety of legacy machines that run outdated, unsupported hardware and software. With combined technologies from ourselves and Beckhoff, the upgraded controls for legacy equipment are able to support both analogue and digital devices simultaneously. In addition, they can provide seamless control software reconfiguration to reflect the upgraded hardware, such as digital mass-flow controllers (MFCs), pressure controllers, pressure transducers and pneumatic valve actuators.
Our engineers, using TwinCAT 3 automation software as the engineering environment and runtime on the Embedded PCs, can write machine control logic in C# using Microsoft Visual Studio while accessing the TwinCAT runtime and input/output system. As a Windows-based device, the Embedded PC also allows them to install the Imperium control software and save data locally. This facilitates machine customisation without developing entirely new code. Note that Imperium was designed with a configurable concept, so that engineers can reconfigure a control software package for a tool through a series of menus without the need to reprogram anything. This capability stems from the modularity of Beckhoff products.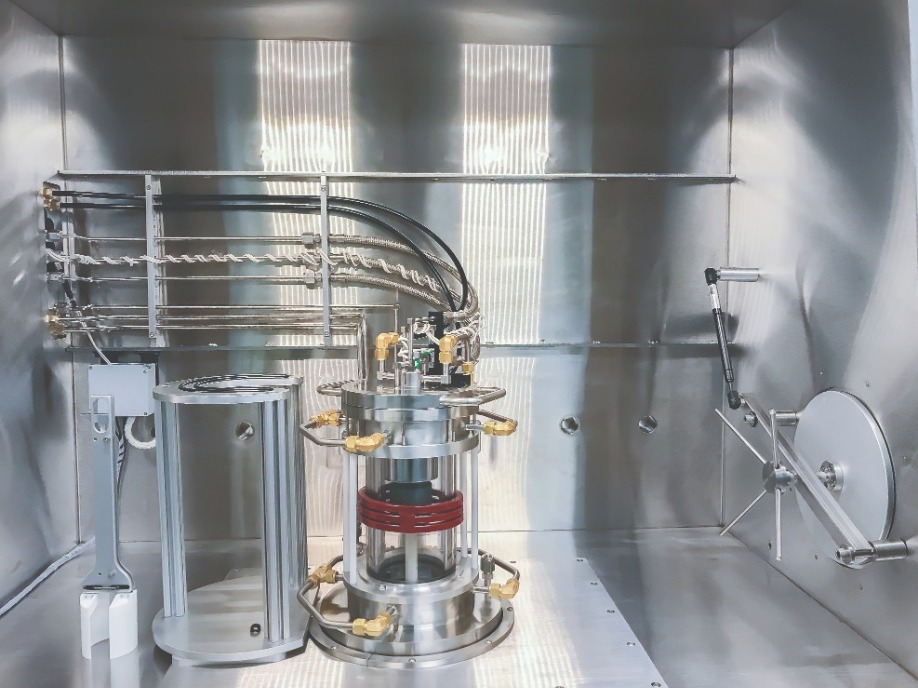 The Agilis platform offers a turnkey solution for R&D labs and small to medium-size production facilities. Agnitron also provides retrofit and refurbishment services as it has done since the company was founded in 2008.
Networking capabilities
The real-time networking capability of EtherCAT industrial Ethernet technology provides further benefits for the Agilis platform. High-density EL3318 EtherCAT Terminals connect Agilis to eight different thermocouples per terminal. This is a major benefit when working with ß-Ga2O3 and other complex semiconductor materials, as it is a challenge to optimise the temperature profile in the growth chamber.
A small footprint is possible with the high-density EL3318 EtherCAT Terminals, which can be used alongside 16-channel input/output terminals. That's a major asset, as space is incredibly tight inside control cabinets, especially on smaller R&D systems.
As with TwinCAT 3, using EtherCAT makes it easier to commission units and customise them in the field. Highly valued is its flexibility to connect with legacy DeviceNet equipment: EtherCAT is now the leading semiconductor industry network, and a SEMI standard of today, overtaking DeviceNet, the previously accepted industry-wide standard. The EL6752 DeviceNet Master/Slave Terminal creates a bridge between the Beckhoff controller, the EtherCAT network and DeviceNet field devices in customer facilities.
Using auto configuration capabilities, our engineers can easily connect new and legacy devices over EtherCAT without data loss. For example, it takes them just a few hours to integrate a DeviceNet network using EtherCAT and the TwinCAT development environment. In comparison, this could take a week using technology from a previous vendor.
Our strategic choice of automation and control technology enables us to produce competitively priced modular systems with increased reliability. The Agilis platform also produces films with great attributes. According to Krishnamoorthy, epilayers grown with this tool have the highest mobility and aluminium incorporation, alongside a ground-breaking low-background concentration that is critical for low-doped drift layers for high-voltage power electronics.
What's more, the strengths of the dual-use chamber could extend beyond simply studying either ß-Ga2O3 or III-nitrides. For example, Krishnamoorthy has submitted proposals to explore III-nitride and Ga2O3 integration for very high-voltage vertical device applications. The Agilis platform is a very affordable option for pursuing that type of research.
The Agilis MOCVD system further enables research into gallium oxide and its potential for electronics. In addition, a new dual-use machine provides the unprecedented ability to work with multiple materials with minimal changeover times.
While the dual use helps our customers trim costs, Beckhoff technologies allow us to reinvest savings in R&D. By using one PC-based controller rather than a separate PC and programmable logic controller, we save $10,000 on hardware per Agilis machine, plus a substantial reduction in service contract fees, which are charged by other vendors. In addition, this company allows its TwinCAT 3 engineering software to be freely downloaded from its website.
The benefits associated with Beckhoff technology also transform our refurbishment and retrofit projects, which can include the installation of the CX2040. We don't always take that approach, however – if existing programmable logic controllers are in acceptable working condition, we simply replace legacy PCs with a Beckhoff C5102 rack-mounted Industrial PC (IPC). Whichever route is taken, backward-compatibility of Beckhoff hardware and software ensures that semiconductor growth recipes are reliably maintained. In contrast, when we worked with other vendors, it was not uncommon to plug a decades-old PCI card into a new PC and be faced with a formidable blue screen.
By drawing on the wide and growing range of products in the Beckhoff portfolio, we have the capability to quickly adapt to customer specifications. According to Beckhoff, this is the norm: it finds that its open system architecture aligns well with its customers' unique requirements.
Following ten years of successful innovation, our plan is to continue to create powerful, modular solutions that break new ground for semiconductor research and production. These efforts will continue to involve our collaboration with Beckhoff, which is an outstanding partner for automation and control. As the company continues to innovate, we look forward to incorporating its new technologies in our products, as this will enable us to further customise and enhance our MOCVD systems.

The authors are grateful for the support and
expertise provided by: University of Utah Assistant Professor of Electrical and
Computer Engineering Sriram Krishnamoorthy, Agnitron Equipment Engineer Nazar
Orishchin and Beckhoff Automation Marketing Communications Specialist James
Figy, who also contributed research for this article.