CSconnected: At Critical Mass And Scaling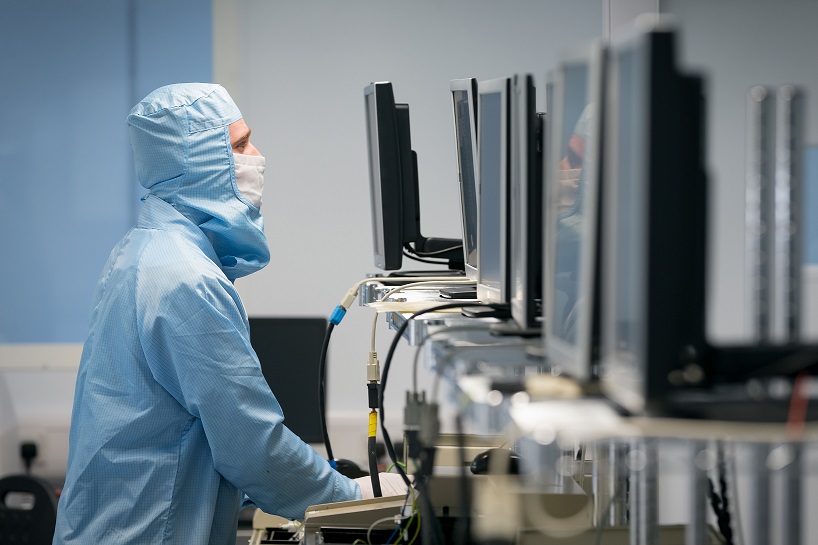 Huge investment in South Wales-based CSconnected will bolster supply chains for worldwide markets.
While the world watches the coronavirus crisis unfold, many in the compound semiconductor industry are also alert to some exciting developments underway in South Wales. In June this year, Compound Semiconductor Cluster, CSconnected, was awarded a mighty £25.4 million in government funds to push the region's home-grown technologies into the global marketplace and increase international trade in key sectors such as 5G and autonomous vehicles.
As Drew Nelson, chief executive and president of Wales-based epiwafer manufacturer, IQE, tells Compound Semiconductor: "An important aspect of this is to seek partnerships with other regions around the world and make contact with many other companies that may need to access [our technologies] and take part in this cluster."
The funds will also be used to bolster the region's existing supply chain so that products can be developed from concept to production, without outsourcing. According to Drew, the project is in its very early stages, but without a doubt, products for future technologies will be delivered.
"For example we will be working on scaling up compound semiconductor production to include compound semiconductors on silicon for, say, 5G applications, and are looking towards getting some of these technologies onto a 200 mm platform - this is a quite a big goal," he highlights.
And as fellow cluster member, Wyn Meredith, Director of the Compound Semiconductor Centre, a joint IQE-Cardiff University venture to develop and prototype compound semiconductor materials, says: "We've been really focused on establishing a coordinated supply chain, in terms of materials, device fabrication and packaging, as well as capital equipment."
"We will now use this to build high-value added manufacturing," he adds. "So we'll be encouraging companies to settle in South Wales, help us to extend our supply chain and scale up compound semiconductor product manufacturing here."
Building a supply chain
Since its inception in 2015, CSconnected has rapidly expanded to include a host of academic, industry and government partners that now constitute the largest concentration of compound semiconductor activity in the UK. As well as IQE, members include the Universities of Cardiff and Swansea , etch and deposition process equipment supplier, SPTS, compound semiconductor and silicon foundry, Newport Wafer Fab, and chip maker, Microsemi.
Other key organisations include the Compound Semiconductor Centre, the Compound Semiconductor Applications Catapult, which focuses on research and product development, as well as UK-Welsh government investor, the Cardiff Capital Region City Deal, and Welsh Government.
To date, the cluster has secured more than £600 million in investments, provided around 1480 jobs, and accounted for at least £460 million of sales - with more than 90% relating to overseas exports, mostly EU destinations. And while all industry players occupy key places within the UK compound semiconductor supply chain - for example Newport Wafer Fab is the UK's only silicon foundry, producing 200 mm wafers for silicon and compound semiconductors - industry can expect more players to join soon.
Building the Institute for Compound Semiconductors in Cardiff, Wales.

The latest £25.4 million funds come from the UK Research and Innovation's Strength in Places Fund, and amount to more than half the £43.7 million project cost, with remaining cash provided by CSconnected members. The fund is designed to boost local growth, and current estimates indicate the project will create an extra 1160 more jobs in the region come 2025.
At a time when UK industry has been left reeling from coronavirus, not to mention the anticipated effects of Brexit, these figures make welcome reading. As Meredith puts it: "We're in a really interesting situation here - when most industries are thinking about how to get their staff off furlough and back onto permanent contracts so they can re-start manufacturing, we're thinking about expansion."
The project is scheduled to start in October this year, so as Drew puts it, 'precise details are still being worked out'. However, industrial cluster members are poised to lead four key programmes within the project.
Newport Wafer Fab, accompanied by Rockley Photonics, will head up the first programme aimed at developing foundry services for sensing and telecommunications. Meanwhile IQE will lead the second programme that will scale up GaAs-based photonics, including photovoltaics and pixel-based architectures, on large wafer formats. SPTS will head up the third programme that aims to expand capital equipment, including reactors, and in the final programme, Microchip is set to build a power electronics packaging pilot line.
"This is really about upskilling our supply chains and not leaving our infrastructure behind as we grow," says Meredith.
"If we look at SPTS for example, the company has always prided itself on using local supply chains in South Wales," he adds. "This project can now help to grow these supply chains, many of which include SMEs or mid-size businesses, so SPTS can use and support these businesses rather than having to look further afield."
Indeed, as Meredith also points out, a raft of academic-industry innovation work packages from the cluster are already underway and the businesses that take part will be able to feed into, and grow, future supply chains. Key UK-based industrial partners include measurement and motion control systems developer Renishaw, RF and power semiconductor player, Teledyne E2V, and steel-maker Tata Steel Europe.
"We've captured a lot of business here, and many of these guys don't normally play in the Compound Semiconductor space," says Meredith. "But this is deliberate - we are now engaging with companies at the far-ends of the supply chain, that are becoming really enlightened to what we are doing."
So what happens now? Clearly a critical mass of compound semiconductor activity is firmly in place in South Wales, and the latest funds will support more economic growth. As Meredith puts it: "We're ahead of the game but if you look at the value that is extracted out of our existing supply chains here, it's miniscule compared to what we could be doing - our Strength in Places funds will provide a catalyst for this."
And as the Compound Semiconductor Centre Director points out, more industrial expansion is coming soon.
"Who knows what post-COVID economic conditions are going to bring, and if there is a prolonged economic recession, research, development and innovation budgets are going to come under a lot of pressure," says Meredith. "But we've now got ours ring-fenced for the next four and a half years, so can effectively proceed as we wanted to do pre-COVID."
CS International to return to Brussels – bigger and better than ever!

The leading global compound semiconductor conference and exhibition will once again bring together key players from across the value chain for two-days of strategic technical sessions, dynamic talks and unrivalled networking opportunities.

Join us face-to-face on 18-19 April 2023
View the agenda.
3 for the price of 1. Register your place and gain complementary access to TWO FURTHER industry leading conferences: PIC International and Power Electronics International.
Email info@csinternational.net or call +44 (0)24 7671 8970 for more details.