Directional management of perovskite defects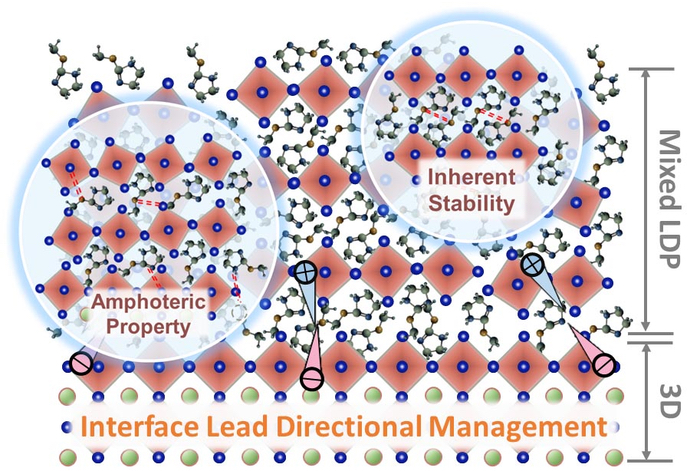 Chinese team passivate perovskite solar cell interface defects using new-type of low-dimensional perovskite
Perovskite solar cells show great application prospects. However, a large number of unfavourable defects, growing up after or during annealing process due to their ionic nature, lead to sites of nonradiative recombination and accelerate degradation of device efficiency and stability.
A research team lead by Pan Xu from Hefei Institutes of Physical Science (HFIPS), cooperated with Zheng Haiying from Anhui University, achieved high-efficiency perovskite solar cells by passivating interface defects using new-type low-dimensional perovskite.The work been published on ACS Energy Letters.
This team passivated and stabilised the perovskite light absorbing layer with amphoteric heterocyclic cation, and designed a new-type low-dimensional perovskite passivation layer. This novel perovskite could deal with different surface-terminating ends at the interface and show multiple passivation effects owing to its amphoteric nature and strong molecular interaction.
According to the theoretical calculation of defect formation energy, the formation of lead-based defect was effectively inhibited. The modified perovskite solar cells displayed reduced defect density and lowered nonradiative recombination, thereby leading to the power conversion efficiency exceeded 24 percent. Besides, the long-term stability against humidity, high temperature and light was improved.
This work indicated a direction for the directional management of interface Pb-based defects during the practical application of perovskite photovoltaic devices.
'Mixed-Phase Low-Dimensional Perovskite-Assisted Interfacial Lead Directional Management for Stable Perovskite Solar Cells with Efficiency over 24 percent' by
Guozhen Liu et al; ACS Energy Letters 2021
Connecting the Compound Semiconductor Industry
The 13th CS International conference builds on the strengths of its predecessors, with around 40 leaders from industry and academia delivering presentations that fall within five key themes: Ultrafast Communication; Making Headway with the MicroLED; Taking the Power from Silicon, New Vectors for the VCSEL, and Ultra-wide Bandgap Devices.
Delegates attending these sessions will gain insight into device technology, find out about the current status and the roadmap for the compound semiconductor industry, and discover the latest advances in tools and processes that will drive up fab yields and throughputs.
To discover our sponsorship and exhibition opportunities, contact us at:
Email:
info@csinternational.net
Phone:
+44 (0)24 7671 8970
To register your place as a delegate, visit:
https://csinternational.net/register
Register