Cepton picks Ams Osram lasers for mass market LiDAR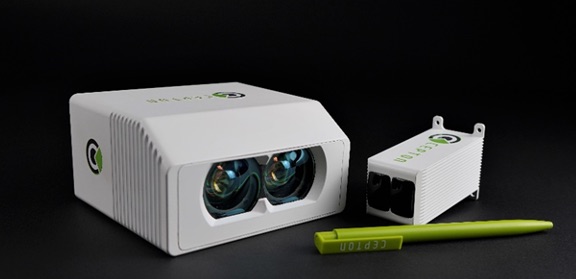 Cepton to use Ams Osram 905nm lasers in ADAS across multiple vehicle models
Ams Osram is expanding its partnership with Cepton Technologies, a LiDAR company, to provide LiDAR solutions in ADAS, autonomous vehicles and more.

Cepton's recent production win with a top five automotive OEM is a major milestone due to its volume. With this deal, Cepton is expected to be the first LiDAR company to provide mass-market LiDAR solutions that feature Ams Osram's 905nm lasers in ADAS across multiple vehicle models, not just luxury vehicles, by 2023.
The lasers feature multi-junction laser technology with three epitaxially-grown emitters stacked on top of each other. They can operate at temperatures up to 125°C.
Cepton CEO and co-founder Jun Pei said, "as we looked for a laser source partner for our mass-market LiDAR solution, Ams Osram's high-performance, compact size and automotive-grade edge-emitting laser provided a prime opportunity. Combined with the eye-safe operation at 905 nm wavelength enabled by Ams Osram, our proprietary MMT (Micro Motion Technology) imaging platform strikes the right balance between performance, cost and reliability, enabling the mainstream adoption of LiDAR in everyday consumer vehicles."

Ams Osram provides both Edge Emitting Lasers (EELs) and VCSELs. The company introduced the first 905 nm edge-emitting laser to the market. Today, it is the most commonly used wavelength in LiDAR solutions because of its low cost and reliability. The company continues to invest in advancing 905 nm laser technology, making it more efficient and easier to integrate.
"Our 905 nm lasers are some of the most efficient in the market, delivering the long-range measurements needed by autonomous vehicles to operate in any weather condition from rain and snow to fog," said Joerg Strauss, SVP and general manager of Visualisation & Laser at Ams Osram. "We are thrilled to continue our long relationship with Cepton by providing laser technology for its mass-market, scalable, automotive-grade LiDAR sensors. Cepton's end-to-end LiDAR solutions are making our roadways safer by reducing accidents and enabling ADAS. Together, the two companies are helping usher in a new era in the automotive world with autonomous driving."
Connecting the Compound Semiconductor Industry
The 13th CS International conference builds on the strengths of its predecessors, with around 40 leaders from industry and academia delivering presentations that fall within five key themes: Ultrafast Communication; Making Headway with the MicroLED; Taking the Power from Silicon, New Vectors for the VCSEL, and Ultra-wide Bandgap Devices.
Delegates attending these sessions will gain insight into device technology, find out about the current status and the roadmap for the compound semiconductor industry, and discover the latest advances in tools and processes that will drive up fab yields and throughputs.
To discover our sponsorship and exhibition opportunities, contact us at:
Email:
info@csinternational.net
Phone:
+44 (0)24 7671 8970
To register your place as a delegate, visit:
https://csinternational.net/register
Register