How internal polarisation impacts InGaAlN LED performance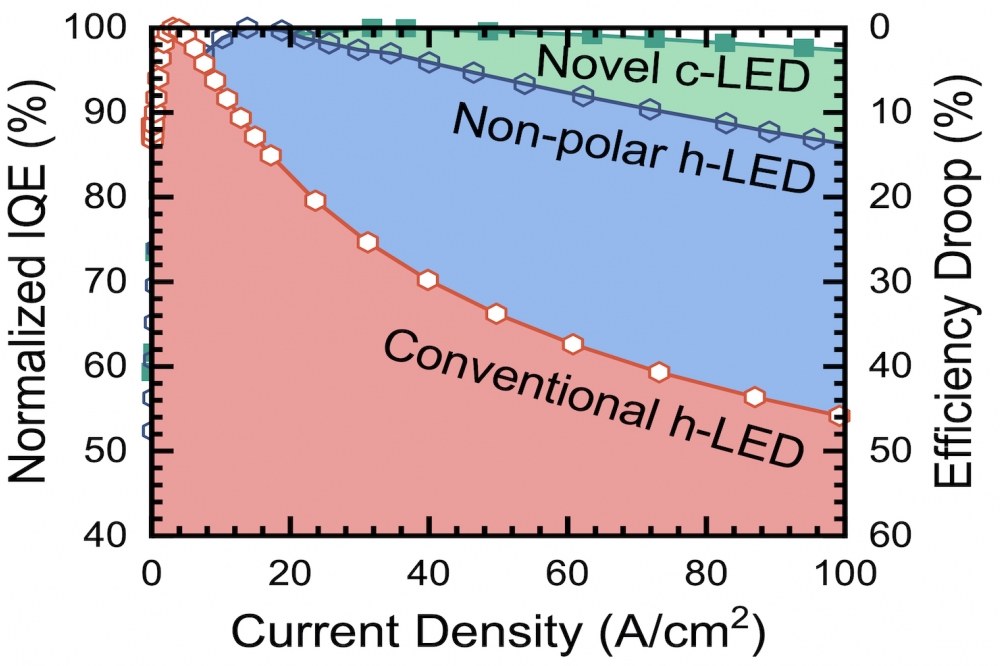 University of Illinois team says that switching to Cubic-phase III-nitride LEDs would overcome efficiency droop

Annually, lighting accounts for 15 percent of global electricity consumption and 5 percent of worldwide greenhouse gas emissions. In the US alone, the transition to solid-state lighting has already reduced lighting-related energy needs and greenhouse gas emissions by approximately 25 percent with respect to non-solid-state lighting (SSL). However, the average household energy consumption for lighting is to triple over the next fifty years due to population growth and an increase in housing size.
And yet, the performance of LED-based SSL is far below its theoretical limit because conventional, hexagonal (h-) InGaAlN multi-quantum well (MQW) LEDs suffer from efficiency rollover under high current density, i.e. efficiency droop. This issue imposes a trade-off between light output power, efficiency, and cost.
In the Journal Applied Physics, Yi-Chia Tsai, Can
Bayram, and Jean-Pierre Leburton at the University of Illionois, have provided a detailed computational analysis on the various factors influencing the internal
 quantum efficiency (IQE) of InGaAlN MQW-based LEDs as a function of designs and crystallographic structures.
Numerous mechanisms, such as Auger recombination, carrier leakage, internal polarisation, and, last but not least, phase-space filling have been proposed to explain the efficiency droop in conventional h-LEDs, yet none of them explains the efficiency droop alone.

The U of I team's analysis shows that the primary factor for IQE degradation and so called 'efficiency droop' is the internal polarisation arising in strained h-LEDs, which either enhances Auger recombination or carrier leakage from the QWs.
As both effects cannot be averted by modifying the device design alone, their work indicates that switching to novel, cubic phase (c-) LEDs would strongly enhance the IQE peak over 80 percent, while quenching the efficiency droop to just a few percent.

Reference
Y.-C. Tsai, C. Bayram, and J.P. Leburton "Interplay between Auger recombination, Carrier Leakage, and Polarization in InGaAlN Multiple-Quantum-Well Light-Emitting Diodes," J. Appl. Phys. 131, 193102 (2022).
Connecting the Compound Semiconductor Industry
The 13th CS International conference builds on the strengths of its predecessors, with around 40 leaders from industry and academia delivering presentations that fall within five key themes: Ultrafast Communication; Making Headway with the MicroLED; Taking the Power from Silicon, New Vectors for the VCSEL, and Ultra-wide Bandgap Devices.
Delegates attending these sessions will gain insight into device technology, find out about the current status and the roadmap for the compound semiconductor industry, and discover the latest advances in tools and processes that will drive up fab yields and throughputs.
To discover our sponsorship and exhibition opportunities, contact us at:
Email:
info@csinternational.net
Phone:
+44 (0)24 7671 8970
To register your place as a delegate, visit:
https://csinternational.net/register
Register