Transphorm and Weltrend partner on GaN SIP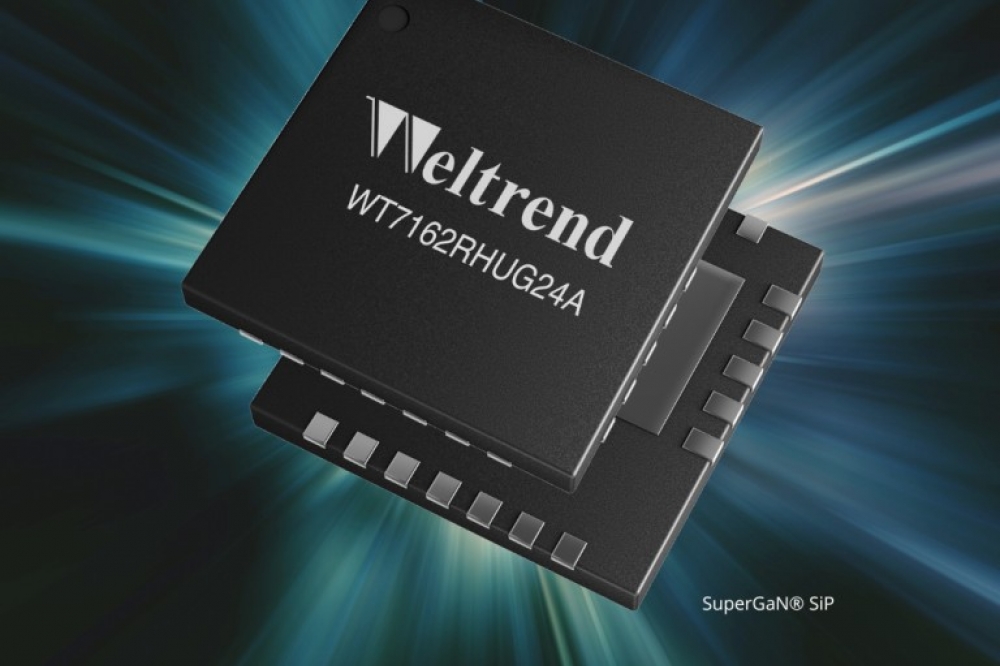 System-in-package offers compact solution for USB-C PD adapters and other low power applications

GaN company Transphorm and Taiwanese fabless chip firm Weltrend Semiconductor have released their first GaN System-in-Package (SiP).

The WT7162RHUG24A SIP integrates Weltrend's WT7162RHSG08 multi-mode flyback PWM controller with Transphorm's 240mΩ, 650V SuperGaN FET.
The SIP is designed for use in 45 to 100 W USB-C PD power adapters charging smartphones, tablets, laptops, and other smart devices. It offers peak power efficiency of greater than 93 percent. Device samples will be available in the second quarter of 2023.
Transphorm will show the Weltrend SiP for the first time at the 2023 Applied Power Electronics Conference (APEC). The companies will also release details on the related WTDB_008 65W USB PD Power Adapter Evaluation Board during the event.
"The WT7162RHUG24A is the industry's first publicly announced SiP using Transphorm GaN. It enables manufacturers to develop a less expensive system solution given fewer components are required and a smaller PCB can be used among other advantages. It also reduces system development time. Effectively, we're removing design barriers for adapter manufacturers," said Tony Lin, president, Weltrend.
"Notably, this product also allows Weltrend to move into a new market. It is the first-ever SiP for our PWM controllers, validating our commitment to supporting high volume growth sectors. And, with the integration of the GaN FET, we've raised the level of performance output."
Primit Parikh, president and COO, Transphorm said: "The adapter fast charger market is a fast growing segment for GaN adoption today. We are gaining market share and continue to innovate, most recently with this GaN SiP, which allows for even easier use of our GaN devices."