Researchers make spray-painted perovskite solar cells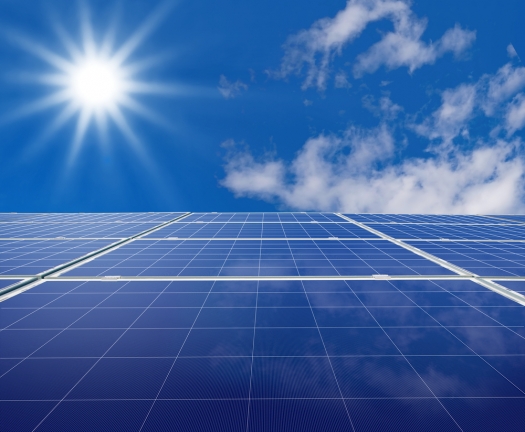 Method could be used for low cost, high volume manufacturing
A team of scientists at the University of Sheffield, UK, claim to be the first to make perovskite solar cells using a spray-painting process "" a discovery they say could help cut the cost of solar electricity.
Perovskite (a calcium titanium oxide mineral with the formula CaTiO3) is a promising new material for solar cells, combining high efficiency with low materials costs. Efficient organometal halide perovskite based photovoltaics were first demonstrated in 2012.
"There is a lot of excitement around perovskite based photovoltaics. Remarkably, this class of material offers the potential to combine the high performance of mature solar cell technologies with the low embedded energy costs of production of organic photovoltaics," said lead researcher David Lidzey.
He added: "The best certified efficiencies from organic solar cells are around 10 per cent. Perovskite cells now have efficiencies of up to 19 per cent. This is not so far behind that of silicon at 25 per cent - the material that dominates the world-wide solar market."
According to the researchers, the spray-painting process wastes very little of the perovskite material and can be scaled to high volume manufacturing "" similar to applying paint to cars and graphic printing. Experts from the University's Department of Physics and Astronomy and Department of Chemical and Biological Engineering have previously used the spray-painting method to produce solar cells using organic semiconductors - but using perovskite is a major step forward.
The perovskite devices created still use similar structures to organic cells. "What we have done is replace the key light absorbing layer - the organic layer - with a spray-painted perovskite. Using a perovskite absorber instead of an organic absorber gives a significant boost in terms of efficiency," said Lidzey.
Connecting the Compound Semiconductor Industry
The 13th CS International conference builds on the strengths of its predecessors, with around 40 leaders from industry and academia delivering presentations that fall within five key themes: Ultrafast Communication; Making Headway with the MicroLED; Taking the Power from Silicon, New Vectors for the VCSEL, and Ultra-wide Bandgap Devices.
Delegates attending these sessions will gain insight into device technology, find out about the current status and the roadmap for the compound semiconductor industry, and discover the latest advances in tools and processes that will drive up fab yields and throughputs.
To discover our sponsorship and exhibition opportunities, contact us at:
Email:
info@csinternational.net
Phone:
+44 (0)24 7671 8970
To register your place as a delegate, visit:
https://csinternational.net/register
Register