Toshiba Launches Improved High-Luminous Efficacy White LEDs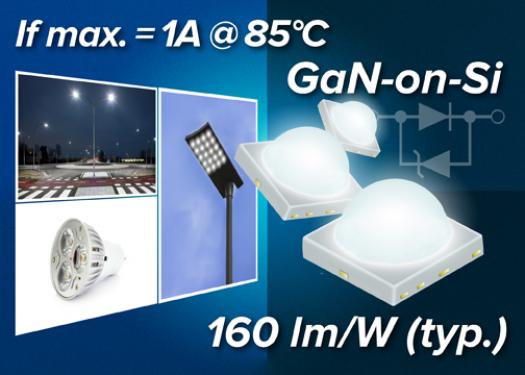 New GaN-on-Si LEDs offer industry-leading luminous flux surpassing 160lm
Toshiba Electronics Europe has launched a new series of high power LEDs for use in a wide variety of residential, commercial and industrial lighting applications. The TL1L4 series offers better performance than the preceding TL1L3 series.
Toshiba state that the new TL1L4 series achieves a high luminous flux that surpasses 160lm at room temperature operation. Under conditions of Ta = 85℃, operating current can be driven to 1A and luminous flux is more than 60% greater than that offered by the preceding TL1L3 series. This contributes to improved luminous efficacy and lower power consumption for LED applications.
Available in nine-colour variations from 2700K to 6500K, the TL1L4 series utilises cost-effective GaN-on-Si wafer technology to create LEDs optimised for both output and energy efficiency.
The devices are housed in a compact 3.5mm x 3.5mm lens package and rated to support an absolute maximum forward current of 1.5A max at Ta<55℃ and Tj<150℃. Hot binning tests for electrical and optical characteristics are conducted at 85℃ and IF=350mA that simulate real-life operating conditions.
Mass production will commence imminently.
www.toshiba.semicon-storage.com