Innovation Keeps Silicon On Top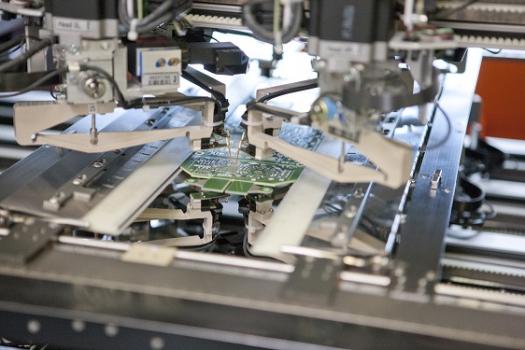 Lux Research forecasts novel circuit design, and more, will sustain silicon's mammoth market share and stunt compound semiconductor growth. Rebecca Pool reports.
Partnerships along the supply chain are proving instrumental to silicon's enduring success [AT&S]
As wide bandgap materials, including SiC and GaN, make inroads to power electronics applications, silicon will hold onto its lion-share of the market, at least for the next decade, report US-based Lux Research analysts.
Thanks to innovations in circuit design, control, as well as module packaging, silicon-based power electronics will sustain a mighty 87% market share - worth some $20 billion - of the power electronics market in 2024.
"In reality silicon is reaching its theoretical limits of performance but through innovations, companies can eke out efficiency improvements, making [silicon-based power electronics] good enough for now," highlights Lux Research analyst, Pallavi Madakasira.
"What this really means is that for most applications, if not all, we are going to see delayed adoption of GaN and SiC in contrast to what [compound semiconductor] players would have hoped for," she adds.
Stretching silicon
Research from Madakasira and colleague, Tiffany Huang, reveals that innovations in circuit design will have, by far, the biggest impact on the efficiency of silicon-based devices.
According to Huang, many start ups, including Ambiq Micro, US, and India-based Ineda, have pioneered integrated circuits that dramatically reduce power consumption in today's silicon chips, in some cases, by almost a factor of ten.
At the same time, established players, such as Texas Instruments, Qualcomm and Maxim Integrated, are working on ultra low power circuit design. And as Huang adds: "All these circuits also promise a small form factor which is good news for Internet of Things applications, as well as mobile devices."
Innovations in control methods are also set to keep silicon semiconductors alive for longer by boosting chip efficiencies and reducing the footprint of chips in power modules.
Huang highlights how myriad US-based industry newcomers, including Cirasys, GridCo and FINsix as well as the likes of ABB, Dialog and Omron, are developing a vast array of advanced control methods for power conversion applications.
For example, University of Texas at Dallas spin-out, Cirasys, uses envelope tracking to optimise power supply voltages and boost silicon chip efficiencies.
Meanwhile MIT graduate-founded, FinSIX, is pioneering power converters that switch at extremely high frequencies to reduce chip footprint and slash switch mode power supply sizes.
Lux Research analysts reviewed ongoing innovations in silicon technology and ranked leading companies on the basis of technical and business execution.
Lastly, electronics manufacturing heavyweights, such as Bosch, Schneider Electric and AT&S are also busy splashing cash and forging partnerships to drive module packaging forward.
As Huang points out, Bosch, for example, has shaved off the size of its IGBTs to maximise air flow and improve thermal management in modules while AT&S is stacking chips and developing 3D PCBs for a smaller, more energy efficient package. "The large incumbents here, have the cash on hand to develop technical products," she says.
And crucially, partnerships are proving as important as ever. "You tend to find that different players along the supply chain, from discrete companies to the OEMs, [are working together]," says Huang. "For example, AT&S have partnered with Continental Automotive, which manufactures novel module packaging."
Indeed, the meeting of minds up and down silicon's established supply chain is proving to be a formidable driving force for silicon success across each innovation sector, be it circuit design, control, or module packaging. In each case, start-ups see success but incumbents dominate.
"Silicon is so well known and there are so many companies in the supply chain," says Huang. "From foundries to packaging companies, these players can really help OEMs drive innovation and push the limits of silicon devices."
"Silicon costs are also so much cheaper than using wide bandgap materials so we see these large incumbents sticking to what they know while developing wide bandgap devices on the side," she adds.
So where does silicon incumbent weight leave the likes of MACOM, EPC, GaN Systems and more? At least for now, waiting for power-hungrier applications to truly take-off.
"The bigger [silicon] companies will keep doing as much as possible to push the adoption of GaN and SiC out into the future," asserts Madakasira.
But, as she adds: "Emerging applications, such as driverless cars and the Internet of Things, will demand even more power efficiency and this will drive the impetus to switch to the more expensive, but more efficient compound semiconductor materials."
CS International to return to Brussels – bigger and better than ever!

The leading global compound semiconductor conference and exhibition will once again bring together key players from across the value chain for two-days of strategic technical sessions, dynamic talks and unrivalled networking opportunities.

Join us face-to-face between 28th – 29th June 2022
View the agenda.
3 for the price of 1. Register your place and gain complementary access to TWO FURTHER industry leading conferences: PIC International and SSI International.
Email info@csinternational.net or call +44 (0)24 7671 8970 for more details.
*90% of exhibition space has gone - book your booth before it's too late!