$1.6M NSF grant to study "˜amorphous' oxide semiconductors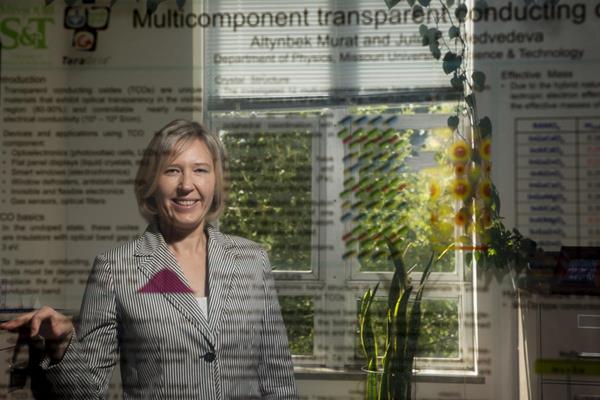 Four year project aims to spur research, development and commercial adoption of new class of semiconductors that could lead to new uses for flexible displays.

A team led by Julia E. Medvedeva, a professor of physics at Missouri S&T, has won a $1.6 million grant from the US National Science Foundation to study the properties of amorphous oxide semiconductors and to develop an open-access database for other researchers to use.

The effort is hoped to spur research, development and commercial adoption of a new class of oxide semiconductors that outperform silicon-based transistors and could lead to new uses for flexible displays.
The four-year grant is part of an NSF program called Designing Materials to Revolutionise and Engineer our Future (DMREF) and involves researchers from Northwestern University.
The oxide semiconductors Medvedeva will study demonstrate seemingly contradictory properties, such as optical transparency and electrical conductivity. These properties make the semiconductors ideal for use in flat-panel displays that consume less power while creating brighter images. Oxide semiconductors allow electrons to transmit much more rapidly than through silicon "" as high as 50 times the electron mobility of 'amorphous' silicon, Medvedeva says. That allows for higher pixel density, which in turn leads to better screen resolution.

Because the amorphous form of these oxides can be grown at room temperature and on a variety of substrate materials, they can be produced at larger scales and at lower costs than silicon or other crystalline materials, Medvedeva says.

"This is very fundamental research," she adds, but notes that the results could enable advances in flexible-panel displays and wearable electronics, smart windows for homes and cars, and solar panels that could wrap around a surface to capture as much sunlight as possible.

"The advantages of the amorphous oxide materials are numerous," Medvedeva says, "but our fundamental understanding of their intriguing combination of properties is very limited."

The disorganised structured of amorphous materials makes their study extremely challenging because they cannot be reduced to an ordered set of building blocks.

What physicists and materials scientists do know about amorphous materials is that "they have a smooth surface, with no grain," Medvedeva says. "They're also mechanically flexible," which means they can be bent or twisted "" imagine flexible solar cells that can wrap around a rooftop or even an entire building. They also can be "tuned" to either reflect, transmit or absorb light, properties that could lead to advances in smart windows, among other applications.

Through the NSF grant, Medvedeva will develop computer models to show how amorphous oxides act under certain conditions at the atomic level. "We want to start by looking at the way atoms are put together," she says, "because structure determines everything."

In August, Medvedeva and Northwestern University researchers Bruce Buchholz and Robert P.H. Chang published a paper on the topic in the journal Advanced Electronic Materials, titled 'Recent Advances in Understanding the Structure and Properties of Amorphous Oxide Semiconductors'.