Scientech and Trymax Partner to Distribute Resist Ashing and UV Products in Taiwan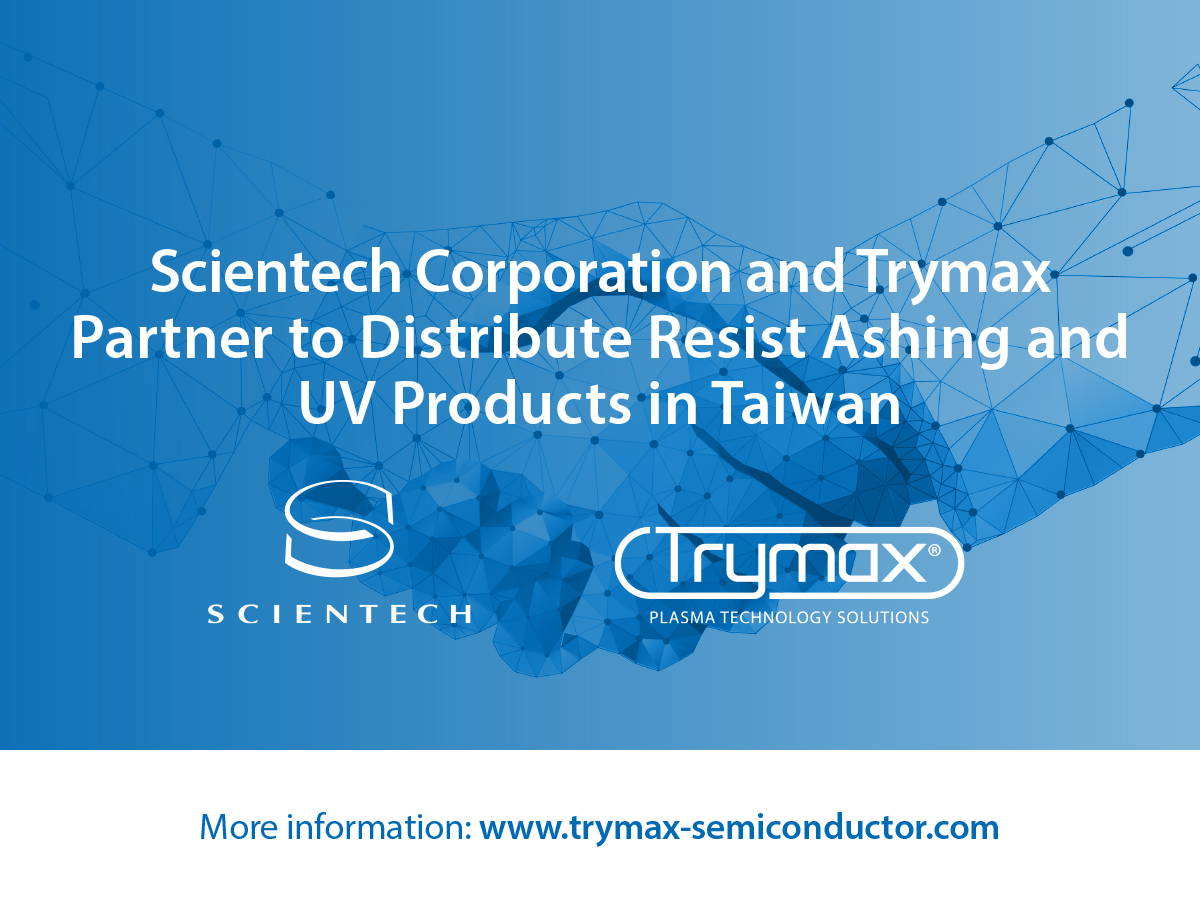 Trymax Semiconductor Equipment BV, a supplier of semiconductor plasma technology, and Scientech, have entered into a distribution agreement for Taiwan. The agreement gives Scientech Corporation the right to distribute all of Trymax's NEO ashing, etching products and their latest UV curing and charge erase products.
This agreement with Trymax will assist Scientech in expanding its business in the segment of high speed communication, 3D sensing including ToF, high frequency power devices and related device markets. Scientech offers extensive experience in introducing the highest quality equipment from around the world and will provide world-class technical and field support for Trymax products after system delivery.
"A partnership with Scientech is a critical component for our expansion strategy in Taiwan" stated Ludo Vandenberk, Executive Vice President of Trymax Semiconductor Equipment. "By combining forces with Scientech, we are able to better serve the front-end, MEMS and back-end manufacturers with solutions that span the ashing, descum and lite etch process steps as well as the UV curing and charge erase applications. We are eager to get started serving our customers with the competitive advantages that our technologies can offer.''
"With Trymax's expertise and cost-effective solution, we are very grateful to cooperate with Trymax to support the customers in the semiconductor field, which is not only to enhance our coverage of front-end production but also to strengthen our customers' competition in the arena." commented Peter Kuo, Vice President Representative Div. II at Scientech Corporation.

Trymax's NEO products for ashing, etching and descum serve the semiconductor industry for 150mm, 200mm and 300mm substrates. Our bridge tools are fully flexible for processing multiple different substrates types like Si, GaAs, SiC, LiN, LiT, eWLB and Taiko wafers from R&D to high volume production. We offer optimized solutions based on the best cost of ownership in combination with the maximum flexibility. All Trymax platforms are configured with a fully digital onboard communication system with up to 5 different process chamber technologies selectable.
The UV curing and charge erase equipment from Trymax is used for a wide range of applications that includeing photo-stabilization of the resist prior implantation or etch, for small CD, or to erase charge built-up during the IC manufacturing process. The NEO 2000UV has been designed taking advantage of the reliable NEO platforms developed by Trymax for plasma ashing, descum, and etching applications. The NEO 2000UV is implementing state-of-the-art robotics, components, the latest digital technologies and software, and is CE compliant. NEO 2000UV can accommodate cassettes or SMIFs.