A new level of LED projection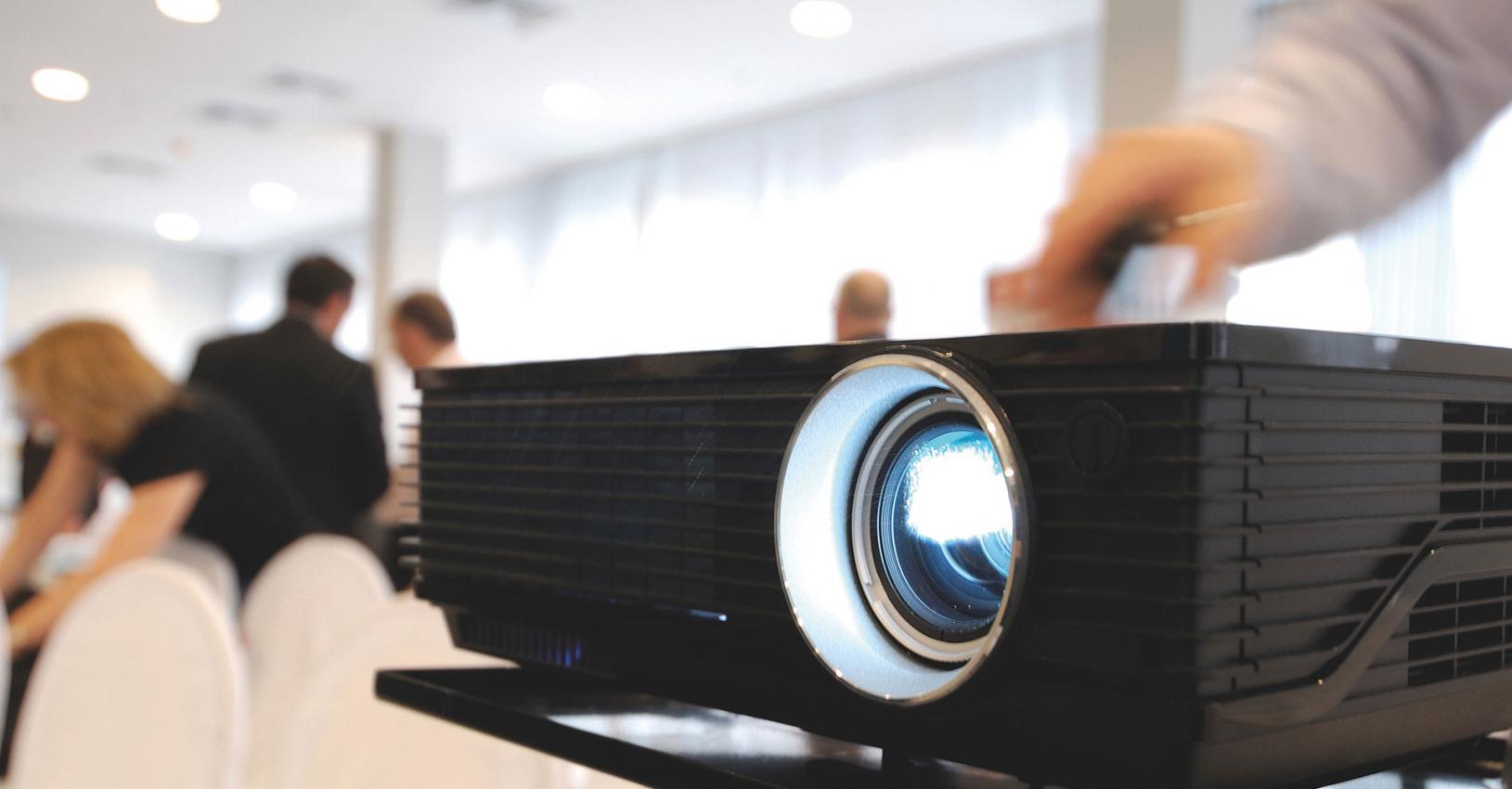 Projectors benefit from light engines that combine powerful blue and red LEDs with green sources based on phosphor pumping
BY ALEXANDER MARTIN FROM OSRAM OPTO SEMICONDUCTORS
IF YOU ATTEND fairs like this year's Consumer Electronics Show in Las Vegas, you'll know that if you want to deliver a presentation to your peers, you have plenty of viewing options available. The leading manufacturers are showcasing ever bigger, often scalable and even foldable screens, based on either OLED or micro-LED technologies.
Unfortunately, both these technologies have one major problem – the bigger the screens get, the more expensive they get. And for microLED-based technologies there is another sticking point – the challenge of affordable, high-throughput mass production, which the makers of these screens will try and tackle over the next few years.
While developments in screen technology have grabbed the headlines, progress in modern projection is often unnoticed. Many will have missed the strides that have been made to enable LED projection to become a viable alternative offering a higher brightness than conventional LCD and OLED screens. Gone are the days when you have to darken the meeting room so that the audience can view the presentation.
Another strength of the LED projector over LCD and OLED screens is its increased flexibility. With this technology, scalable picture sizes can be projected on any rigid or flexible surface, freeing up room space.

At Osram Opto Semiconductors of Regensburg, Germany, we are playing our part in the emergence of this class of projector, by developing and commercialising a new LED technology that allows projectors based on this light source to realise record-breaking brightness levels of more than 3,000 ANSI lumens. This level of brightness is suitable for large projection markets: projectors for office and home cinema use.
Our efforts offer makers of projectors a superior alternative to their incumbent source of lighting, the conventional, mercury-ridden, high-intensity discharge lamp. As demand for a brighter, more reliable source has grown, lasers emerged as the logical successor. And more recently, improvements to the performance of the laser have positioned them as a high-quality, sophisticated alternative to mercury vapor lamp. Strengthening their case is their long lifespan and brightness levels that do not diminish over time, which is another weakness associated with conventional lighting technology.
As lasers have emerged as promising candidates, LEDs have started to offer a competitive alternative. Initial success for the LED-based projector came a few years ago, with the introduction of the first pico projectors. They produced just 15 lm, a small fraction of the 4000 lm provided by today's LED-based projectors. As well as producing a great deal light, LEDs – and for that matter, lasers – take up very little space, an attribute highly valued by designers of projectors.
Mercury lamps versus LEDs
One way to judge the quality of an image is to consider its range of colours. Conventional projectors typically use a white-light source, with primary colours generated through a mechanically-driven colour wheel. Due to the mechanical moving component and the large size of the high-intensity discharge lamps, these projectors require a relatively large light engine architecture. In addition, they are not that robust.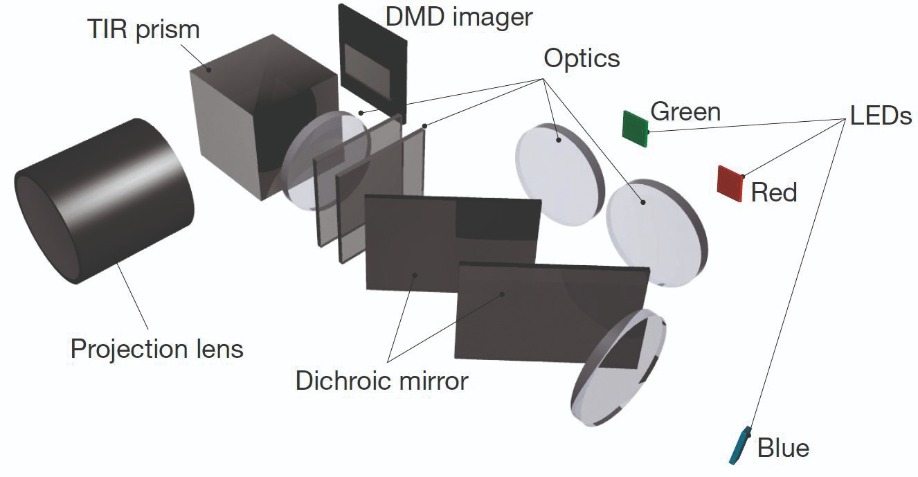 A projector system with a digital micromirror device and single red, green and blue LED chips
Another drawback of the high-intensity discharge lamp is that it needs to be replaced several times during the projector's lifetime. Due to this, the projector must be designed so that it's easy to reach the light source.
With LEDs, there are many benefits. They are more compact, they have a longer lifetime, they provide comparable brightness, and they produce much stronger, richer colours, thanks to direct colour generation – that is, one LED is used for red, another for green, and a third for blue. Thanks to the long lifetime of these sources, they do not need to be replaced regularly, allowing the housing of the projector to be better sealed against external influences such as dust and moisture – in turn, this extends the life of the projector. Due to all these factors, LED projectors are more compact and employ a far simpler system design.
Further merits of the LED are that, unlike a high-intensity discharge lamp, it is free from toxic mercury; and it turns on almost instantly, while conventional lamps may take a long time to 'heat up' prior to use.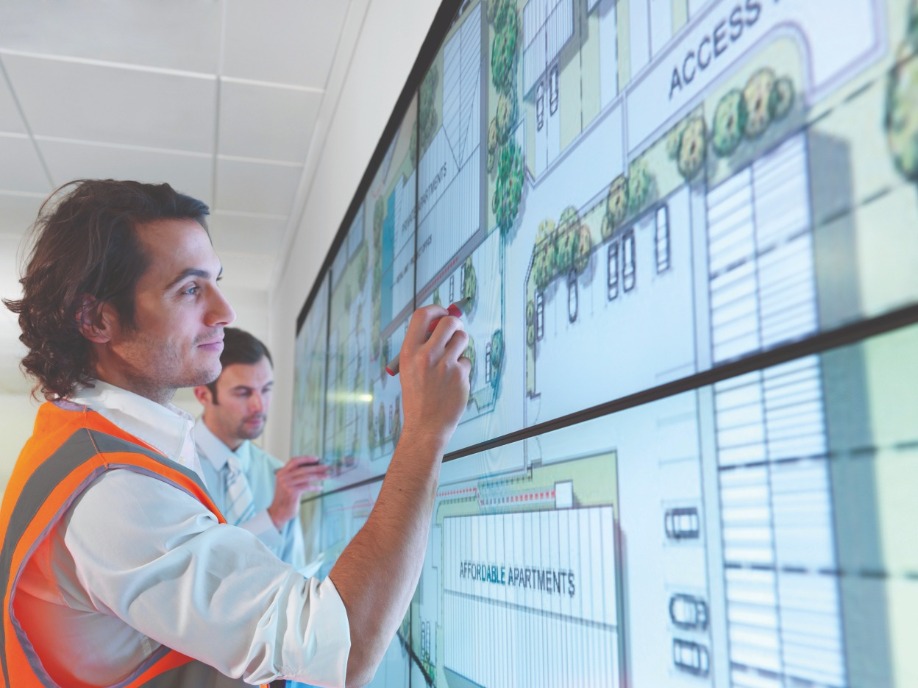 Osram's Ostar Projection Power family is specially designed for projector solutions within office or home cinema use.
We have been developing and manufacturing light sources for projector applications over a long period of time. Our wide LED portfolio allows us to serve customers developing projectors with screen brightness values from 15 to 3,000 ANSI lm. To cater for such a wide range, our family of products include those offering best values of efficiency for battery-powered projectors, and those that can be operated with very high current densities – they can reach
6 A/mm² – to realise tremendous brightness.
Differing LED designs
Most manufacturers of LEDs did not take long to develop red and blue LEDs with acceptable brightness values. The challenge has been the green cousin, which has been impaired by the so-called "green gap" that has pegged back efficiency and brightness. This is a significant drawback, because green is the most important colour for white projector brightness. That's partly because at a standard D65 white point, the green component of the projector provides about 80 percent of the brightness, while red contributes 15 percent, and blue just 5 percent. In addition, the human eye has the highest sensitivity in the green range of the colour scale.
To avoid the issues associated with the green gap, we have developed LEDs with a 'converted green technology'. In these devices, blue light is converted to green with the help of special phosphors. This leads to hike in brightness and efficiency.
Our engineers have discovered that this colour converter is not used at its luminance maximum with a single blue LED chip. So there is the potential for even greater brightness. To exploit this, in addition to the three-color set up, we have integrated another blue chip into the system that pumps additional blue light into the converter of the converted-green LED. This four-channel concept forms the technological basis for today's LED projectors.
In addition to the LEDs, the light engine of the projector contains optics, mirrors and a digital micromirror device. Combining components creates a complex structure, with the designer needing to consider all the interactions between them. If the system is to be efficient, it is critical to take into account the so-called etendue – this is a physical constant that describes the geometric extent of the light transmitting within an optical system. The maximum LED light-emitting-area is determined by individual system parameters, such as the acceptance angle and the size of the imager, and it cannot be increased to achieve higher lumen values.
To realise a higher efficiency and a high achievable brightness, the designer of the projector must try to match the etendue of the light source and the imager. Their central goal is to accommodate as much light as possible on the light-receiving surface of the digital micromirror device. Thankfully, these efforts are aided by our advances in LED technology that have underpinned the increases in projector brightness.
Ostar projection power
To produce a light source, individual chips are soldered to a metal-core PCB. This is commonplace with high-power, multi-LED-chip devices to drive the individual chips in parallel, so that the current is distributed evenly across the individual chips. For example, to generate the intended projector brightness with six chips requires about 8 A per chip, so a total of 48 A. The downside is that expensive special drivers are needed to deliver extremely high currents, as well as cables with enormous diameters that are capable of withstanding them.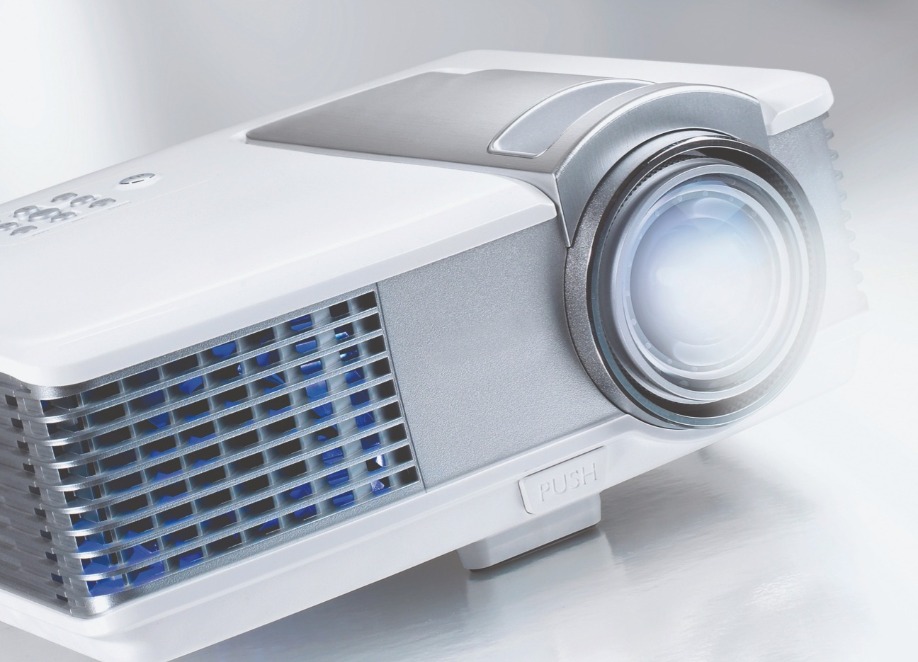 With the existing chip technologies having met their maximum driving current, we decided to develop a new chip technology with higher current capability. This new topology, which enables enormous increases in brightness for LED projectors, is the Osram Ostar Projection Power product family. Released earlier this year, this portfolio has a 1-, 2-, 4- and 6-chip version for the three colours, enabling projectors with 750, 1500, 2500 and above 3000 ANSI lm, respectively. These devices are ideal for serving today's LED-projectors, which benefit from our red, green and blue emitters, plus a deep-blue version that pumps the green colour converter.
The core innovation of this product family is a revolutionary chip technology with a new package design. It allows individual chips to be connected in series, rather than in parallel. This configuration slashes the overall driving current compared with previous generations of LED technologies, which required a special insulation layer between the metal core PCB and the LED chips. In addition, our technology aids the product designer, by simplifying electrical driving, electrical isolation and thermal management of the light engine, and enabling a reduction in the noise of the cooling system. For example, instead of needing 48 A to drive a six-chip engine, only 10 A is required. Thanks to the far lower currents, makers of light engines can use cheaper driver structures and connection technologies like plugs.
As the imaging elements of a projector have become smaller, these products have become more compact. Models can shrink in size, or alternatively, the saved space can be used to integrate other functions, such as high-quality audio components. With a conventional system, there can be a flat screen that hangs permanently on the wall even when not in use, and a sound system that takes up additional space. If portable projectors are equipped with integrated audio capabilities, the gives a home cinema experience that is not only more flexible, but much easier for the end user.
One area for improvement is that of the 10,000 or so lumens produced by LEDs in today's projectors, only about 3,000 reaches the screen. Addressing this will help to accelerate the switch to an LED chip technology in projectors, which is gaining traction. There is, no doubt, a bright and innovative future for LED-based projectors.