Power Integrations Releases InnoSwitch3-PD Reference Design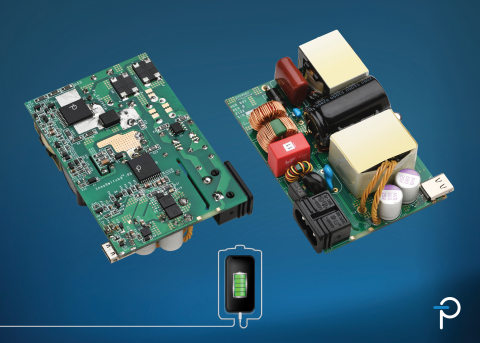 Uses highly integrated boost PFC and GaN flyback switcher ICs to implement 100 W USB PD charger using only 117 components
Power Integrations has published a new reference design that describes a USB Power Delivery (PD) charger with high performance and low component count.

Based around Power Integrations' new InnoSwitch3-PD PowiGaN flyback switcher and HiperPFS-4 PFC controller ICs, the DER-937 report contains the power supply specification, schematic, PCB layout, bill of materials, detailed magnetics specifications and performance data of a power factor corrected (PFC) 100 W USB PD 3.0 + Programmable Power Supply (PPS) charger using only 117 components.
Aditya Kulkarni, senior product marketing engineer at Power Integrations, said: "This USB PD charger design reaches efficiency levels in excess of 93%, including input, PFC and flyback stages. Its no-load performance is also excellent – the circuit requires less than 40 mW no-load input power at 230 VAC. BOM count is approximately half that of conventional designs, saving space, reducing design time and simplifying component sourcing for high-volume manufacture of slim, ultra-compact OEM and aftermarket chargers."

DER-937 uses two recently introduced ICs from Power Integrations. The InnoSwitch3-PD INN3870C off-line quasi-resonant flyback switcher combines a USB Type C and USB PD controller, high-voltage PowiGaN GaN switch, synchronous rectification and FluxLink feedback. The HiperPFS-4 PFS7628C PFC controller IC, available with an integrated Qspeed low-reverse-recovery-charge (Qrr) boost diode, delivers greater than 98% efficiency across the full load range.
CS International to return to Brussels – bigger and better than ever!

The leading global compound semiconductor conference and exhibition will once again bring together key players from across the value chain for two-days of strategic technical sessions, dynamic talks and unrivalled networking opportunities.

Join us face-to-face on 18-19 April 2023
View the agenda.
3 for the price of 1. Register your place and gain complementary access to TWO FURTHER industry leading conferences: PIC International and Power Electronics International.
Email info@csinternational.net or call +44 (0)24 7671 8970 for more details.