Navitas Drives Xiaomi's Ultrafast-Charging Smartphone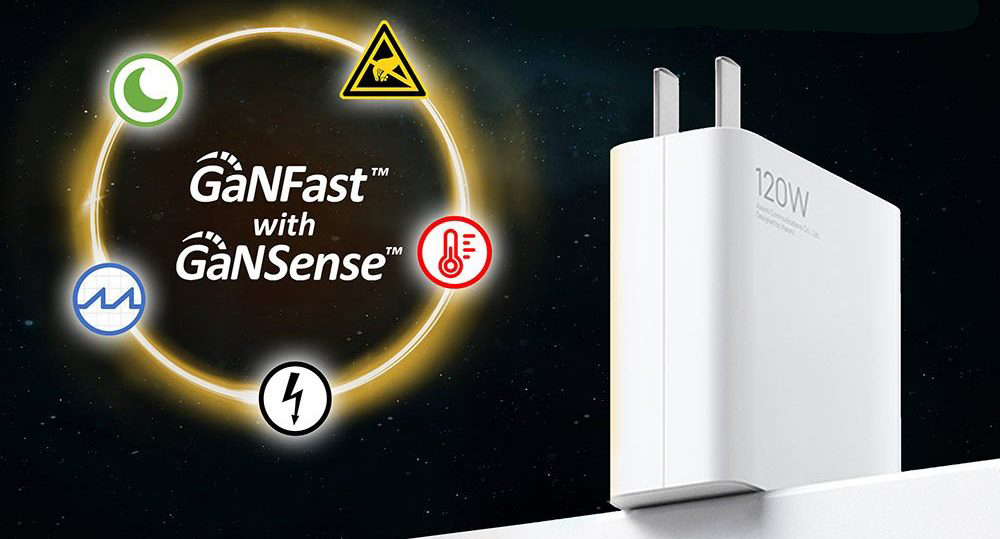 Generation 3 GaN power ICs selected to support new ultrafast mobile charging category
Navitas Semiconductor has announced details of how its GaNFast power ICs with GaNSense technology are used to ultra-fast-charge Xiaomi's new Note 11 Pro+ smartphone.

Xiaomi's advanced power management and graphene Li-Ion battery technology allows ultrafast-charging, with 120W capability to charge the 4,500 mAhr battery from 0-100 percent in 17 minutes.
Navitas' GaNFast power ICs integrate GaN power, GaN drive, protection and control. The latest GaNSense technology is said to deliversanother 10 percent energy saving plus includes autonomous system-parameter sensing and high-speed protection features for high reliability. GaNSense technology enables the GaN power IC to detect and protect in less than 30 ns.
"We have always paid attention to new developments in the industry, and are very happy to cooperate with a company like Navitas that focuses on technological innovation. Using advanced GaN technology to provide more, intelligent products for our Mi fans, our 120W ultra-fast charging technology can go rapidly to the mass market," said Xiang Wang, president and partner of Xiaomi Corporation, at the launch of the new phone.
The Xiaomi 120W measures 55 x 55 x 28.4 mm (86 cc), weighs 138 g and achieves an industry-leading power density of 1.4 W/cc. Two NV6134 GaNFast power ICs with GaNSense technology are used in the 120W charger; one in the front-end boost power-factor correction (PFC) section, and the other in the downstream high-frequency quasi-resonant (HFQR) DC-DC stage, using a high-speed, low-profile planar transformer.
"This is an incredible new industry development that will re-define the charging experience for consumers globally," said Charles Zha, VP and GM of Navitas China. "These ultra-fast chargers require double the GaN content per charger, which of course doubles the revenue opportunity for Navitas. By our estimates, we project this ultra-fast charger category will represent up to half of the GaN potential in mobile chargers over the next few years."
Navitas launched its GaNSense technology at the China Power Supply Society's (CPSS) Conference in Shanghai on November 14th 2021.