Voyant Photonics raises $15.4M for next gen LiDAR chip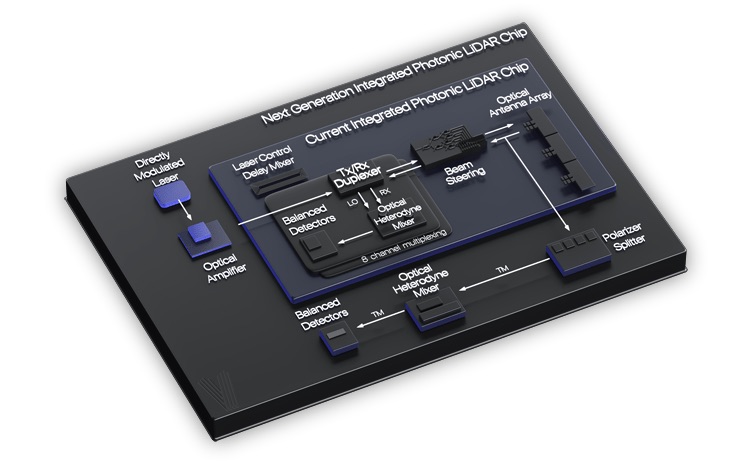 Columbia University spin-off hopes to pave the way for large-scale adoption of 3D sensing

Columbia University LiDAR spin-off Voyant Photonics has announced that it raised $15.4M in Series A led by UP.Partners with participation of earlier investors LDV Capital and Contour Ventures.

Voyant hopes that its silicon photonics LiDAR sensor chips, which contain an integrated InP/silicon laser, will pave the way for large-scale adoption of 3D sensing in the same way that CMOS image sensors enabled the accelerated growth of digital photography.

Co-founders Chris Phare and Steven Miller had been working on LiDAR chips for years at Columbia University's Lipson Nanophotonics Group when they decided to commercialise their technology and launched Voyant Photonics.

Miller and Phare's insight was to apply the silicon photonics technology used for optical data communications, the same technology that has made high-performance data centre fibre optics affordable. "When you fabricate a LiDAR system on a chip, the fabrication cost stays the same regardless of how many components you use," said Phare. "We will soon be selling LiDAR systems for a few hundred dollars and longer-term will sell them for less than a hundred dollars at scale."

Voyant Photonics' devices demonstrate a complete LiDAR system in a field-deployable package, using Voyant's patented techniques for on-chip digital beam steering, optical signal processing, and laser control.

"When we started on our mission to make LiDAR a ubiquitous technology for machine perception, a lot of people said silicon photonics was not ready to leave the lab," said Miller. "Our successful first milestones prove that we can build a complete LiDAR solution that meets industrial needs, using silicon photonics, and deploy it anywhere."

"Now that we can make LiDAR systems on semiconductor chips, we can make them better and less expensive with every development cycle, similar to Moore's Law for computer chips," added Phare. "While the excellent performance of our first LiDAR chips surprised even us, this is just the beginning. Just like with computer chips and camera sensors, every design iteration will get better."

CS International to return to Brussels – bigger and better than ever!

The leading global compound semiconductor conference and exhibition will once again bring together key players from across the value chain for two-days of strategic technical sessions, dynamic talks and unrivalled networking opportunities.

Join us face-to-face on 18-19 April 2023
View the agenda.
3 for the price of 1. Register your place and gain complementary access to TWO FURTHER industry leading conferences: PIC International and Power Electronics International.
Email info@csinternational.net or call +44 (0)24 7671 8970 for more details.