Swansea University gets £2.5M for Net Zero project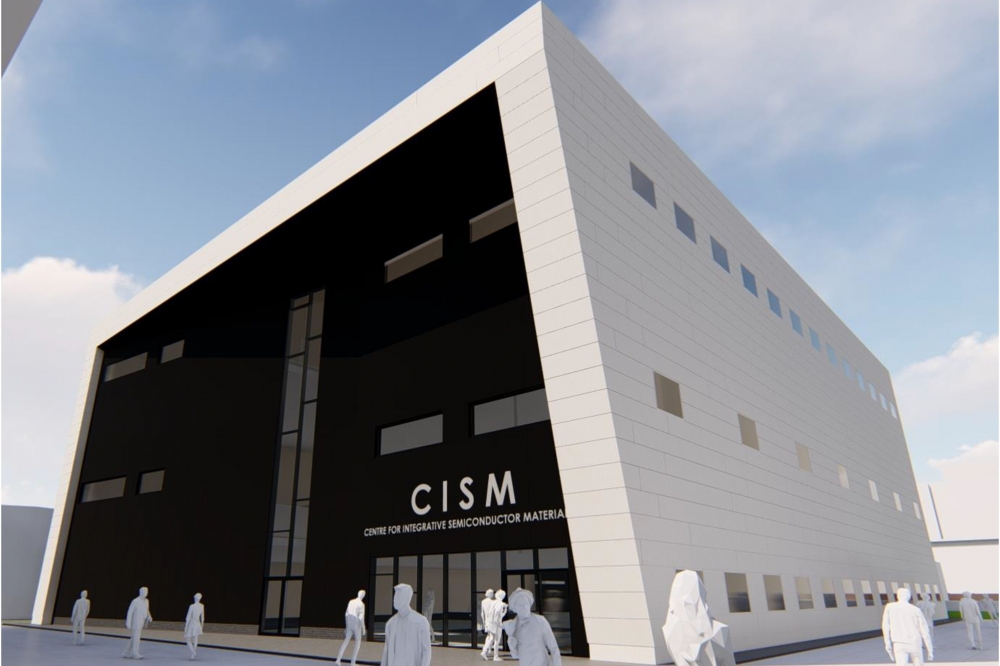 Funding aimed at 'over-the-horizon' compound semiconductor technologies such as advanced solar cells and efficient power electronics for electrification of transport
A new research and innovation facility based at Swansea University has received a funding boost of nearly £2.5m to host a project that will trial innovative emission reduction strategies for the semiconductor industry to help the sector deliver on Net Zero ambitions.

The newly-created Semiconductor Innovation for Net Zero (SIN_0) project will be housed at the industry focused, UKRPIF-funded facility, the Centre for Integrative Semiconductor Materials (CISM) - which is due to be completed in September 2022 (pictured above is an artist's impression). The focus at CISM will be the creation of 'over-the-horizon' semiconductor technologies to support Net Zero such as advanced solar cells and efficient power electronics for electrification of transport. CISM is part of the regional CSconnected Cluster of industry, university, RTO, and government partners driving forward the semiconductor sector in South Wales.

The SIN_0 project aims to extend that agenda to deploy and test innovative emissions reduction strategies in energy generation and storage, and resource and waste stream management. SIN_0 will not only trailblaze the decarbonisation of advanced research infrastructure like CISM but will also de-risk the interventions that the semiconductor manufacturing industry will need to employ to reduce the carbon footprint of this critical sector rapidly and dramatically.
It is one of nine projects at UK universities that are set to reduce the carbon footprint of research facilities, with the £18.9 million funding boost. The investment will support universities to enhance, upgrade and adapt research centres and facilities to reduce their carbon emissions, and make research processes more environmentally sustainable.
It has been jointly made by Research England, part of UK Research and Innovation, together with the Higher Education Funding Council for Wales (HEFCW) and Scottish Funding Council. The centres and facilities receiving funding were originally established via the highly successful UK Research Partnership Investment Fund (UKRPIF), which is managed by Research England.
The projects awarded cover a range of research areas, including robotics, digital technology, aerospace, and electronics, and are located right across the UK. They also include a wide variety of approaches to reducing carbon emissions.
Paul Boyle, vice-chancellor of Swansea University said: "Swansea University is delighted to receive UKRPIF Net Zero funding to enhance our innovative Centre for Integrative Semiconductor Materials. Our mission is to not only deliver our own institutional net zero ambitions, but also to support the semiconductor industry within our region and the CSconnected partners as, together, we develop the technologies that will decarbonise manufacturing and help Wales and the world to meet our net zero targets."
David Blaney, chief executive of HEFCW, said: "It is great to see that higher education in Wales is at the forefront of high-tech developments which are key to achieving net zero. The innovative project led by Swansea University builds on expertise in semiconductors, which are vital in how we live our lives now, and in the future, to tackle the environmental impact of these technologies. Many congratulations to Swansea on securing funding for this project in a highly competitive UK field."
Research England executive chair, David Sweeney, said: "The UK Research Partnership Investment Fund has a strong track record in funding state-of-art facilities that support world-leading research and strengthen partnerships between universities and other organisations active in research.
"By piloting these innovative approaches to tackling net zero in infrastructure, we hope that this scheme will help us to learn more about what works so that we and the HE sector can factor this into future activity and build upon the already successful UKRPIF model."
Duncan Wingham, executive chair of NERC and sponsor for Environmental Sustainability and Net Zero in UKRI, said: "Our Environmental Sustainability Strategy commits UKRI to supporting the research sector to reduce its negative environmental impacts. This funding will help these leading national centres and facilities develop innovative solutions to reducing energy demand and increasing the use of renewable power in some unique research environments. UKRI is proud of its role in helping reduce carbon emissions from delivering cutting-edge research outputs in support of institutional and national net zero targets."
The projects started in April 2022 and will run until March 2023.