A close shave: 5G to the rescue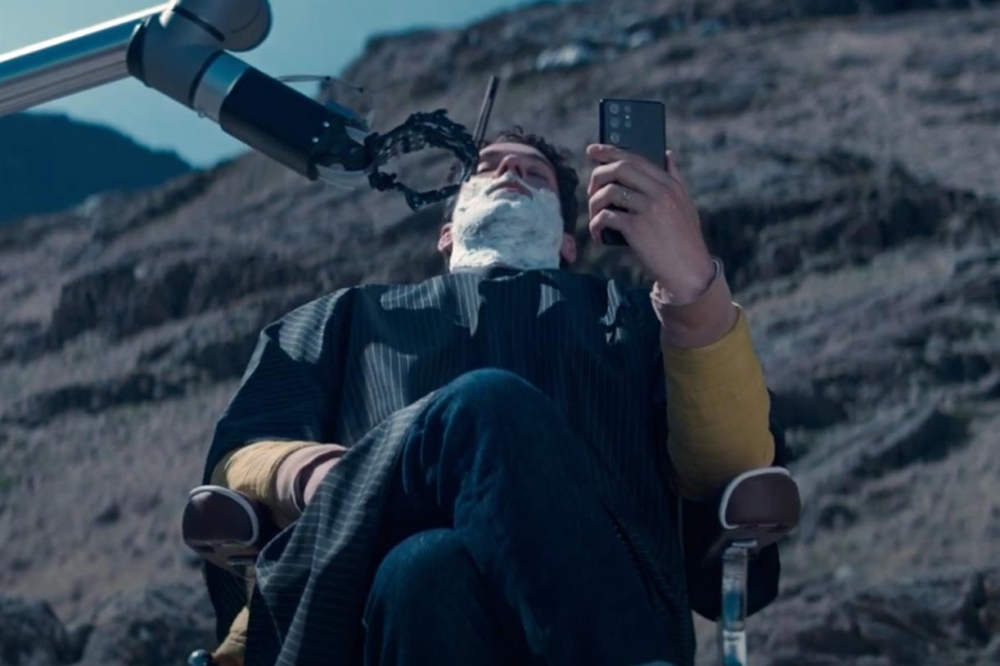 With 5G being deployed around the globe, the sheer amount of data now being downloaded in real-time means that the entire network — including its backhaul — must be capable of delivering without congestion.
BY DAN RHODES, DIRECTOR OF BUSINESS DEVELOPMENT AT FILTRONIC

In 2021, mobile network operator EE launched a TV advert showing actor Tom Ellis being shaved by a robotic arm that was being remote-controlled by a barber based 250 miles away — a stunt only possible with low latency and high-speed data transfer capabilities.

The benefits of 5G are transforming the components of traditional backhaul infrastructure. Its ultra-fast and low-latency connectivity and potential to deliver data speeds above 1 Mbps, as well as the ability to support thousands of clients per cell, puts 5G ahead of current mobile infrastructure — if it delivers to its full potential.
Pre-5G, backhaul had to overcome cost, availability, and capacity issues to fulfil increased demand. The construct was simple; most cell sites were equipped with backhaul links running at one Gbps or less. Now, the rollout of 5G and its capabilities in both fronthaul and midhaul means that there are two new, distinct backhaul concerns: the necessity for extremely dense networks and addressing the low latency needs of increasingly complex applications.
Backhaul networks may be less impacted by latency specifications than fronthaul and midhaul networks, but backhaul capacity pressure is a significant concern. While backhaul capacity needs for 4G networks now stand at around 1GbE, 10GbE or greater requirements are predicted as 5G gains momentum.
E-Band range
While the full implementation of 5G will continue to favour fibre, it won't be a feasible choice in many areas. Microwave technology is a fast and economical method for connecting isolated or small groups of locations to the main fibre network. The conventional microwave frequency range of 6-38 GHz is facing limitations in expansion due to frequency overload and interference, thus leading to a shift towards millimetre-wave (mmWave) bands, such as E-Band (71-76GHz / 81-86GHz).
The E-Band market is projected to grow rapidly worldwide, with a market report predicting a 35.8 per cent CAGR by 2027. The E-Band is favoured by operators due to its large channel size and readily accessible spectrum, with over 80 per cent of countries with known telecommunication regulations allowing E-Band deployment. This means that demand has increased for E-Band mmWave radio links due to their ability to provide high capacity and high data rate XHaul for the latest 5G networks that are being rolled out globally.
The E-Band frequency spectrum offers both technical and economic benefits over the lower 6-38 GHz spectrum. Millimetre-wave wireless systems make use of a larger assigned spectrum divided into larger channels, which enables the delivery of multi-gigabit data rates. In comparison, the largest assigned channel in the 6-38 GHz spectrum is 56 MHz, while the smallest typical channel size in the E-Band is 250 MHz and can go up to 5 GHz.
With the use of a large allocated spectrum and channels, E-Band wireless systems are more robust and reduce modem and radio requirements, resulting in significant cost advantages over traditional wireless systems. This allows for scaling up to gigabit-per-second capacities without the need for additional radio equipment or licensing fees.
Although it is susceptible to rain attenuation, the sturdy design of E-Band wireless systems and higher antenna gains make it possible to deliver high capacities with a carrier-grade service availability of 99.99 per cent for distances up to three kilometres (km). In urban areas, where the distances between mobile base stations are typically short (averaging 1.5km for urban and 2.5km for suburban), E-Band wireless systems are well-suited for ultra-high backhaul capacities. It's also worth noting that these urban and suburban areas account for around 80-90 per cent of the elements in a network that require a backhaul solution.
Critical components
Transceivers that sit in point-to-point radios, like Filtronics Morpheus II modules, offer high performance and ultra-high capacity while also lowering the overall cost per Gbps. Each module contains all the transmit and receive functions necessary for the RF section of an E-Band link and provides a simple connection to a high data rate full duplex modem.
Likewise, the integration of compound semiconductors also plays a significant role in Filtronics E-band products, including Hades X2. Compound semiconductors, such as GaAs and InP, are used in the design of high-frequency power amplifiers and low-noise amplifiers, as well as other critical circuit components. These compound semiconductors are simply better suited for medium volume, high power and low noise specifications compared to conventional silicon-based devices.
High-power GaN devices are becoming increasingly prevalent in the transmit chain of phased array antennas, not only for radar but for the more recent 5G active antennas too. GaN's high breakdown voltage and high power density, combined with its good thermal conductivity, have made it the technology of choice for power amplification in phased array antenna designs, in which size and power are the prime considerations. While GaN exhibits an impressive power density, it's commercial availability for E-band telecommunications is still at an early stage.
After all, the more power you put in, the higher the costs for installation and operations. This is where the choice of components used becomes even more important. Higher-power transceivers, like the Morpheus X2 (pictured below), are being used to ensure performance across five to seven kilometres of range, without compromising on size, weight, or power.
The demand for data is constantly rising with no signs of slowing down, now or in the future. As mentioned earlier, with 80 per cent of countries allowing E-Band deployment and with more 5G networks being rolled out, it is inevitable that this frequency range will become congested. As E-Band becomes congested, alternative bands with similar or even higher bandwidths available will be required to ensure that backhaul capacity can keep pace with increasing data demands. These bands will be W-band (92-114GHz) and D-band (130-175GHz).
Filtronic has been involved in a collaborative project with the UK National Physical Laboratory (NPL) on next-generation mmWave technology for W-Band and D-Band systems up to 175GHz – to enable emerging 5G wireless XHaul requirements up to 100Gbps.
Moving up the frequency spectrum from E-Band to W-Band and D-Band systems, where huge amounts of further bandwidth are available, is seen as part of the solution to increasing data capacity to meet global demand. But until then, network operators must size appropriately the backhaul network to cope with the massive amount of data and opportunities generated by 5G using mmWave technology, now and in the future.