IQE's crystal clear vision for growth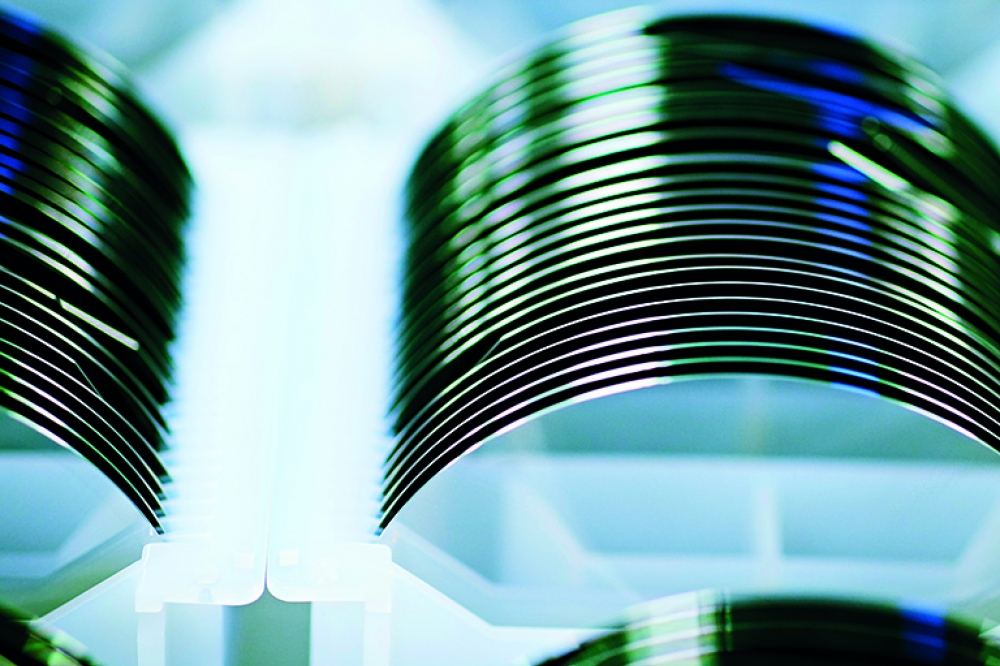 Streamlined manufacturing and expanding into new materials are two key elements in the strong growth strategy of IQE's new CEO, Americo Lemos.

INTERVIEW BY RICHARD STEVENSON, EDITOR, CS MAGAZINE

RS: You have taken over from Drew Nelson, a charismatic driving force behind IQE, who led this company for many years. Those are big shoes to fill. Is it daunting to step into them?

AL: Drew has done a great job. He created the company and led it for 33 years. IQE has evolved, and delivers fantastic technologies to great customers and markets. So Drew deserves a lot of respect. Drew and I are good friends. We work together. He's a board member of IQE, and I look forward to building on his legacy.

RS: What attracted you to taking the position of CEO of IQE?

AL: When I was in my previous role at GlobalFoundries, I understood that in the new world we live in semiconductor manufacturing is more and more critical, even vital. We experienced a chip shortage recently. I think it's the first time that the semiconductor industry ran into a shortage. So I understood the criticality of manufacturing. If you consider geopolitics, it clearly demonstrates that we need to improve or restructure semiconductor manufacturing companies, like Intel, coming into the pure-play manufacturing space. Therefore, I found IQE a very interesting place to bring all my knowledge, and take it to a growth
trajectory.

RS: Why do you think your background gives you the skills and experience to thrive in this role?

AL: I have a background from technology to business to strategy, and I have a pretty good understanding of the technology space. I have worked from the full-product and handset space to platforms, chipsets, fabless and silicon foundries, and now compound foundries. So, I'm one of the very few that's fortunate to have gone through the entire ecosystem of technologies, from full-service product to the material level. That gives me a unique perspective of what my customers are dealing with – my customers being product companies, or fabless or foundries. I'm able to connect with their challenges, understand what value means to them, and really help bring solutions.

RS: It's coming up to a year since you've been appointed CEO. What have you achieved so far?

AL: When I came on board I said that my first focus would be on the commercial aspects of the business. I think IQE has three fundamental strategic advantages. One, we have the most complete technology roadmap, by far, in epitaxy in the compound industry. This is a unique competitive advantage. Second, we have a global footprint that is extremely important to our customers in today's world. Third, we have the ability to scale, more than anybody else in this industry. The recent shortage has demonstrated how critical scaling is.

Up to now, IQE has been developing great technologies, and pushing those technologies to market. When I came in I said we need to reverse that strategy, and create a pull from the market. We have to have a roadmap that is better aligned to what the market and customers want, and start building commercial models that are more resilient for the business.

Since I joined we have transformed our commercial engine. We have announced some commercial deals, long-term agreements and technology partnership with customers. It is important to provide visibility to industry and to investors.

RS: What are the biggest challenges of running an epiwafer provider that operates in multiple markets, with sites all over the world?

AL: It's actually an advantage, more so today than ever before. Back in the day it was always more economic to have a single site located in Asia. Today it's no longer the case. Today the value comes from providing a secure, resilient supply chain to industry and to our customers. This is what IQE is: we are the only pure-play epitaxial provider that has a global footprint. To me, this is a strategic advantage.

RS: You're consolidating your epi fabs. What's the thinking behind that and how's it going?

AL: Having a global footprint is a strategic advantage – but we still have to rationalise our footprint. The goal is to have an optimum footprint.

We now have one site in Asia, which is Taiwan. We have closed the Singapore facility and moved that capability to Taiwan. We want to have two sites in the US, Massachusetts and North Carolina, for MOCVD and MBE, respectively. We are consolidating Pennsylvania into North Carolina, to create a world-class MBE facility. And we will have one large site in Newport, with St Mellons turning into an R&D facility. When it comes to MBE, we'll do R&D in North Carolina, as it's just not economically viable to put MBE into St Mellons.

RS: Sales to the wireless sector tend to provide just over half of IQE's revenue. The smartphone accounts for the lion's share of this. Its sales are sluggish, but 5G requires a lot of GaAs content. So where does this leave you?

AL: The wireless space is subject to cycles. To minimise the impact of these cycles, we try to focus on value, so premium and high-end-segment 5G products. We are also working really hard to diversify our customer base and our product mix.

At the same time, we are seeing potential growth in the WiFi 6 type of product. The IoT segment will
also grow to become a lot more smart. Some companies are saying they're going to transform IoT into 5G connected devices that could do AI processing, because data shows that more than 60 percent of AI processing is done on the edge. Therefore, you need to add compute and connectivity capabilities to those IoT devices. That could potentially generate orders for our products in the coming years.

RS: Back in 2017 IQE bought a site in Newport to stablish a mega-foundry with a capacity for up to 100 MOCVD tools. How many MOCVD tools are installed today, and what products are you producing on this site?

AL: This facility is where we intend to grow our business in a significant way. We can grow by ten-X.

Our installed MOCVD tools are currently producing many products, including VCSELs. It is a great state-of-the-art facility, structured to grow in modular fashion. We can keep scaling without disrupting existing businesses, by and large. Having the UK facility is also great from a geopolitical perspective, because it allows us to address multiple markets.

RS: The VCSEL is a very important product for IQE. With makers of Android phones tending to ditch this laser, and lidar for autonomous vehicles still some way off, are VCSEL sales growing slower than IQE anticipated?

AL: The VCSEL is driven by a great ecosystem of customers. We recently announced a partnership with a 3D sensing company that would allow us to increase our market. My vision is that at some point we should enable every camera out there to have 3D capabilities. Imagine if every camera on your phone, on your house, on drones and in your computer had 3D capabilities.

We need to provide the scaling, and the economics that go with it. That's why moving from 6- to 8-inch wafers is a very important step. We announced this summer that we had available an 8-inch VCSEL wafer, so we can unlock a fantastic market.

RS: The microLED could be a great opportunity for IQE. It's a technology with a lot of promise – maybe bordering on hype. How do you see the future for this class of device?

AL: Everybody in the industry believes it's going to happen, but it is very challenging to point out when, which device class, et cetera. We have to remember the challenges: climate change, inflation, energy costs. In any device, the largest element that consumes power is the display. As we go into a digital economy where everything has to be displayed, we ought to think how can we bring the most energy-efficient technology to market. That might be a driving force for the microLED.

We are seeing numerous competing technologies in the marketplace, and we are partnering with many technology companies and ecosystem players. We have announced partnerships with Porotech and Micledi. We are also working with players that we have not made public.

The market is going to happen, but there are different schools of thought. One is that it starts from large displays, like signage-type products. Others see it starting from very small displays, like contact lenses. Some believe AR/VR will be the leading form factor, because there's no competing technology against microLEDs in that segment of devices. There is tremendous investment being made – from technology to manufacturing, to the design, to the product – for that type of microLED segment.

IQE would like to position itself as the epitaxial supplier for the industry. Whichever technology wins, we want to be able to offer the epitaxial requirements, which we believe would be huge, in terms of demand. That's why facilities like Newport are really, really suitable for scaling.

RS: Within the compound semiconductor industry, power electronics is enjoying great success. How could IQE benefit from that?

AL: This is our next growth vector. When I came in at the end of March, I announced that we're going to play in a few verticals. One, obviously, is smart devices. Another is infrastructure and data centres, with photonics. The third is automotive, with light and power electronics; and then there is the industrial market for power electronics and aerospace, et cetera.

Power electronics has obviously two components to it. There's silicon carbide, which is by-and-large a vertically integrated market today. But GaN power is very important. Recently, we announced our partnership with SK siltron, to develop GaN for power electronics, and for radio frequencies as well. So, we are making a lot of investment into GaN power electronics. We see this as a tremendous opportunity for IQE, and we are engaged with many customers and partners to deliver GaN into the power electronics market.

We want to be able to offer versatile GaN platforms that address customer's need in terms of RF, in terms of power electronics, and in terms of the microLED. All three growth megatrends rely on GaN technology in some shape or form.

As we develop these GaN technologies, we want to grow the geometries to 200 millimetre and later 300 millimetre. So compounds will have to adopt some silicon technology knowhow. We need to go mainstream – and to go to mainstream, we need to go to where the silicon space is, which is delivering high volume, large geometries and high efficiencies.

RS: In the UK, electricity prices are sky high. Growing epiwafers by MOCVD requires a lot of energy. Do you have to pass high costs on to your customers?

AL: We are facing inflation in the UK, more so than other places. But as a global epiwafer supplier, we are able to mitigate some of this by shifting our manufacturing from one site to another. We are also looking for efficiencies: How do we do things better? And third, some of the increase can be passed to customers.

We are having conversations with our partners in the ecosystem. I think that the recent chip shortage, the supply chain constraints, and the geopolitical challenges have really changed the nature of conversations. It's no longer left to supply-chain teams. Very often C-level executives are taking charge of some of those conversations, to make sure that we build a secure, resilient supply chain first, and then figure out how to make the economics as best as possible. It's an ongoing effort.