EPC to Show latest GaN Technology at APEC 2019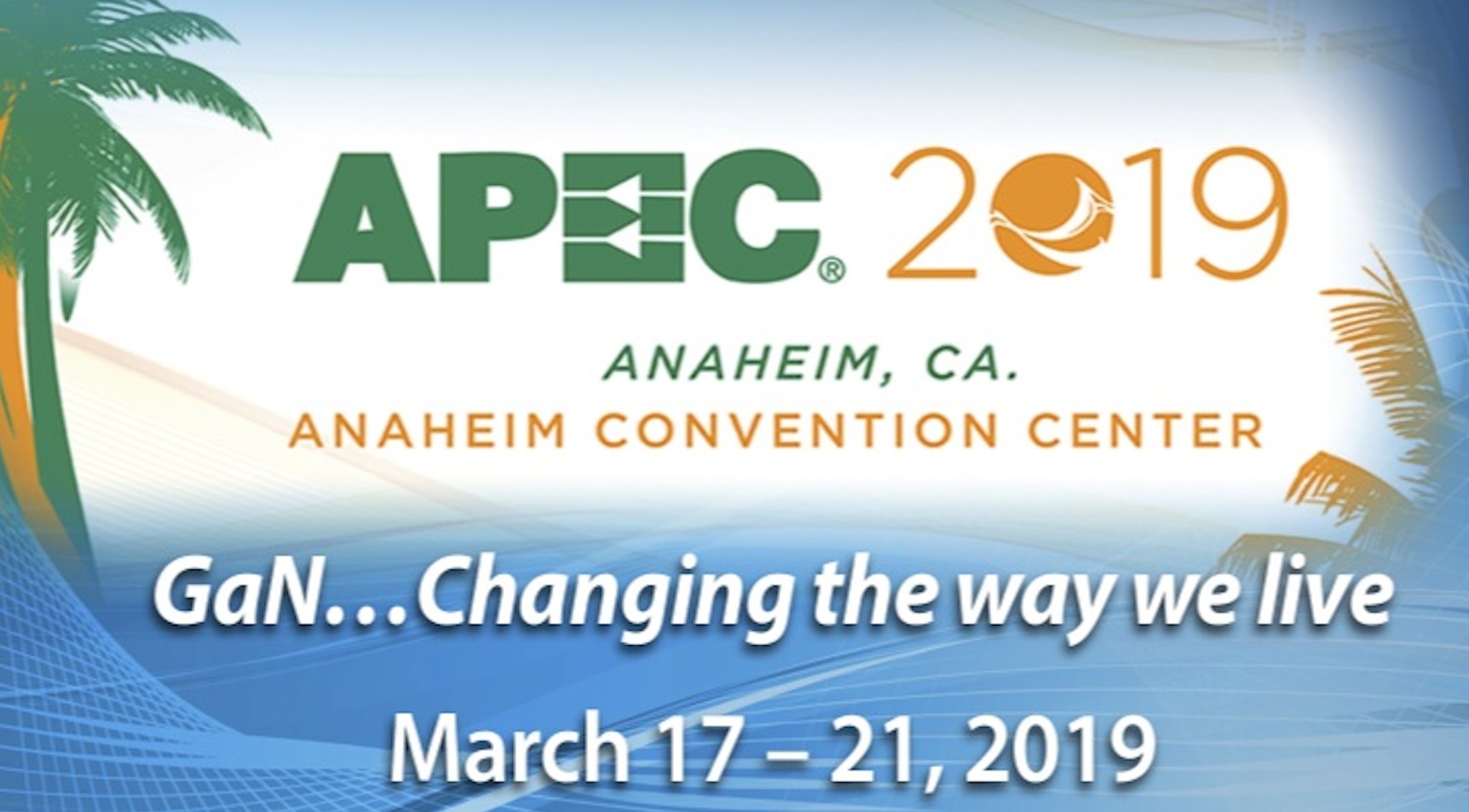 EPC team will be showing new products and delivering eleven technical presentations in Anaheim

The EPC team will be delivering eleven technical presentations on GaN technology and applications at APEC 2019 in Anaheim, California from March 17th through the 21st. In addition, the company will demonstrate its latest eGaN FETs and ICs in customers' end products that are enabled by eGaN technology.

Demonstrate addressing DC-DC power levels starting at 120 W to 3 kW will be on display. These include a high-power density 48 V – 12 V non-isolated, bidirectional converter capable of delivering 3 kW.

In addition, a range of 3-D real-time Lidar imaging sensors used in autonomous vehicles will be displayed. Also on display will be high power resonant wireless charging solution capable of wirelessly powering a wide range of devices including cell phones, notebook computers, monitors, wireless speakers, smartwatches, and table lamps. Redefining the power conversion component, a new GaN IC will be shown.
Technical Presentations Featuring GaN FETs and Integrated Circuits by EPC Experts include:
WBG Device Characterisation for Converter Design: Challenges and Solutions Instructors: Fred Wang, Zheyu Zhang, Edward A. Jones

Evaluation of GaN-Based Multilevel Converters Presenter: Yuanzhe Zhang
GaN's Frontal Assault on Silicon at 48 Volts Presenter:Alex Lidow
Design and Measurement of High Power Nanosecond Pulse Circuits for Laser Drivers Presenter: John Glaser
Evaluation of Symmetrical and Asymmetrical Scaling GaN FETs in High Step-down Ratio Half-Bridge Converters Presenters: Jianjing Wang, Edward Jones, Michael de Rooij
GaN-Based High-Density Unregulated 48 V to x V LLC Converters with ≥ 98% Efficiency for Future Data Centers Presenters: Mohamed Ahmed, Michael de Rooij
Improving Efficiency in Highly Resonant Wireless Power Systems Presenters: Michael de Rooij, Yuanzhe Zhang
Rectifier Topology Optimisation in Resonant Wireless Power Systems Presenter: Michael de Rooij, Yuanzhe Zhang
Thermal Design for a High-Density GaN-Based Power Stage Presenter: Edward Jones
GaN Reliability for Automotive - Testing Beyond AEC-Q Presenter: Robert Strittmatter
Hard-Switching Dynamic Rdson Characterisation of a GaN FET with an Active GaN-Based Clamping Circuit Presenter: Edward Jones