Lumileds brings white light colour-tuning to mass market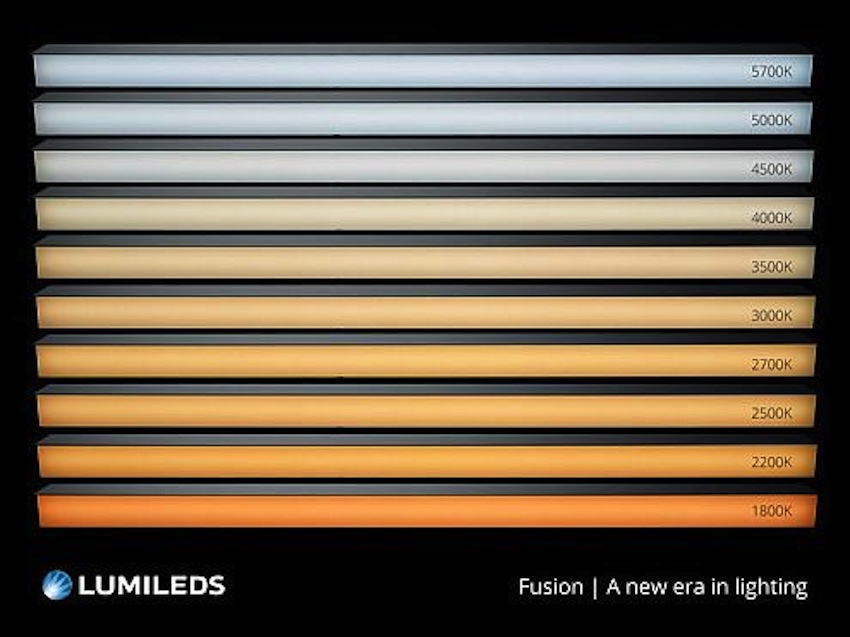 Enables next step in human centric lighting with Luxeon Fusion Technology

Lumileds has launched Luxeon Fusion, a platform technology that delivers a range of white colour selection choices while streamlining fixture manufacturing.

Combining the needs of many tuning technologies, including dim to warm and dynamic tuning for human centric lighting, Luxeon Fusion addresses colour temperatures from 1,800K to 10,000K with high colour-rendering index (CRI) (>90 over 95 percent of range) and high colour fidelity.
Customers who previously were forced to rely on disparate solutions to achieve the desired results can now leverage the Luxeon Fusion platform technology which unites white colour selection, dim to warm capability, SKU reduction and dynamically tunable white lighting—all designed for mass adoption, in one single solution.
"Luxeon Fusion is really designed to open up colour tuning for mass adoption in all indoor lighting environments because it offers superior dim-to-warm consistency down to 1,800K, white light colour choice, high efficiencies and consistent light output over dynamic tuning ranges," said Steve Barlow, SVP and GM of Lumileds LED Solutions.

Luxeon Fusion enables the next step in human centric lighting. When lighting hospitals, restaurants, offices or retail venues, designers often wish to adjust colour temperature on-site or program it to adjust light levels throughout the day to complement a changing ambient environment. Available on the Lumileds Matrix Platform, which custom configures Luxeon LEDs and Advanced Technologies on substrates to fit manufacturers' specific requirements, Luxeon Fusion is easily integrated with a variety of wired and wireless (e.g. Digital Addressable Lighting Interface (DALI), Digital Multiplex (DMX), Wi-Fi) approaches for on-demand tuning.

"White light tuning in the past was limited and could not, for instance, tune along the blackbody curve or just below the blackbody curve, a range that enables vivid colour depiction," said Matt Everett, senior director of Matrix Platform Integrated Solutions. Programming in such ranges is enabled by Luxeon Fusion.

The first implementation of Luxeon Fusion involves modules for downlights, spotlights, troffers and linear applications – achieving system efficacy and colour stability comparable to that of Luxeon LEDs. "We boosted LED utilisation by 25 to 100 percent over standard two-LED or three-LED solutions, and achieve consistent light output over the tuning range – something customers value and other colour tuning systems struggled to deliver," said Greg Tashjian, senior director of R&D at Lumileds.

An to the Luxeon Fusion is more efficient fixture development. For instance, a fixture that is offered with CCTs of 2700K, 3500K and 5000K colour temperatures, each with specific light engines and SKUs can now use one engine for all the fixtures and CCT (correlated colour temperature) can be set later -- even after fixture installation. Another use involves high-impact retail environments, where companies select a signature CCT and brand all stores worldwide with one colour tone.