IR LED market will cross $1 billion by 2026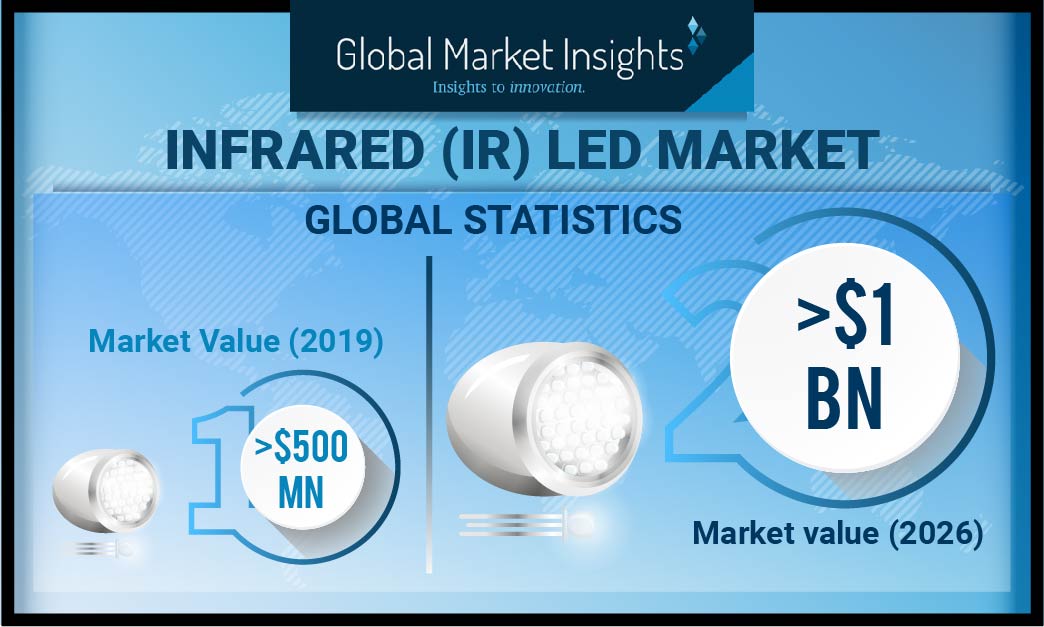 LEDs of wavelength 700nm-850nm are likely to witness the strongest growth over the forecast period

​According to a new report by Global Market Insights, the market valuation of infrared LEDs will cross $1 billion and shipments to cross 8 billion units by 2026.
IR LEDs of wavelength 700nm-850nm are likely to witness the strongest growth over the forecast period owing to their increasing applications in medical treatment appliances and IR illumination in solid-state lasers.
Favourable government regulations to mandate the use of IR lighting to ensure driver safety will add an opportunity for market growth. This has led to manufacturers investing in interior and exterior lighting applications, such as night vision lighting systems, head-up displays, and front lighting with active bending features, driving the demand for IR LEDs.
The rising demand for a strong surveillance system worldwide is also likely to boost IR LED market growth over the coming years. The integration of disruptive technologies with surveillance systems, such as smart sensors and IoT, to improve the performance will add an opportunity for market growth. These systems are experiencing high adoption from military applications, smart cities, industries, among others.

The 950nm-1020nm segment held a market share of over 5 percent in 2019 and is likely to grow at a CAGR of 5 percent over the forecast period, according to the report. These high wavelength devices are used for light sources for remote controller, infrared communications, and photo couplers. This will increase their adoption in applications such as surveillance cameras, sensors for factory automation, infrared range finder for digital cameras, and smoke detectors.

Imaging applications are anticipated to register a CAGR of over 7 percent over the forecast period. IR LEDs for image processing are used in a wide range of applications such as defence & security, medicine, industrial, and handheld mobile devices.

https://www.gminsights.com/toc/detail/infrared-ir-led-market