Lumileds Breakthrough Assures Uniform LED Dimming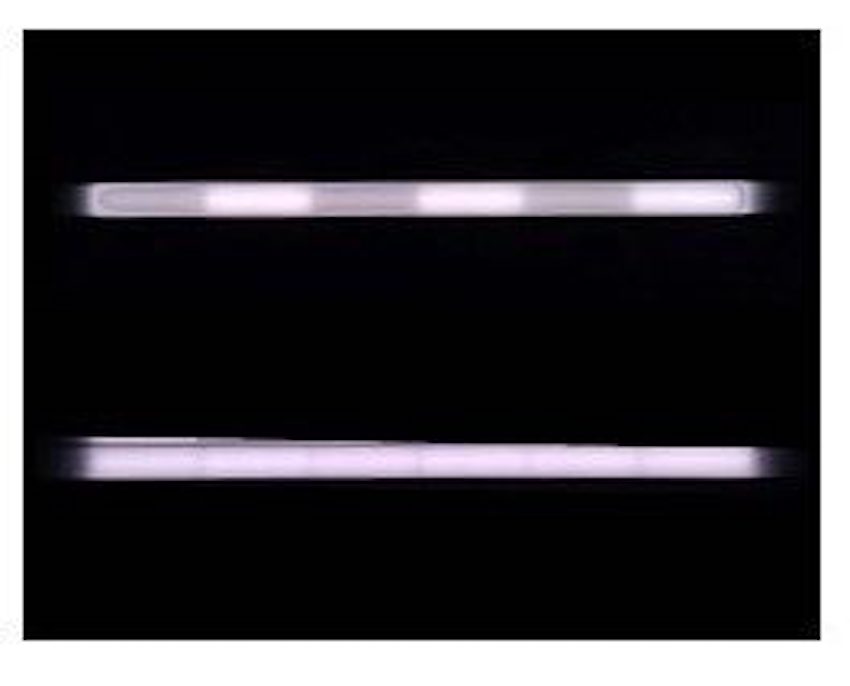 Luxeon mid-power LEDs dim consistently to 1 percent providing uniformity in linear solutions and architectural application

Lumileds has introduced the first LED engineered for architectural applications that require uniform light output through the entire dimming range and operating conditions.

The new Luxeon 3030 HE Plus Deep Dimming mid-power LED is designed for LED to LED flux uniformity across the entire dimming curve – down to 1 percent – that is required to achieve consistent visual performance. From full intensity above nominal current of 65mA to 1% intensity at 0.65mA, every LED will provide the same flux performance in the application.
The picture above shows inconsistent LED performance when dimming at the top, and below smooth, consistent deep-dimming with the new Luxeon LEDs.
Key to the performance is forward voltage variance of just 0.10V which simplifies driver design and compatibility. The single 3 SDCM color bin ensures color consistency at any CCT. Lumileds 3V 3030 package is a proven, high efficacy industry standard platform that allows for drop in replacement of existing 3030 footprint LEDs.
"Inconsistent flux performance has long been a problem for luminaire manufacturers and they've found work-arounds by either adding components or managing LED selection from the bins they receive. Both work-arounds add cost, complexity and time to the manufacturing process," said Mei Yi, product marketing manager at Lumileds. "With Luxeon 3030 HE Plus Deep Dimming we provide consistent flux performance across the dimming range directly at the LED level."
The new deep dimming LEDs are available across the entire CCT range from 2700K to 6500K and with minimum CRIs of 80 or 90. These new 3030 LEDs deliver the highest efficacy across all Luxeon 3030 mid power product lines, from 162 lumens to 210 lumens per watt depending on CCT and CRI. Typical forward voltage is 2.71 plus or minus 0.05V.