OLED materials to reach $2.3B in 2024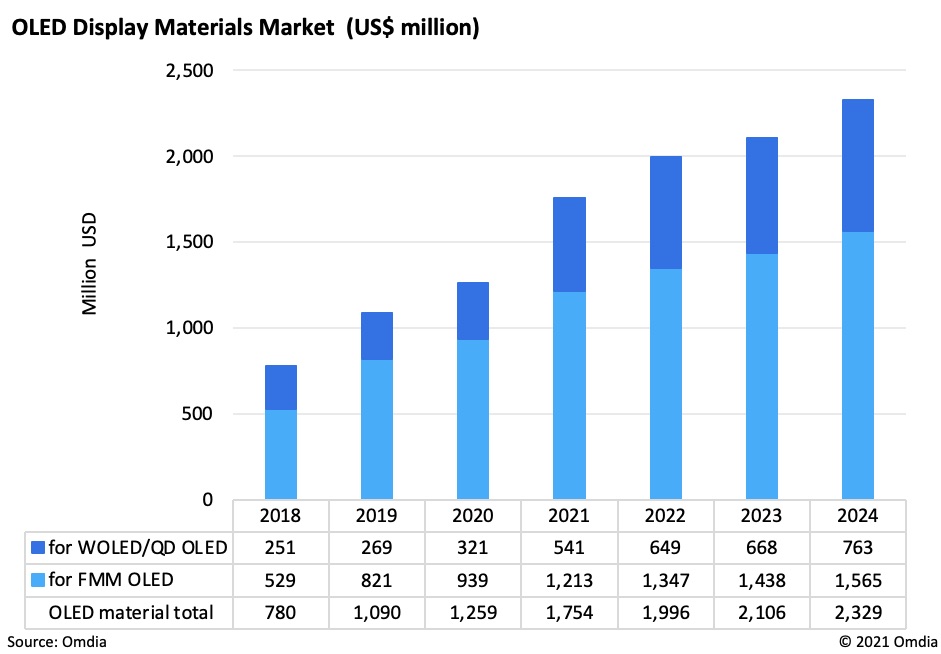 White OLED, RGB OLED and QD OLED will drive the OLED materials market, says Omdia

White OLED, RGB OLED and QD OLED will drive the OLED materials market to grow to $2.3 billion in 2024, from $1.3 billion in 2020, according to Omdia's latest OLED Materials Market Tracker.

The global market for organic light-emitting-diode (OLED) materials intended for display panels posted double-digit growth in 2020. Worldwide OLED materials revenue in 2020 amounted to $1,259 million, up by a 16 percent YoY increase from 2019. Compared with the 40 percent YoY growth in 2019, the reduced growth rate in 2020 can be attributed to the impact from the COVID-19 on smartphone RGB OLED demand and the slow ramp up of Chinese Gen6 flexible OLED fabs.
However, with the strong recovery on the mobile RGB OLED panel, the shipment expansion of the OLED TV display, the launch of the QD OLED and the prevail of the OLED in PC applications, OLED materials market is expected to grow by 40 percent in 2021. Worldwide OLED materials revenue is expected to reach $1,754 million, returning to a 40 percent YoY increase. OLED material revenue for WOLED and QD OLED will increase by 69% in 2021 and it will drive the growth for whole material market.
The RGB FMM (Fine Metal Mask) OLED materials are the main OLED materials market element, but the WOLED/QD OLED materials are growing fast. The WOLED / QD OLED material market reached $541 million, up by 69 percent YoY increase in 2021. It accounts for more than 30 percent of the total OLED materials market.
For years, LG Display has been the sole exponent of WOLED, deploying the technology in the company' production of OLED TV panels, the leader in that market. As use of WOLED materials is restricted in a single maker, its portion in whole materials market also remains small. However, LG Display is in the middle of ramping up mass production of WOLED panels at its new Guangzhou fab and expected to gain a lot of WOLED production from 2021.
Furthermore, Samsung Display is developing a counterpart technology optimized for large-area applications, it calls Quantum Dot (QD) OLED. Start of mass production of QD OLED is expected to be in 2021. Total OLED materials revenue in 2022 will continue to grow close to $2,000 million, mainly driven by WOLED and QD OLED.
Emission Efficiency of Blue Material
According to Jimmy Kim, principal analyst, OLED Materials, Mini LED & Quantum Dot in Omdia: "QD OLED is still under development and its first mass production schedule is 2H21. It is evident that the early launch and rapid penetration of QD OLED into the market is critical for the forecast of OLED material market growth upcoming years. Among many technology issues QD OLED is facing, blue OLED material may still be regarded as a core."
"Current QD OLED and WOLED structures are known to consist of multi blue emitting layers meanwhile only single layer is prepared for red and green emitting layers in the OLED display structure. It is mainly because of low emission efficiency of blue emitting materials and resulting in a main hurdle for cost reduction and performance improvement of QD OLEDs. ".
Limited supply chain for blue material is another issue. Idemitsu Kosan in Japan has been almost the sole supplier of blue emitting materials for WOLEDs. Recently, Japan's JNC has introduced a new blue OLED material of high performance. JNC has established a joint venture with SK Materials in Korea to promote it to Samsung Display and LG Display more aggressively. It is trying to penetrate blue material supply chain almost monopolized by Idemitsu Kosan.
At the same time, OLED panel makers are trying to improve blue OLED materials by themselves now. Thermally-Activated Delayed Fluorescent (TADF) materials are known to be a strong candidate for alternative blue emitters. SDC and LGD have already invested to Cynora in Germany, the most advanced company in TADF development. LG Chemical, a family company of LG Display, has acquired OLED patents from Dupont, including key claims for improvement of blue materials.
On the other hand, the RGB ink jet printing OLED materials are under the ramping up stage. Although the production scale is small at this moment. With China panel makers become more aggressive in introducing the mass production scale ink jet printing OLED materials, it will help on the long term growth.