CIGS solar: the future for Green Office Buildings?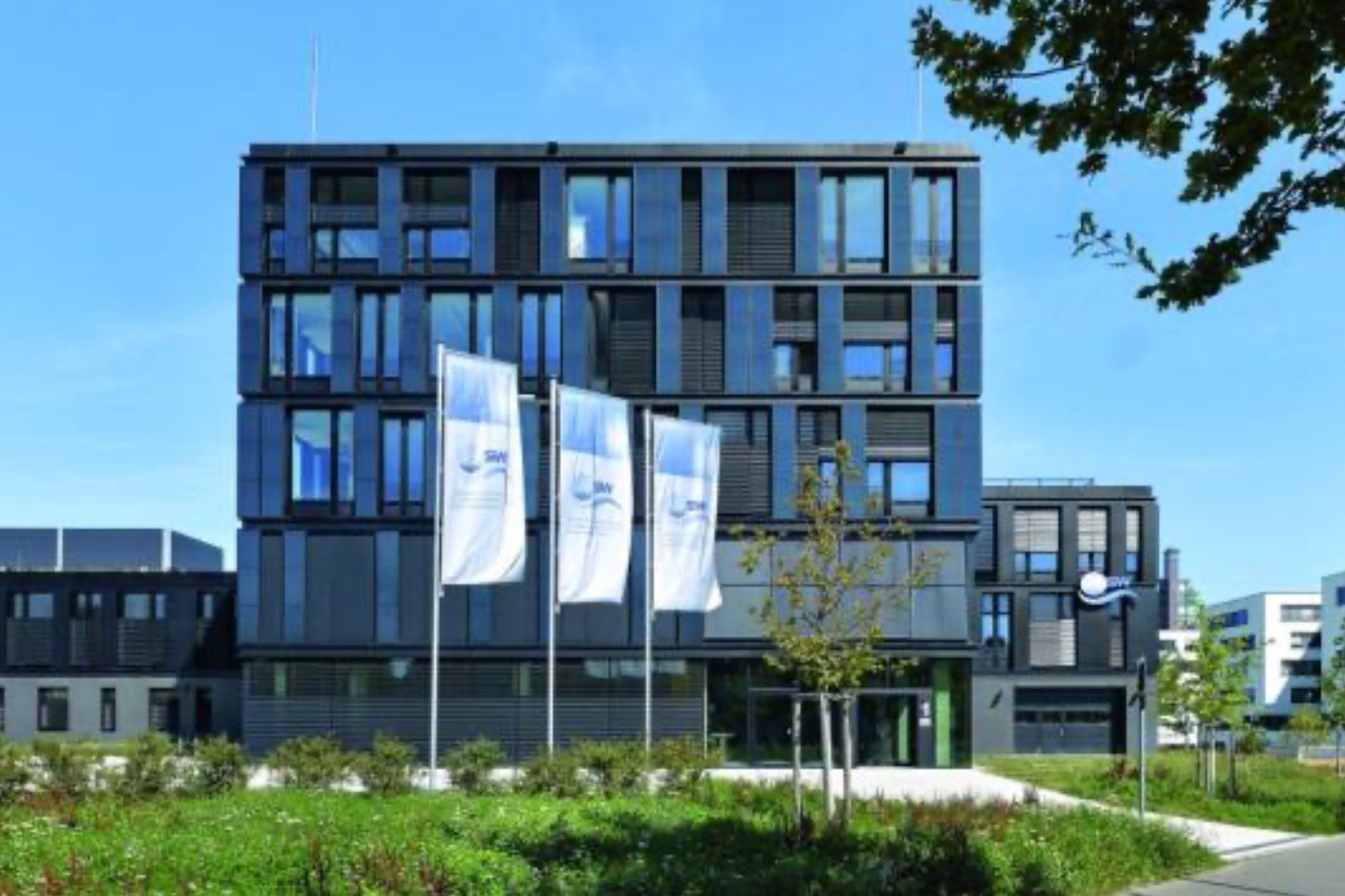 CIGS solar panels could generate nearly 40 percent of demand – even without batteries to store energy, says ZSW study

Office buildings generally consume a fair amount of electricity, and rarely in a climate-friendly way. As recent findings from the Centre for Solar Energy and Hydrogen Research Baden-Württemberg (ZSW) indicate, this consumption can be made far more sustainable with façade and rooftop photovoltaic (PV) systems.
Researchers recently investigated the façade-mounted PV system on the ZSW's headquarters in Stuttgart, Germany, to determine to what extent solar power generated by the building itself can cover overall electricity consumption. Feeding the data obtained from this building into a model, they found that electricity sourced from rooftop and façade-mounted solar panels cover nearly 40 percent of a standard office building's overall demand – and can do so even without solar power storage units. This combination of PV systems on the roof and façade pays off in the course of the day as well as across seasons.

It takes quite a bit of electricity to keep office buildings running. Most of it goes to power lighting, ventilation, air conditioning and other electrical appliances. Germany will have to meet this energy demand in a more ecofriendly way now that it has committed to the goal of climate-neutral buildings by 2050. Electricity sourced from photovoltaic systems can help with that. The country will need at least 100 gigawatts of installed capacity by 2030, much of which will have to be mounted on buildings. Some owners of non-residential buildings have installed this type of carbon-free power source mainly on rooftops, but not nearly enough to meet these goals. Façade PV systems are few and far between.
Solar panels on façades and roofs pays off
Very few owners integrate solar panels into the building's envelope, despite their towering benefits. While the roof area remains the same regardless of a building's height, the higher it rises, the greater its façade surface area will be. Façade-mounted PV systems offer benefits beyond their capacity to generate electricity. They also protect against wind and weather, provide shade, reduce heat loss, replace conventional building components and help to soundproof buildings.

Germany's Building Energy Act (Gebäudeenergiegesetz) rewards owners who install façade PV systems by giving the building a better energy rating. Façade-mounted solar panels are most cost-effective when incorporated into the design on the drawing board, before new buildings go up. In this case, the investment can pay for itself in just ten years, after which the façade-mounted system starts turning a profit.

Thin-film CIGS modules also have an aesthetic advantage. Offering the same design options as glass façades, they enable architects to create uniform glass surfaces in elegant hues. Panels come in various colors, sizes and shapes. They can even be flexible components and custom designs made to order. Researchers at ZSW are striving to optimise such applications.

Façade PV systems achieve 29 percent self-sufficiency
The ZSW model used actual power generation and consumption data to calculate how much of an office building's electricity demands can be covered with photovoltaic modules on the façade and roof. First, the researchers determined the amount of power generated by CIGS thin-film solar modules on the southeast and southwest façades of the institute's office building in Stuttgart and by its rooftop panels.

The researchers then applied this data to a model of a typical five-story office building with PV panels covering a quarter of the façade and 30 percent of the roof area. This amounts to 131 kilowatts of installed capacity. These solar modules would collectively generate around 115,000 kilowatt hours of electricity a year. In this modeled use case, the building's annual demand comes to 170,000 kilowatt hours, a figure based on meter readings taken by the state of Baden-Württemberg for administrative buildings.

The results of these calculations show that office buildings can indeed meet quite a bit of their electricity needs with solar power furnished by façade and rooftop systems. "The façades alone furnish 29 percent of the electricity consumed over the period of a year," says Dieter Geyer, project manager at ZSW. Most of the power generated by these solar modules – 80 percent – is devoted to this purpose, with the rest being fed into the power grid. "This combination of photovoltaic systems on the façade and roof elevates the level of self-sufficiency to 39 percent," says Geyer. The majority of all solar power generated by the building's systems – 58 percent – is consumed locally. The remainder increases the share of green electricity in the grid.  

39 percent of demand covered by PV, even without batteries
Solar panels can satisfy a great deal of demand even without batteries to store the generated electricity. "Office buildings need electricity mainly during the day, so a good portion of the generated solar power can be consumed immediately," says Geyer. "Storing this electricity for later consumption is not an absolute necessity." This also brings down the cost of the overall photovoltaic system.

What's more, solar façades generate electricity mainly in the morning and late afternoon when aligned to do so as in this use case. Rooftop systems generate electricity mostly in the midday hours. This means solar power is available during the hours when electricity consumption runs highest, from 8 a.m. to 6 p.m.

There is another reason why rooftop and façade-mounted solar panels are a greener option for office buildings – they complement each other well across seasons. Rooftop panels' output is highest during the summer months. Façade-mounted PV panels are a perfect match, contributing to the overall system's annual production with power output that runs highest during the winter months. Their vertical orientation puts façade-mounted panels in a better position than rooftop systems to capture the low winter sun's rays.

PV façades set to take off
The upshot is that PV façades come highly recommended – they certainly make office buildings' power supply more climate-friendly, particularly in combination with rooftop systems. Experts and scientists predict that façade PV systems will figure ever more prominently in architects' designs and engineers' building plans. When this practice goes mainstream, it will present a mass-market opportunity for German manufacturers of photovoltaic modules and production systems. The ZSW intends to step up its research to extend the life of photovoltaic façades to match that of standard façades.

This research was funded as part of a joint BMWi project to investigate façade-integrated CIGS photovoltaic systems (funding code 0324156A).
The picture shows ZSW headquarters in Stuttgart and its CIGS building-integrated facade.