Inseto provides bonder for compound semi projects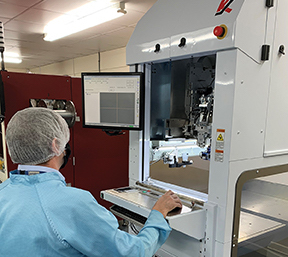 Asterion wedge bonder to play a crucial role for CIL in two major UK electric vehicle projects

Inseto, a technical distributor of equipment and materials, has supplied Custom Interconnect Limited (CIL) with a Kulicke & Soffa Asterion large diameter wire / ribbon wedge bonder for use in the production of wide bandgap (WBG) semiconductor-based power modules and the assembly of battery packs.

The Asterion is to play a crucial role in two major electric vehicle (EV) projects in which CIL is involved. In the first, CIL is engaged with BMW on APC15@FutureBEV to maximise potential for future BEV systems. The project is one of ten projects by the Advanced Propulsion Centre (APC) in its latest round of Government and industry funding for low-carbon emissions research.
In the second case, CIL is the project lead on GaNSiC - a project that stems from the UK Research and Innovation's (UKRI) 'Driving the Electric Revolution' challenge and brings together CIL and Compound Semiconductor Applications Catapult (CSA Catapult). It is set to develop novel ways of applying Silver Sinter pastes to WBG semiconductors, such as SiC and GaN devices, to optimise their thermal coupling and solve complex power module assembly challenges.
John Boston, MD of CIL, comments: "Because of the high currents EV power modules handle, both projects require the placement of heavy gauge wire or ribbon, of between 150 and 600microns diameter or width compared to fine-wire bonding, which tends to be about 25microns."
Boston goes on to say that SiC-based power module designs are aiming to switch up to 800VDC and handle up to 600A. He adds: "You need heavy gauge, but heavy gauge wire bonding of wide bandgap materials is a relatively new technology. More than ever before, there's a need for collaboration and trust within the industry. Also, with keeping costs low such an imperative in the automotive sector, the use of advanced manufacturing tools likely to produce the best results is essential, particularly when some vehicle manufacturers are demanding zero defects and stipulating that reworks are not allowed.
CIL is an electronic solutions provider. It has the largest independent 'chip and wire' facility in the UK and its micro-electronics packaging facility is regarded as being at the forefront of the EV power revolution.
Boston concludes: "In addition to APC15@FutureBEV and GaNSiC, we're the manufacturing partner on many other EV projects, plus we have many customers in the aerospace sector – active under initiatives like the More Electric Aircraft and the All-Electric Aircraft. "
The K&S Asterion is located in CIL's BEV facility, and joins an automatic die bonder and high pressure Silver Sinter press (both of which are for the packaging of WBG materials) and a scanning acoustic microscope, used to detect voids. The Asterion will also be used in the manufacture of EV batteries, specifically for bonding between cells and busbars/plates.