GaN Systems & Silanna Release Charger Reference Design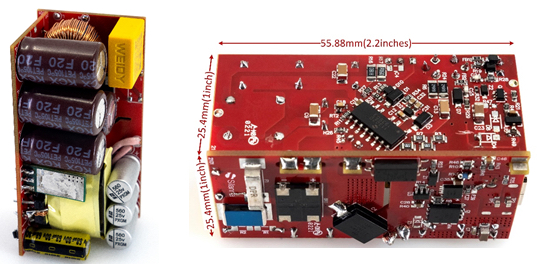 Provides an easy design for 65W Active Clamp Flyback USB-C PD GaN chargers
GaN Systems has announced a new reference design for a high power density, high efficiency GaN-based 65W Active Clamp Flyback (ACF) charger in collaboration with Silanna Semiconductor.
The reference design is said to remove the difficulties of an ACF topology design, which typically has two transistors in the high-side and in low-side configuration. The new charger reference design uses Silanna Semiconductor's SZ1130 ACF Pulse Width Modulator (PWM) controller and GaN Systems GS-065-008-1-L 650V GaN power transistor, with the high-side FET integrated into the controller. This design results in lower BoM costs by using a conventional RM8 transformer and 100V SR MOSFET on the secondary side.

Key benefits and features include density: 30W/in3 no case; peak efficiency >94 percent, less than 95degC max component temperature; clean waveforms with almost zero voltage spike or ringing; and support for a wide range of applications: 5V/3A, 9V/3A, 15V/3A and 20V/3.25A output voltages; USB-PD
"Silanna Semiconductor's SZ1130 chip is a great fit for 65W ACF designs and is another example of a company developing an innovative solution in recognition of the growing importance of GaN to power engineers," says Jim Witham CEO of GaN Systems, "As GaN becomes the standard building block across markets, it's good to see that the ecosystem continues to grow."
The reference design is now available at Silanna.