Covid-19 delivers a mixed blessing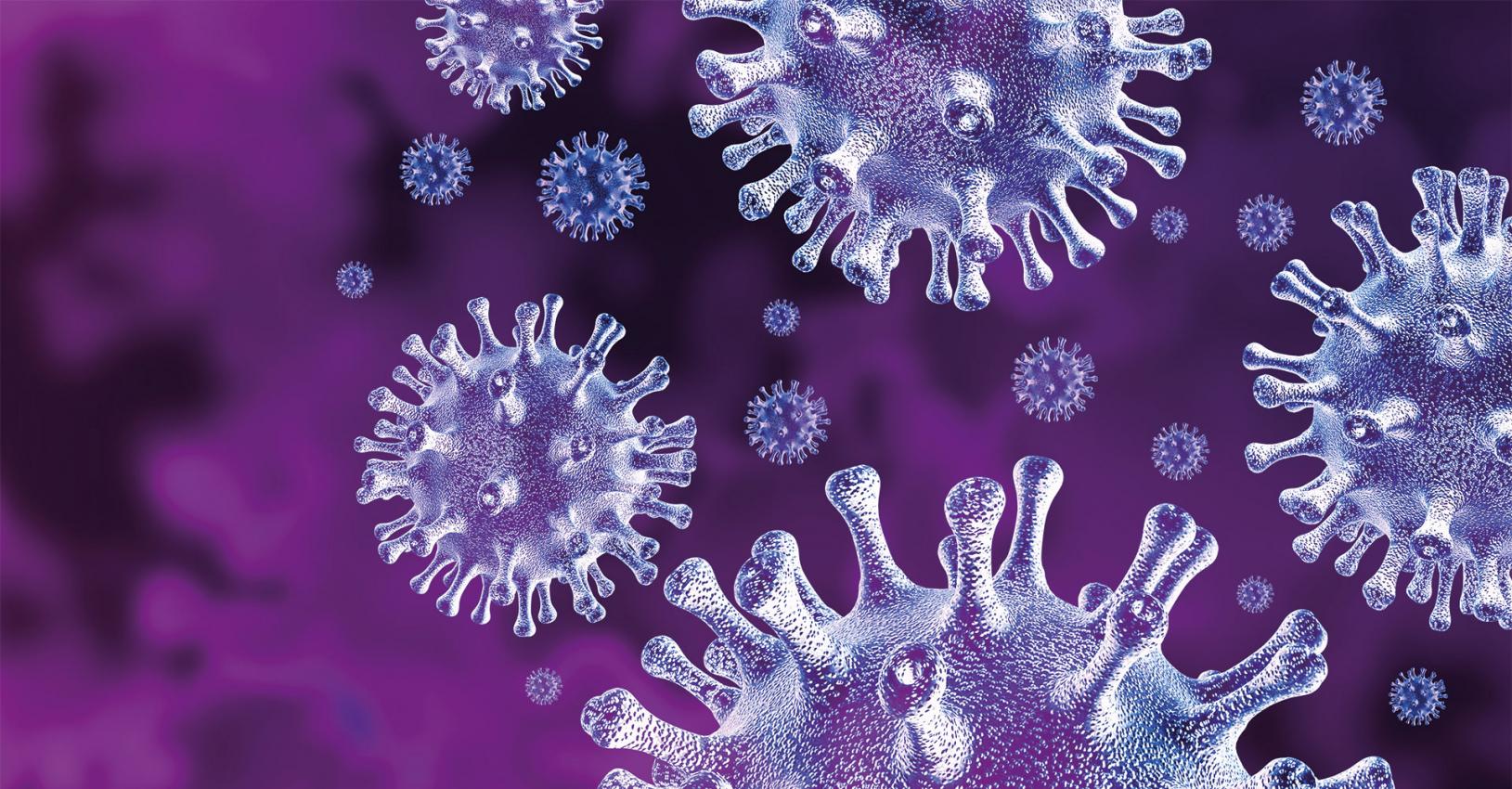 The pandemic is behind soaring sales in some sectors of the compound semiconductor industry, while others take a hit or continue along an existing trajectory
BY RICHARD STEVENSON
We have all suffered from the pandemic on a personal level. Loved ones have been lost, many of us have had to stay at home for weeks on end, and life is not nearly as much fun as it used to be.

However, when it comes to business, it is a very different state of affairs, as we are not sharing in the pain. While millions have been made redundant and countless more had their pay packet cut, some have benefitted from Covid-19. It is well publicised that Jeff Bezos, the owner of Amazon, has nearly doubled his wealth, and some of the providers and distributors of PPE equipment have lined their pockets by applying extortionate margins. Many others that have also done well, growing their investments and swelling their pension funds, thanks to soaring share prices of some companies.
But what about the compound semiconductor industry? Is it a winner, a loser, or a bit of both?
For any manufacturer, the outcome is always influenced by two critical factors. One is the ability to churn out product. Is there a reliable supply of materials? And is the production facility able to run at high capacity? Succeeding on this front is no guarantee of making a profit, however, as financial success also hinges on having strong demand for what is being produced.
Like makers of any class of goods, production facilities within the compound semiconductor industry have suffered from logistical issues, while manufacturing efficiency has been pegged back by the introduction of new practices to minimise transmission of Covid-19. The good news, though, is that the disruption from the pandemic has been fairly minor – it is certainly less than that within the automotive industry, which, for example, saw Tesla's plants in Shanghai and California shut for a couple of months. Helping chipmakers has been the backing of governments, who are keen to maintain economic activity and view semiconductor production as a critical activity.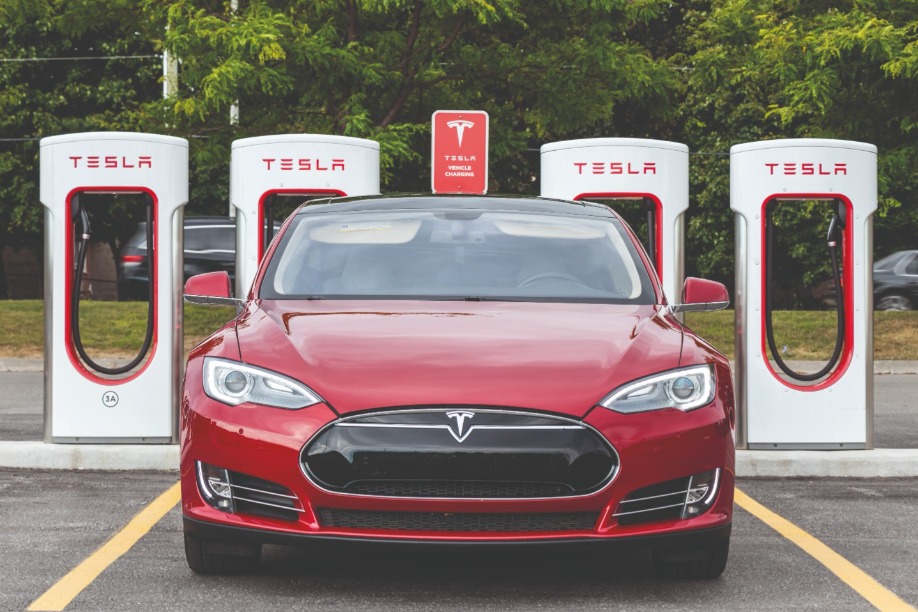 Sales of SiC are growing fast, thanks to deployment of these devices in the Tesla 3, X and S models.
Within the semiconductor industry, companies have taken broadly similar approaches. Two of the biggest European players, ST Microelectronics and Infineon, have scaled back production at times – but by not shutting, they have been able to quickly return to normal levels of production. It's a similar story for the two biggest players in the GaAs RF industry, Qorvo and Skyworks. The latter briefly shut its facility in Mexico, before coming back very quickly, while Qorvo didn't stop, with the US Government viewing this chipmaker as an essential business.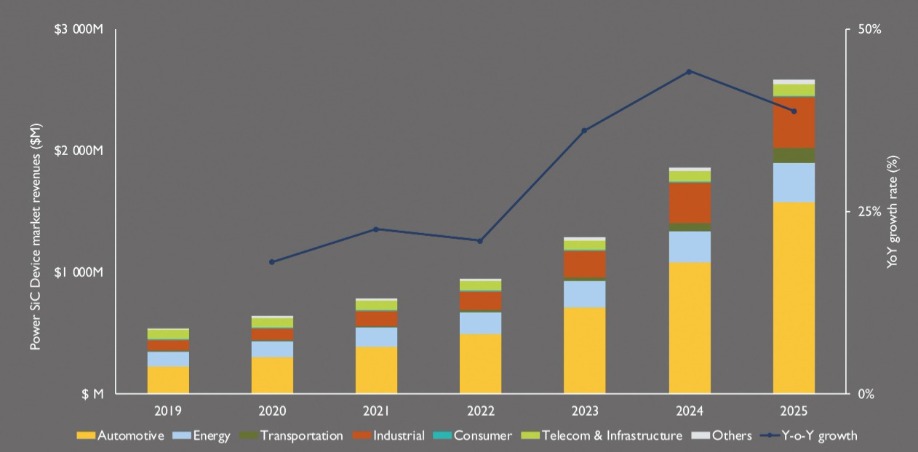 Increasing sales of SiC power devices are being driven by the electric vehicle industry. Source: Compound Semiconductor Quarterly Market Monitor, Q4, 2020. Module II, Yole Développement.
When it comes to demand, the picture is more complex across the compound semiconductor industry. To understand the impact of the coronavirus, one needs to consider consequences sector by sector. That requires expertise in all areas, from LEDs to lasers, power electronics and RF. Offering such a comprehensive coverage is Yole Développement, which has a team of market analysts covering all the critical bases. They reveal that the consequences of Covid-19 are incredibly varied. The pandemic has had little impact on some sectors, with changes driven by other factors; but this device is also behind some phenomenal successes and depressed sales.
Covid's silver linings…
One market that has enjoyed a very positive impact from the pandemic is that of LEDs emitting in the UVC domain – that is, wavelengths of 280 nm and below. For more than a decade, UV LEDs have been championed as a great source for disinfection, and this year they have attracted tremendous publicity, as they have been shown to kill Covid-19 bacteria.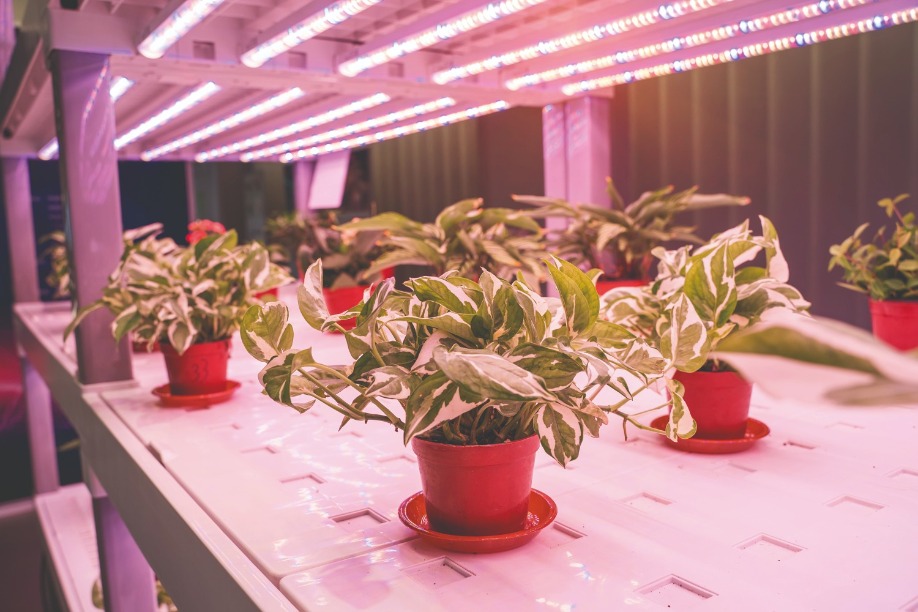 Commoditisation of the LED has led to razor-thin margins in the big, established markets of general illumination and backlighting screens. Horticultural lighting, requiring fine-tuning of the emission wavelengths to accelerate plant growth, offers a more lucrative opportunity.
Pars Mukish, the Market and Technology Analyst in the field of LED at Yole, told Compound Semiconductor that he is expecting the UVC LED market to have nearly doubled between 2019 and 2020, climbing from $144 million to $308 million. From this year onwards, growth will slow, to a still very healthy compound annual growth rate of 52 percent through to 2025. By then the sector will be worth $2.5 billion.
"Those figures take into account the development of a vaccine," says Mukish, who explains that the epidemic has provided a tremendous spark for the UVC LED industry. Last year's jump in sales came on the back of steady progress throughout the last decade, with improvements including a staggering reduction in the cost-per-Watt – this tumbled from nearly $100 per milliwatt in 2015 to around just $1 per milliwatt by the end of last year.
Lamps based on the UVC LED are also undergoing a rapid rise in sales. One example of this is global lighting manufacturer Signify, formerly Philips lighting. Revenue for its UV lamp business grew by 73 percent between 2019 and 2020, and last June it announced plans for an eight-fold increase in production capacity.
Note that the UVA LED industry, which provides sources for curing adhesives, is not on the same trajectory. Mukish explains that as UVC LEDs emit at wavelengths only a little shorter than their visible counterparts, makers of blue LEDs have flooded this market, driving down prices. Note that those chipmakers are not able to move further in this direction and target the UVC LED, because it has a markedly different, more complex architecture.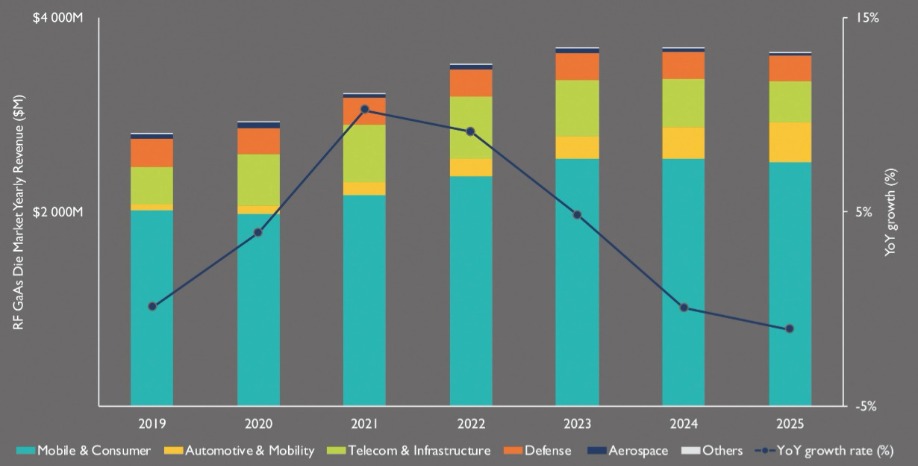 Despite a substantial fall in handset shipments in the first half of 2020, revenue for GaAs die continues to climb, thanks to the rollout of 5G and a move to the Wi-Fi 6 standard. Source: Compound Semiconductor Quarterly Market Monitor, Q4, 2020. Module II, Yole Développement.
One would expect the makers of InP edge-emitting lasers used in metro and long-haul networks, along with the manufacturers of GaAs VCSELs that are employed in data centres, to have benefitted from the epidemic. With internet traffic reaching a new high, now that many of us spend much of our working day on video calls, there is much demand to increase network capacity. However, Mukish believes that this pressure will not have an immediate impact. Instead, it will take time to strengthen infrastructure, which will help to accelerate the digitalisation of our world.
What may raise a few eyebrows is the positive impact that Covid is having on the SiC market. After all, the outbreak of this virus chocked car sales. However, the response from governments all around the world has been to try and support this industry by helping speed its electrification – China has plans to extend subsidies for this sector to 2022, while citizens of Germany, France, Spain and the UK are being offered financial incentives to go out and buy electric vehicles. This is great news for the SiC sector, with sales to the electric vehicle industry forecast to grow and account for a 60 percent share by 2025, according to Yole Développement.
Revenue for the GaN power device market is taking off, thanks to the rapid growth of 65 W fast chargers incorporating this technology. Source: Compound Semiconductor Quarterly Market Monitor, Q4, 2020. Module I, Yole Développement
Yole's Ezgi Dogmus, Technology and Market Analyst, Compound Semiconductors, says that the deployment of SiC in electric vehicles has started with high-end cars, such as those made by Tesla. Elon Musk's company deploys this material in its Model 3, S and X. "We are aware of other OEMs that are coming with SiC adoption this year," adds Dogmus.
When Tesla started adopting SiC in its vehicles a few years' ago, the corresponding hike in orders for power devices led to concerns over SiC substrate supply. Leading chipmakers ensured that they would not miss out by negotiating supply contracts with the biggest producer of SiC substrates, Wolfspeed. Since then supply concerns have fallen, according to Dogmus, who says that the market is now benefiting from more suppliers, including Chinese firms Tanka Blue and SICC, who have big expansion plans.
As well as the increase in the number of producers of SiC substrates, chipmakers are benefitting from the introduction of SiC crystals on the market, provided by US firm GTAT. Dogmus says that GTAT established a partnership with ON Semiconductor, and has more recently entered into another with Infineon. "This is an interesting approach for companies who have internal SiC wafering facility, which can help them to grow and produce their own wafers, and also reduce their SiC dependence on other external factors."
and grey clouds
Within the automotive industry, investment in electrification has come at the expense of LiDAR, which has seen projects associated with this technology delayed. However, although this will hamper sales of edge-emitting lasers, it will not have a significant impact, says Mukish: "When you take a look at the LiDAR market it's quite huge, and there are not so many automotive brands that are implementing it."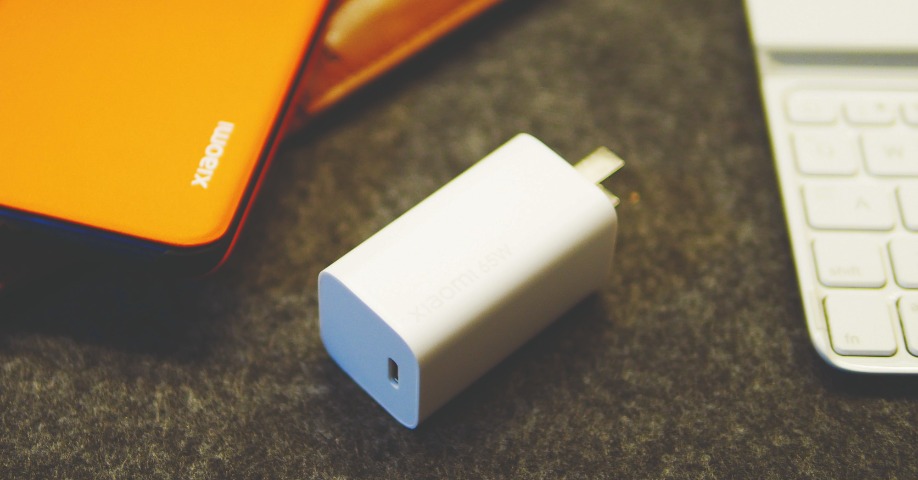 65 W fast chargers based on GaN devices are driving rapid growth in the GaN power electronic market. Source: Compound Semiconductor Quarterly Market Monitor, Q4, 2020. Module I, Yole Développement.
The smartphone market has suffered from shuttered stops, travel restrictions and a tightening of belts. Global shipments for 2020 were down compared with 2019, particularly in the first two quarters.
For makers of VCSELs, a fall in smartphone sales is only part of the problem. There has also been a shift from using a pair of front-facing VCSELs in facial recognition systems, to a single world-facing emitter for photography or augmented reality. "There will be a direct impact on the volume of VCSELs and the revenue," says Mukish, adding that Yole has revised down its forecast accordingly. However, despite this headwind, the VCSEL market is still expected climb at a compound annual growth rate of 18.4 percent until 2025, to total $2.7 billion.
Dominating VCSEL sales is Lumentum, which sources its epiwafers from IQE. Lumentum enjoyed a 49 percent share of the market in 2019, aided by contracts with Apple, which has generated the highest volume for VCSELs for 3D sensing. However, Apple is diversifying its supply, with a significant and growing number of VCSELs coming from II-VI, thanks to its acquisition of Finisar in late 2019.
Despite a reduction in smartphone shipments in 2020, revenue for GaAs microelectronics increased year-on-year, according to Yole's Poshun Liu, a Technology and Market Analyst, Compound Semiconductors and Emerging Substrates. He argues that this rise in global sales is due to the need for the latest phones to incorporate power amplifiers for both 5G and the new Wi-Fi protocol, Wi-Fi 6. Going hand-in-hand with the higher revenues are increases in the volume of both GaAs chips, and their associated epiwafers.
"5G and Wi-Fi 6 – Wi-Fi is a big selling point – are driving the replacement of the new phones for consumers," says Liu, pointing out that many OEMs have recently released models featuring these technologies. Looking further ahead, 5G phones will start to include amplifiers operating in the millimetre-wave, further increasing volumes for GaAs microelectronic devices.
Yole's last forecast for the visible LED market came out in 2019, when analysts predicted sales of $17.4 billion for that year and a modest compound annual growth rate out to 2024 of 5 percent. Figures from TrendForce released in late 2020 suggest that the pandemic has taken its toll on this sector – declines in commercial lighting, outdoor landscape lighting, and outdoor displays have outweighed gains in sales for backlighting TVs, tablets and laptops. Total revenue is tipped to fall by 10 percent between 2019 and 2020, before showing a slight increase in 2021.
Even before the pandemic, the visible LED market was in the doldrums, according to Mukish. "General lighting, initially the killer application for the LED, ended up being a bloodbath after the entry of Taiwanese and Chinese players that created a situation of overcapacity and strong price pressure." It is this state of affairs, rather than any consequence of Covid, that led Cree/Wolfspeed to sell off the LED-based parts of its business, and focus on RF and power electronics.
Commoditisation of the LED industry is not going to be accelerated by the pandemic. "It's already commoditised," argues Mukish, who believes the pandemic could drive further consolidation of this industry.
To secure better margins, some of today's leading LED manufacturers are targeting two niche areas: exterior automotive lighting and horticulture.
LED-based headlamps continue to evolve, now offering an opportunity for carmakers to enhance their brand by making it instantly recognisable in the dark. One of the latest advancements is to combine brand-specific lighting with a camera, to create a smart headlamp offering controllability, such as the direction of the beam. "Only a few companies can supply those kinds of device, mostly for headlamps, because this is where you require really high power, and really high power-density devices, which means expertise in thermal management and so on," explains Mukish. He says that Osram is the key supplier for automotive lighting, a niche that also brings in revenue for Lumileds.
The latter is a key player in horticultural lighting, where success hinges on fine-tuning emission wavelengths rather than optimising power density. Scientists are just starting to discover the optimal spectra for accelerating growth of specific plants, fruit and vegetables.
Independent success
One rapidly growing market that is not deriving any benefit from the epidemic is GaN power electronics. Chips are being deployed in fast chargers for mobile phones. Sales are ramping so fast that the GaN power market almost doubled between 2019 and 2020.
Yole's Ahmed Ben Slimane, Technology and Market Analyst, Compound Semiconductor and Emerging Substrates, told Compound Semiconductor that sales of GaN power devices began to take off in late 2019, when Reno's Ace Oppo Phone started to be dispatched with an accompanying 65 W GaN charger.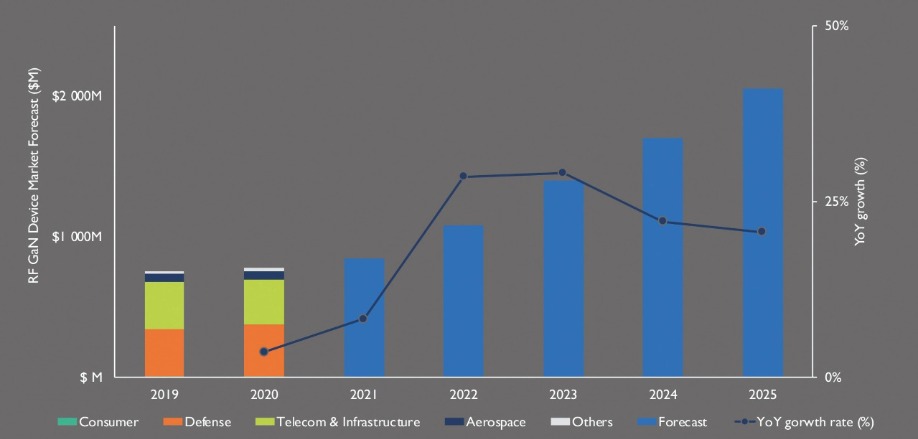 Tensions between the US and China are impeding the growth of the GaN RF market. Source: Compound Semiconductor Quarterly Market Monitor, Q4, 2020. Module II, Yole Développement.
"We have identified two main companies that have targeted this consumer market: Power Integration and Navitas," says Slimane. "They both have products and design wins with different Chinese OEMs, and other OEMs." Due to this activity, several models of smartphone now come with a GaN charger.
Rapidly growing markets always attract competition. Slimane says that Transphorm, GaN Systems and EPIC have all released impressive performance figures for their products that will help them to enter the GaN fast-charger market, which is also going to be targeted by big IDMs, such as STMicroelectronics and Texas Instruments.
Like the GaN market, that for microLEDs has not been impacted by Covid-19. For microLEDs, that's because the market is emerging. It did reach an important milestone last year, with the release of the first commercial product.
According to Mukish, the next steps for this sector are further development of the technology, and the release of a "real" consumer product. "I say a real consumer product, because when you take a look at the product from Samsung, it's a luxury TV with a price tag of nearly $150,000," explains Mukish. While such an expensive item is out of the reach of most of us, prices may not need to tumble as much as one might expect before a trickle of sales begin, thanks to the emergence of a luxury, high-end TV market.
Trade wars
For the makers of RF GaN devices, the two largest markets are defence and telecom infrastructure. RF GaN is already established in wireless infrastructure, having been used in 4G LTE base stations. GaN is the preferred technology for Huawei, which is deploying 5G infrastructure in China, and for European rivals Nokia and Ericsson.
According to Slimane, the pandemic has not had a big impact on the RF GaN market for 5G. What has held back sales is an ongoing trade war between the US and China, with Huawei impacted severely by restrictions, which have also dragged down revenue for Skyworks and Qorvo.
"2021 will be an important year to watch," says Slimane. "There will be a new presidency, and this might bring a new strategy with China."
Once Joe Biden takes over, there will also be a dramatic shift in the position of the US towards climate change, possibly providing another boost to the makers of electric vehicles and those in this supply chain. Another big change this year will be the wide roll-out of an effective vaccine, which will help to ensure smooth running of all compound semiconductor fabs. As the analysis by Yole shows, our industry has not taken any major blows from the pandemic, and a trajectory of long-term growth looks set to continue throughout this decade.