Nitride Semi makes micro UV-LED breakthrough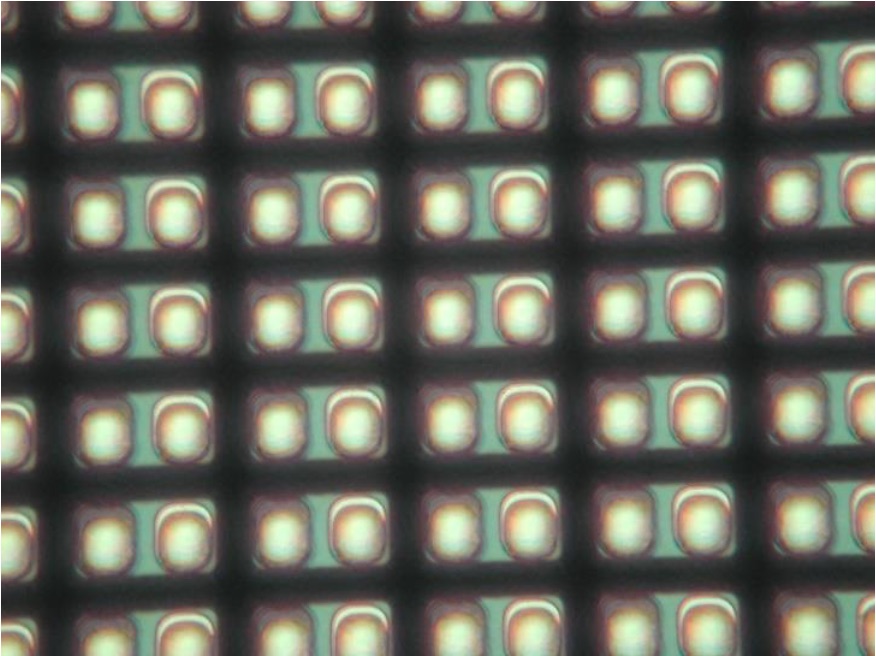 14 million of the tiny 12 μm x 24 μm UV-LEDS can be fitted on a 4 inch wafer

Nitride Semiconductors has succeeded in miniaturising the micro UV-LED chip for micro LED displays, the technology expected to be used for next-generation AR glasses and smart glasses. The company is now developing mass production technology.
Micro LED displays are the next-generation displays for liquid crystal and organic LED displays, and are being developed by Apple Inc and many other companies across the world. The red, blue, and green micro LED chips that these companies are working on are under development. But it is proving difficult to miniaturise the red LED chip to 50 μm or less.

Nitride Semiconductors' group is taking another approach by developing displays using micro-ultraviolet (hereinafter UV) LEDs to excite red, blue, and green phosphors. In this way, the cost of micro UV-LED chips can be reduced, says Nitride.
Nitride as been working on the development of chips with a wavelength of 385 nm ahead of other companies. The chip size of the conventional micro UV-LED is 16 μm x 48 μm, the chip spacing is as wide as 10 μm in the horizontal direction and 30 μm in the vertical direction, and the quantity that can be obtained from the wafer is about 3.4 million chips from the 4-inch wafer.
The newly developed micro UV-LED chip has a chip size of only 12 μm x 24 μm, the chip spacing is 5 μm in both the vertical and horizontal directions, and the number of chips that can be obtained from a 4-inch wafer is about 14 million chips, which is about four times as many.
The cost per chip is one- fourth that of the conventional chip. In terms of electrical characteristics, we have confirmed good electrical characteristics and have made great strides toward practical application in the near future.
When making a 25 mm square size display, 300,000 micro LED chips are required, but 11 micro LED displays can be made from one wafer. (All chips are controlled by an IC driver to display a full-colour screen).
Nitride Semiconductor comments that since the particle size of edible wheat flour is 10 μm to 100 μm, the size of these tiny chips is close to the size of fine flour!