PragmatIC one of three finalists for MacRobert Award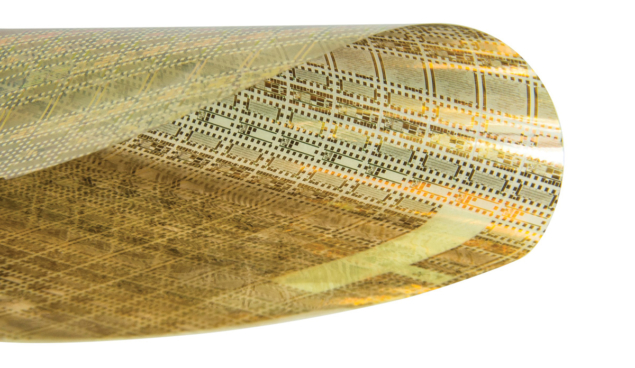 IGZO-based flexible circuit technology is up for prestigious UK award for engineering innovation
PragmatIC Semiconductor, the Cambridge headquartered/County Durham-based flexible microchip pioneer has been named as one of three companies shortlisted for the prestigious 2021 MacRobert Award for the development of flexible integrated circuits.
PragmatIC's ultra-low-cost thin and flexible integrated circuits (FlexICs) use n-type metal oxide TFT technology based on the compound semiconductor Indium Gallium Zinc Oxide (IGZO).
FlexICs are designed to be cheaply embedded into everyday objects from food and drink packaging to medical consumables, a crucial step in achieving the Internet of Things and addressing a range of application sectors including the circular economy and digital healthcare.
But technology is sophisticated enough for uses such as machine-learning as outlined in Nature Electronics in July 2020 in the paper 'A hardwired machine learning processing engine fabricated with submicron metal-oxide thin-film transistors on a flexible substrate'.
The MacRobert Award is the UK's longest running engineering prize. Founded in 1969, it endorses engineering achievements that demonstrate outstanding innovation, tangible societal benefit and proven commercial success. It is overseen by the UK's Royal Academy of Engineering.

Flexible future for smart objects
Conventional silicon-based microchips require large and expensive fabs. PragmatIC's proces allows microcircuits to be produced cheaply and locally, with extremely rapid cycle time, and on a flexible film. Initial use cases focus on item-level digital identification, including product authentication and provenance, improved operational efficiency, waste reduction and recycling, and traceability of healthcare tests and consumables.
The company's first commercial manufacturing plant is based at Sedgefield, Co. Durham, UK now operating at a run rate of over 250 million devices per year. PragmatIC expects to be producing trillions of flexible microchips by the end of the decade. FlexICs can be produced at less than 1/10th the cost of traditional silicon chips, requiring 100 times less energy and with 1000 times lower impact on the environment.
Scott White, CEO, PragmatIC said: "I'm incredibly proud to lead a hugely talented team, and to be in contention for the most prestigious award for UK engineering innovation. The applications of our flexible integrated circuits are limitless and are already revolutionising healthcare systems and retail supply chains. The industry has long promised a future of smart products able to prove their authenticity and quality, but until recently the cost of doing so has been prohibitive. By making microcircuit production local and reducing the cost of each chip by an order of magnitude, we're making electronic intelligence a realistic proposition for everyday items."

PragmatIC has been selected as a finalist for the MacRobert Award alongside two other engineering innovations developed in the UK, that promise significant medical and health benefits: Creo Medical for developing advanced miniaturised surgical tools that integrate radio frequency and high frequency microwave energy for highly targeted, minimally invasive endoscopic surgery; and DnaNudge for its pioneering genetic testing technology that enables consumers to shop more healthily – nudged by their DNA plus lifestyle.
The winner will be announced in July, with the winning team set to receive the signature MacRobert Award gold medal and a £50,000 cash prize.