Amplifier for SiC UV Photodiodes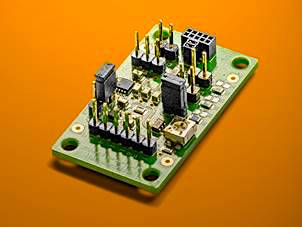 Laser Components announces user-friendly control board

Laser Components (UK) has announced the JTIA1-1G transimpedance amplifier board for its SiC UV photodiodes.

The photocurrents generated by photodiodes are often in the range of a few nanoamperes. To be able to evaluate them better and use them for desired applications they must be amplified and converted into voltage. The JTIA1-1G is a user-friendly amplifier board that can be connected directly to the TO5 or TO18 housings of the photodiodes.
Customers can choose from three preconfigured values via jumpers for their measurements: 10MΩ, 100MΩ, and 1,000MΩ. Accordingly, the photocurrent is amplified at a ratio between 1 V/nA and 0.1 V/μA. A trim potentiometer can be used to further amplify the output voltage by a factor between 1x and 11x.
This amplifier component supports numerous application possibilities in pre-series production and in the final product. This allows you to quickly use your SiC UV photodiodes without investing time and effort in developing your own PCB.