High-performance measurement for IR wavelengths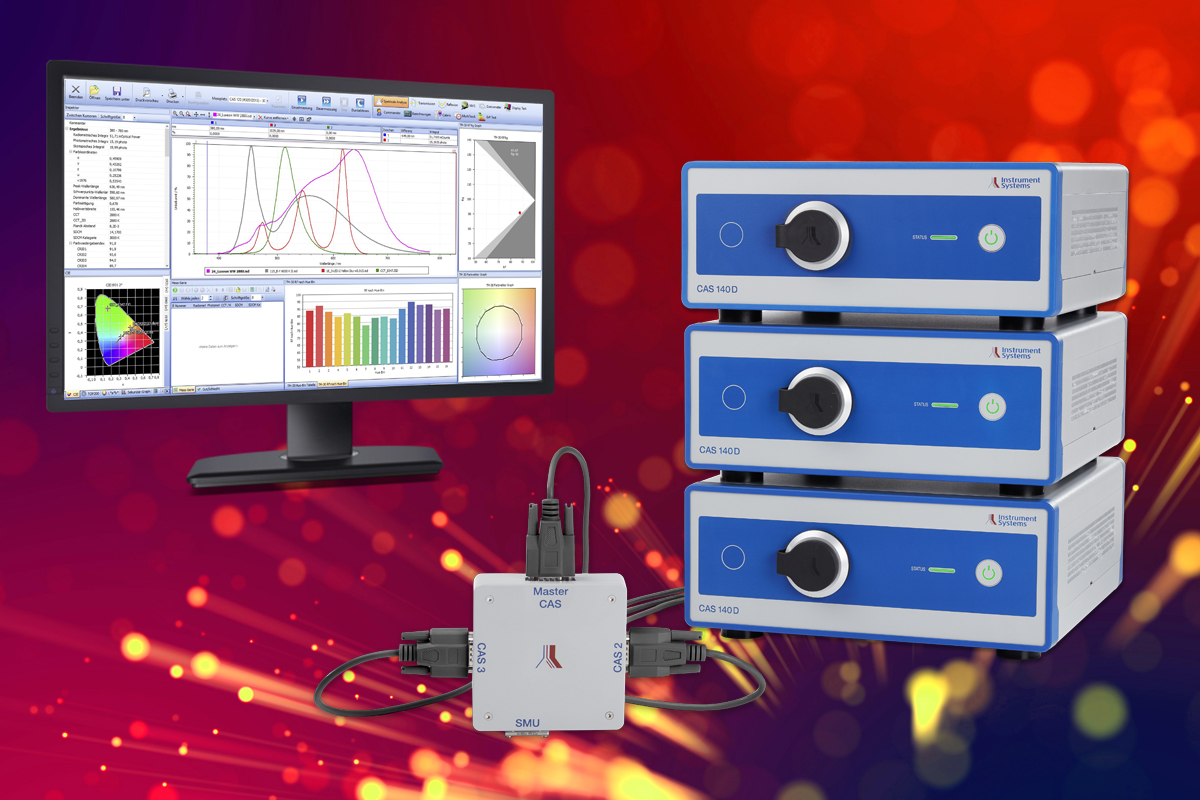 Instrument Systems announces new IR spectroradiometer for SWIR measurements and IR camera for VCSEL testing

At LASER WoP 2022 (26–29 April, in Munich), Instrument Systems will be presenting its latest spectroradiometer CAS 140D IR for measurements in the SWIR (short-wave infrared) wavelength range, and its latest VTC 4000 infrared camera for the near-field analysis of narrow-band emitters, e.g. VCSELs or lasers.
The new spectroradiometer offers the proven high measurement accuracy and reliability of the CAS140D series - internationally recognised as a reference - for wavelengths of 780–1700 nm. Compared to its predecessor, the CAS 140D IR has a significantly better performance in signal sensitivity, stray light suppression and electronics.
As well as proven high measurement accuracy and reliability, it promises significantly better performance for wavelengths in the infrared range than its predecessor CAS 140CT IR. Thanks to a new design of the optical architecture, throughput has been increased by up to 70 percent. The stray light proportion has again been significantly reduced. In addition, the CAS 140D IR contains a new electronic platform that enables faster processing of measurements: the minimum possible integration time has been reduced from 10 ms to 4 ms, the total scanning time for a measurement from 16 ms to 10 ms.
The advantages for the user lie in higher productivity due to shorter measuring times, accompanied by greater precision and repeatability. As a supplement to the broadband model (780–1700 nm) high-resolution devices are available specially for the measurement of narrow-band laser diodes such as VCSEL: e.g. 1300–1440 nm with a spectral resolution of 0.75 nm.
Like all Instrument Systems spectrometers, the infrared models feature calibration traceable to PTB or NIST. With a trigger box, various different CAS models can be combined to a MultiCAS system and complex spectral measurements run parallel over an extremely wide wavelength range. In the right combination with 2D imaging colorimeters, IR cameras, integrating spheres or goniometer systems they precisely and reliably perform individual customer tasks for wavelength ranges from UV to IR.
IR camera for polarisation-controlled VCSEL testing
The company will also present its latest VTC 4000 infrared camera for the near-field analysis of narrow-band emitters, e.g. VCSELs or lasers.
Industry-standard VCSELs emit in more than one polarisation state, each with different polarisation angles, thus impeding error-free measurement.Thanks to a new one-shot process, the VTC 4000 simultaneously measures the spatial polarisation of single emitters of an array and supplies the necessary information to reduce the polarization dependency of the measurement setup. This procedure minimizes the error budget of the VCSEL test system and provides highly accurate measured values for the eye safety of the laser source. This enables manufacturers to exploit the full power efficiency of VCSELs/lasers while guaranteeing safe operation.
The VTC 4000 was specially developed for the ultrafast, precise 2D analysis of VCSEL arrays. It permits the polarization-controlled, simultaneous characterization of all relevant parameters for the single emitters of the array. Due to a unique calibration concept, the 2D quality analysis is performed with an unprecedented measurement accuracy. This concept is based on flat-field and polarisation correction, and corrects the polarization dependence of the optical system.
The VTC 4000 thus calibrated enables absolute measurement of power and the polarisation properties of each single emitter within the field of view in a one-shot process. Like all measuring equipment from Instrument Systems, the VTC 4000 camera is traceably calibrated to national standards (PTB) and delivers readings with absolute precision. Its minimum error budget for power measurement results in a measurement accuracy that is said to be unmatched by any other VCSEL measuring system currently on the market.