Navitas partnership with Anker delivers double CES win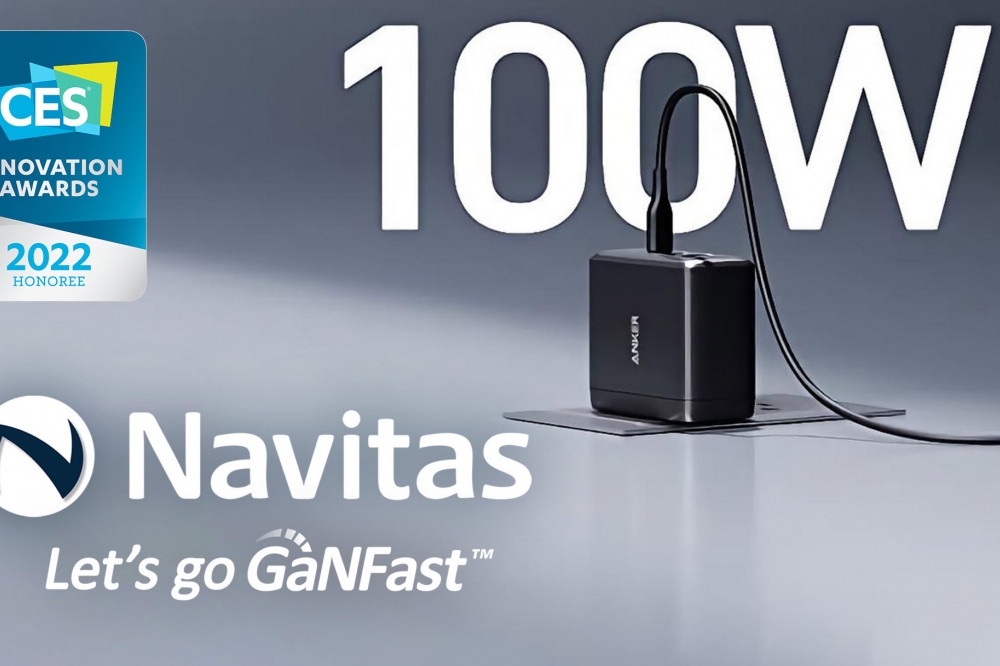 GaNFast power ICs with GaNSense technology power Anker Innovation's new 100 W fast charger

Navitas Semiconductor has announced that its GaNFast power ICs with GaNSense technology power Anker Innovation's new 100 W fast charger.
Both the GaNFast ICs and the Anker 736 Charger (Nano II 100W) multi-port (2x USB-C, 1x USB-A) charger are CES Innovation Award Honorees, with the Anker 736 officially launched to the market in May 2022.
Compatible with USB 3.0 PD PPS and Qualcomm Quick Charge 3.0, and measuring only 67 x 31.5 x 56.97 mm (120 cc) the charger achieves a power density of 0.83 W/cc and can deliver a 50 percent charge to an Apple MacBook Pro 16 2021 in just 40 minutes.
The Nano II 100 W uses two NV6136A ICs, one in the boost PFC stage, the other in a high-frequency quasi-resonant (HFQR) flyback converter, using loss-less current sensing for high efficiency, cool operation and fast charging.
"By using Navitas GaNFast ICs instead of silicon, we are able to deliver more power from a smaller, lighter charger, achieving a power efficiency of over 93 percent," said Steven Yang , CEO of Anker Innovations. "The result is an ultra-compact, high-performance charging solution that provides the convenience of fast and simultaneous multi-device charging with maximum portability."
"Anker and Navitas have an established relationship that goes back to 2017," says Charles Zha, VP and GM of Navitas China. "Since we announced our strategic partnership, engineering teams from both Navitas and Anker have been co-located at Anker offices, which accelerates the time-to-market of innovative products such as the Nano II 100W charger."