Hofer Powertrain uses VisIC GaN tech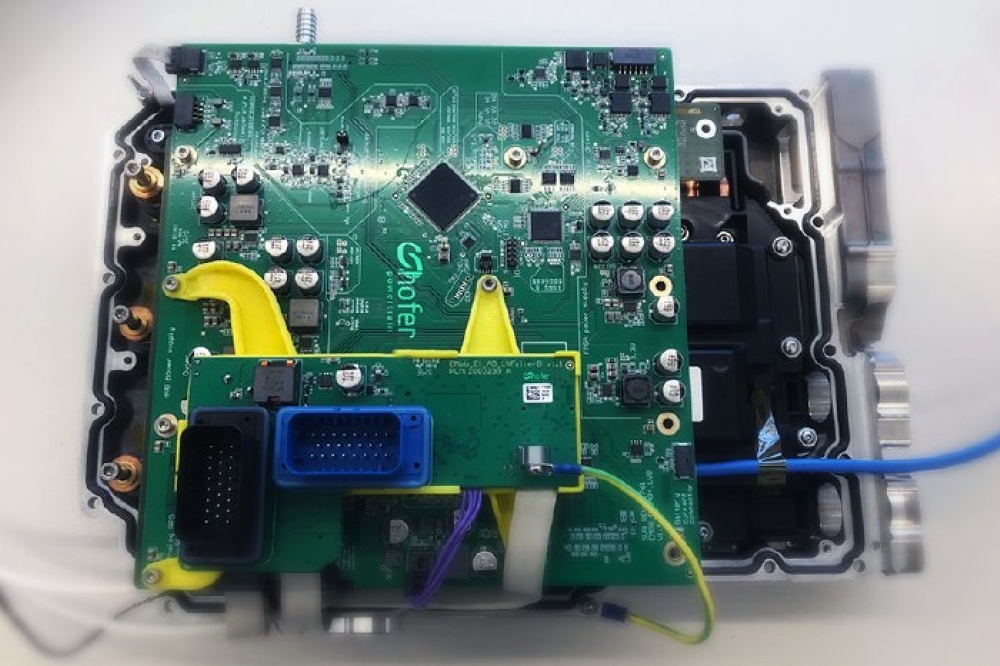 New 3Level GaN Inverter proves capabilities on the test bench

Hofer Powertrain has developed new multilevel power electronics with VisIC's GaN chip technology, capable of meeting the needs of modern drivetrains and breaking efficiency barriers.

The new 3Level GaN Inverter has proven its capabilities on the test bench, showing significantly better switching speed and smaller and lighter package size, reducing total system cost.

"We are proud to have achieved the next step in developing efficient GaN-based, high-frequency inverters for 800V automotive applications," says Lukasz Roslaniec at Hofer Powertrain.

Based on the guiding principle "develop fast and learn fast," Hofer Powertrain developed a Minimal Viable Product (MVP) to investigate and prove the capability of using 650V GaN semiconductors in an 800V 3L NPC inverter application. The main goal is to prove the capability to feed a sinusoidal current of 100Arms through an inductive load and to perform a double pulse test. Measurements have shown the possibilities of an excellent performance increase.

"Hofer Powertrain's development paves the way for a breakthrough in GaN inverter performance, which is superior to silicon and SiC-based designs for high efficiency," says Ilia Bunin, senior product manager & technical expert at VisIC.

Hofer says the system provides valuable insights and in-depth understanding of the short circuit protection, switching properties of the implemented GaN transistors, the impact on dv/dt, oscillations during switching, voltage overshoots, and much more. In addition, the company has been able to identify the most important electrical and thermal properties for rapid further development.
The upcoming sample stage has already started and is expected to perform well in a series of tests in real-world conditions with a permanent synchronous motor. The team aims to validate and benchmark existing systems using test cycles like the Worldwide Harmonised Light Vehicles Test Procedure (WLTP) and prove its potential for the entire automotive powertrain.

The new Traction Inverter with GaN Chip Technology proves to be a success
Eine Pressemitteilung von Hofer Powertrain
Veröffentlicht am 11.08.2022
Website Promotion
Website Promotion
Hofer Powertrain
Hofer Powertrain is a system supplier, engineering, and technology partner for efficient powertrain solutions covering all classes of electrified vehicles. The company's primary goal is to increase the efficiency of e-mobility with future-oriented solutions. This goal is achieved through a unique, in-depth knowledge of the complete powertrain system, including software, functions, and vehicle integration from pre-development to SOP and beyond. This holistic powertrain expertise is represented worldwide by expert teams in Europe, Asia, and the United States.
PresseMail abonnieren
Erhalten Sie täglich aktuelle und relevante Pressemitteilungen kostenlos an Ihre E-Mail-Adresse zugeschickt. Melden Sie sich an und bleiben Sie informiert.
E-Mail-Adresse
Dieses Formular ist durch reCAPTCHA geschützt und es gelten die Datenschutzbestimmungen und Nutzungsbedingungen von Google.
ABONNIEREN
Tägliche Zusammenfassung
PresseBox-Pressemitteilungen inklusive Bildmaterial und weiterführender Links
Immer auf dem Laufenden
Aktuelle News, Themen und Trends
Personalisierte Informationen
Bestimmen Sie selbst, über welche Inhalte und Keywords Sie wann informiert werden
Das könnte Sie auch interessieren
220809-Header 1 PRESSEBOX 3L Inverter Hofer Powertrain.jpg220809-Header 1 PRESSEBOX 3L Inverter Hofer Powertrain.jpg
Logo der Firma Hofer Powertrain
Hofer Powertrain
vor 48 Minuten
Exceptional EV performance and cost improvements with this new generation of GaN Power Electronics
Fahrzeugbau / Automotive
Hofer Powertrain Form Litz Wire technology.jpgHofer Powertrain Form Litz Wire technology.jpg
Logo der Firma Hofer Powertrain
Hofer Powertrain
12.07.2022
New Form Litz Wire winding technology from powertrain specialist Hofer Powertrain cuts e-motor losses by 25%
Fahrzeugbau / Automotive
Hofer Powertrain Formlitzen-Wickeltechnologie.jpgHofer Powertrain Formlitzen-Wickeltechnologie.jpg
Logo der Firma Hofer Powertrain
Hofer Powertrain
12.07.2022
Neue Formlitzen-Wicklung vom Antriebsspezialisten Hofer Powertrain bewirkt 25 % weniger Verluste im E-Motor
Fahrzeugbau / Automotive
Weitere Informationen zum Thema "Fahrzeugbau / Automotive"
Kategorie: Fahrzeugbau / Automotive
Digital Twins – die Zukunft schon heute durchspielen
In eine Glaskugel schauen und alle Eventualitäten erkennen können – nie klang diese Möglichkeit verlockender als nach über zwei Jahren Pandemie und in einer Zeit der politischen und wirtschaftlichen Unsicherheit. Die Unternehmen stehen vor immer neuen Herausforderungen: Plötzliche Lieferkettenengpässe, veränderte gesetzliche Anforderungen, aber auch digitale Innovationen erfordern, dass Geschäftsprozesse immer wieder überprüft, angepasst und neu gestaltet werden. Doch wie lässt sich sicherstellen, dass die vorgenommenen Änderungen auch Früchte tragen?
weiterlesen
Digital Twins – die Zukunft schon heute durchspielenDigital Twins – die Zukunft schon heute durchspielen
Für die oben stehenden Pressemitteilungen, das angezeigte Event bzw. das Stellenangebot sowie für das angezeigte Bild- und Tonmaterial ist allein der jeweils angegebene Herausgeber (siehe Firmeninfo bei Klick auf Bild/Meldungstitel oder Firmeninfo rechte Spalte) verantwortlich. Dieser ist in der Regel auch Urheber der Pressetexte sowie der angehängten Bild-, Ton- und Informationsmaterialien.
Die Nutzung von hier veröffentlichten Informationen zur Eigeninformation und redaktionellen Weiterverarbeitung ist in der Regel kostenfrei. Bitte klären Sie vor einer Weiterverwendung urheberrechtliche Fragen mit dem angegebenen Herausgeber. Bei Veröffentlichung senden Sie bitte ein Belegexemplar an service@pressebox.de.
Logo der Firma Hofer Powertrain
Hofer Powertrain
Ohmstr. 15
72622 Nürtingen, Deutschland
+49 7022 2178840
info@hofer.de
http://www.hofer.de
ZUM NEWSROOM
Kategorien
Fahrzeugbau / Automotive
Forschung / Entwicklung
Schlagwörter
gallium
nitrite
power
electronics
inverter
ev
vehicles
efficiency
powertrain
technology
breakthrough
pe
traction
battery
range
Ansprechpartner:innen
Herr Steffen Hahlbeck
Technical Expert
steffen.hahlbeck@hofer.de
Frau Christina Karuna
Communication Specialist / PR
+49 176 32647902
christina.karuna@hofer.de
Aktionen
Beobachten
Drucken
QR-Code abrufen
Herunterladen
Weiterempfehlen
PRESSEBOX
PresseBox
+49 721 987793-19
+49 721 987793-11
service@pressebox.de
https://www.pressebox.de
KONTAKT
LÖSUNGEN
Für Unternehmen
Für Agenturen
Für Journalist:innen
Erfahrungen
Partner
PRODUKT
Newsroom
Dashboard
Verbreitung
Reporting
Redaktion
Preise
Verteilercheck
FAQ
PR-WISSEN
Blog
Whitepaper
Factsheets
PR-Glossar
Publikationen
Presseverteiler
Vorlage Pressemitteilung
LINKS
AGB
Datenschutzerklärung
Datenschutzeinstellungen
Nutzerrechte
Impressum
lifePR
unn | UNITED NEWS NETWORK GmbH 2002–2022, Alle Rechte vorbehalten