5G rollout status: Yole gives the lowdown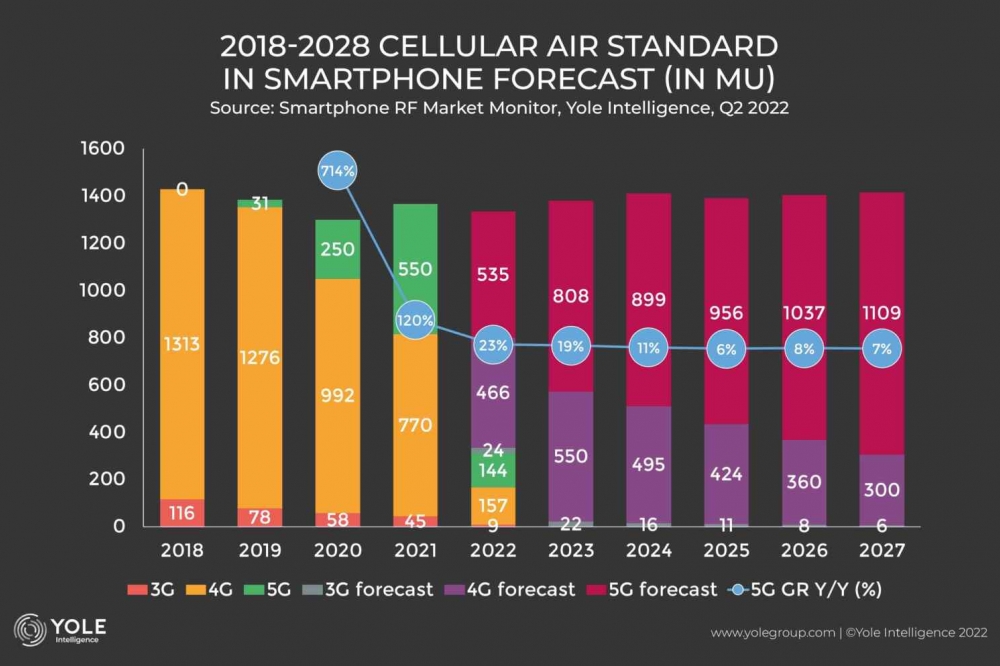 After a 5G rollout based on sub-6 GHz for consumer broadband access, the cellular wireless industry is ready to expand

Despite many political and pandemic challenges across the world, the telecoms industry has remained committed to delivering 5G, from equipment vendors to smartphone manufacturers and their suppliers.

The initial 5G impetus came from South Korea and China with consumer broadband as the main use case. Now 5G is spreading across North America, Europe, and the rest of the world. More than 2 million 5G base stations were deployed by the end of 2021 and analysts from Yole Intelligence, part of Yole Group, expect to see 0.9 million new base stations installed in 2022 to reach a 5G base station penetration rate of 12 percent by the end of the year.
At the mobile device level, twice as many 5G phones were available in 2021 than in 2020. In total, 550 million 5G smartphones were produced in 2021, representing 40 percent of the total smartphone market.
In the next five years, Yole Intelligence's RF team expects to see the enterprise, industrial, and automotive market segments driving 5G deployment in both the sub-6GHz and mmWave bands with private networks, fixed wireless access, and IoT use cases booming thanks to 5G capabilities.
With the ongoing 5G roll-out, operators are starting to shut down their 3G and 2G services to free up cell sites, re-farm spectrum for 4G and 5G and save OPEX since it is very costly to simultaneously serve all 2G, 3G, 4G, and 5G technologies.
"With 5G, the industry is introducing key technologies such as massive MIMO for sub 6 GHz or mmWave beamforming, so the requirements to enable 5G become different to the previous communication standards," said Cyril Buey, technology and market analyst, RF Devices & Technologies at Yole Intelligence.
" Massive MIMO is leading a technological disruption at the component level. Indeed, a massive MIMO system delivers 32 to 64 streams as opposed to a traditional RRH with 2 to 8 streams, leading to a massive increase in the bill of material, thus the number of RF components required, and growing system complexity. MmWave beamforming has also led to new developments from silicon to antenna design".
5G has been deployed using both technologies, with the USA focusing on mmWave beamforming at first and Asian countries on sub 6 GHz. Now the market is turning to more deployments on sub 6 GHz worldwide, with maMIMO expected to be 45 percent of it, while Yole Intelligence's analysts expect mmWave to thrive in a second deployment wave toward 2023-2024.
Despite this dynamic environment, the base station market, controlled by five main players – Huawei, Ericsson, Nokia, ZTE, and Samsung – stagnated in 2021. It is expected to decrease in 2022. Nevertheless, the democratisation of small cells and Open RAN represents an important growth driver and an exciting opportunity for newcomers and smaller players.
At the component level, the RF front-end market contracted in volume in 2021 but grew in value because of increasing selling prices in the context of tight supply and trade difficulties driven by geopolitical tensions. Overall, the RF front-end component market was $3 billion in 2021.
LDMOS, GaAs and GaN
Technology-wise, LDMOS and GaAs technology used to be the leading technologies for legacy radios. 5G is reinforcing a trend toward the transition to GaN for the final stage PA. GaN indeed gained momentum at all RAN vendors while it was limited to a single player in the 4G era.
In this complex technological ecosystem with many players involved, few players stand out with a large market share, amongst which are NXP, Qorvo, SEDI, and Analog Devices. In this market which is expected to grow to $4.3 billion in 2027 with a high demand for GaN devices, analysts expect to see other players generating significant revenue in the infrastructure field.
5G to raise smartphone frontend complexity
With 5G becoming the new normal from flagship to entry-level phones, there is a huge growth opportunity, so competition between OEMs is increasing. Most smartphone manufacturers' projects related to network connectivity are about 5G, which is illustrated by the number of 5G phone models available, or soon to be launched. Apple and Samsung remain leaders in the smartphone industry, while Oppo, Xiaomi, and Vivo benefit from Huawei's inability to feature 5G on their devices. This market redistribution significantly impacts the front-end makers as the supply chain is shifting.
Cédric Malaquin, team lead Analyst, RF Devices & Technology at Yole Intelligence said: "The introduction of 5G adds complexity to phones' RF front-end while increasing the bill of material on all phone Tiers. We estimate 5G adds $5 to $8 in RF content compared to 4G, and mmWave support adds another $10. With that in mind, building a 5G phone using discrete components while keeping an acceptable form factor is a costly challenge, driving more in-module integration. On the other hand, the design of RF modules for smartphones is intricate as it handles most of the system complexity. Not all players master all the required technologies equally, resulting in a high entry barrier for newcomers".
This explains the leadership of Skyworks, Murata, Qualcomm, Qorvo, and Broadcom. All have flexible module offerings and custom-built modules for the flagship phones to adapt to multiple market requirements. As a result, these top 5 companies share 85 percent of the RF front-end market.

However, a variety of fabless companies from China are emerging and experiencing double-digit growth in the RF front-end space. Most of those companies started building the OEMs' trust with discrete devices, and they are now becoming more and more significant, at least in their local market, with a move toward more complex modules either on the transmit or the receive side. Over the past two years, this growth strategy has been supported by more local investments. Next to OEM qualification, profitability will be looked at, and a handful of companies might succeed here.
5G and IOT
Wireless connectivity of things has stopped being an abstract concept since everyone has a personal experience with Wi-Fi or Bluetooth connectivity. This market, which is based on short-distance, non-critical operations, already exists, but the IoT generalisation has not fully happened yet because of the many obstacles preventing this market from growing.

But 5G offers new capabilities in terms of data security and reliability, creating an opportunity for critical applications. Therefore, the protocols of interest today are the cellular 5G-related protocols, the now well-known NB-IoT and LTE-M, which meet most of the requirements. In general, cellular protocols are expected to be the go-to solutions for long-range and critical short-range connectivity. These applications are now motivating investment in 5G, thus opening the market for all cellular-based deployments. The only significant competition is coming from Wi-Fi at short range.

Unless currently unknown and unanticipated reasons for failure arise, Yole Intelligence's RF team expects to see increased use of cellular IoT in 2023 thanks to worldwide deployments of true 5G public networks using standalone 5G and permitting network slicing. The IoT market is expected to reach 900 million devices in 2026 representing a massive opportunity worth $860 million for RF components in 2026.
Yole Intelligence's experts also expect a new RF module offering by 2023 once the market consolidates. Developments are awaited from other players, like Sequans Communications. Qualcomm will also soon release its second generation of 5G modules, expected at half the price of its current solution. The IoT industry needs this diversification and strengthening of supply.
5G mmwave; a roadblock towards 6G?
5G mmWave developments laid the foundation for active beamforming, opening capabilities for a new era of cellular connectivity. Fixed Wireless Access, Industrial IoT, and mobile broadband are among the most popular applications now benefiting from these technological advances.
While the 5G low band constitutes the bulk of the market today and will do so for the next few years, all eyes in the wireless RAN community are on 5G mmWave, not only because of the potential market growth it represents in the midterm but also as the technology can be considered as a test vehicle for even more powerful and challenging wireless technologies.
Indeed, some 6G connectivity is likely to be developed at sub-THz frequencies where semiconductor technologies will have to be reinvented, for which sustainability will be even more important than for 5G. In other words, the success of 5G mmWave is tightly linked to sub-THz developments for 6G.
CS International to return to Brussels – bigger and better than ever!

The leading global compound semiconductor conference and exhibition will once again bring together key players from across the value chain for two-days of strategic technical sessions, dynamic talks and unrivalled networking opportunities.

Join us face-to-face on 18-19 April 2023
View the agenda.
3 for the price of 1. Register your place and gain complementary access to TWO FURTHER industry leading conferences: PIC International and Power Electronics International.
Email info@csinternational.net or call +44 (0)24 7671 8970 for more details.