Targeting the C-band with ultra-high-voltage HEMTs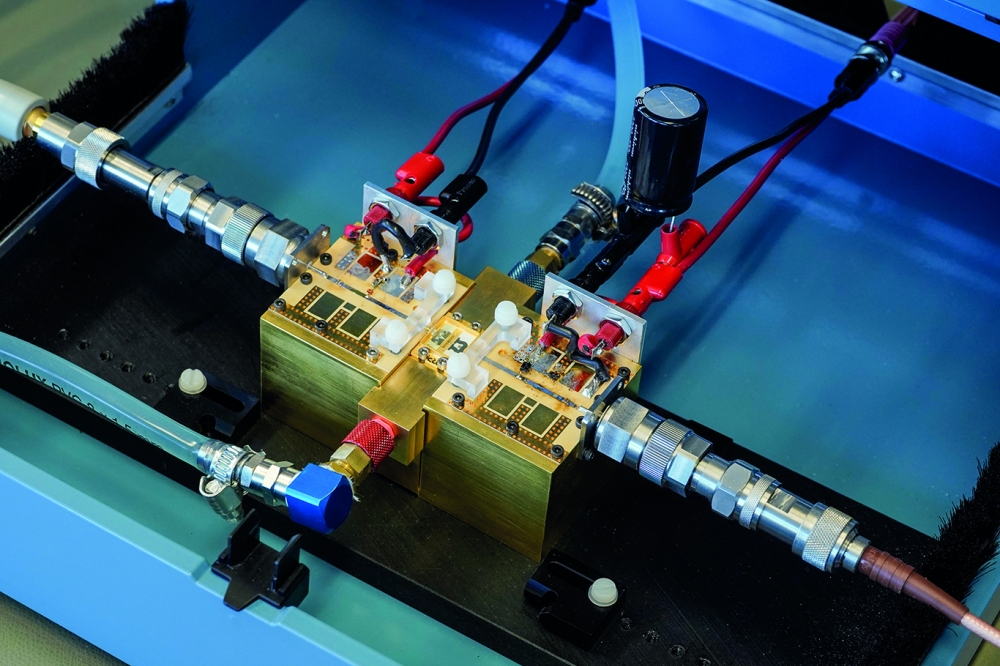 GaN HEMTs with a minimal output capacitance and terminated harmonics deliver record-breaking powers and efficiencies.

BY SEBASTIAN KRAUSE FROM THE FRAUNHOFER INSTITUTE FOR APPLIED SOLID STATE PHYSICS IAF
During the last decade the GaN-on-SiC material system has established itself as the dominating semiconductor technology for delivering very high powers in the gigahertz range. Its more established rival, silicon-LDMOS, is more popular, and the cheaper choice for powering most systems in the VHF and lower UHF spectrum. However, this incumbent is even losing market share in that application space to GaN: this wide bandgap rival is renowned for its higher device efficiency, which trims operational expenses; and its higher power per die area that enables the design of smaller and lighter systems.

The enviable position that GaN holds in the high-power market is primarily due to its capability to maintain a high efficiency, even at high voltages and hence high-power levels. In contrast, LDMOS struggles to find a sweet spot that ensures a good efficiency, alongside a high-power density and high-frequency performance. So usually a trade-off has to be made in device design, favouring one attribute. Or, to put it another way, GaN has the stamina to go the extra mile, in terms of its frequency range, while LDMOS is already running out of gas.

However, there's a need to understanding the underlying physical principles of these limitations, and pinpoint the critical device parameters that require careful tuning, in order to optimise GaN devices. Clearly, device scaling does not come for free.