VisIC paves way to high-power GaN traction inverters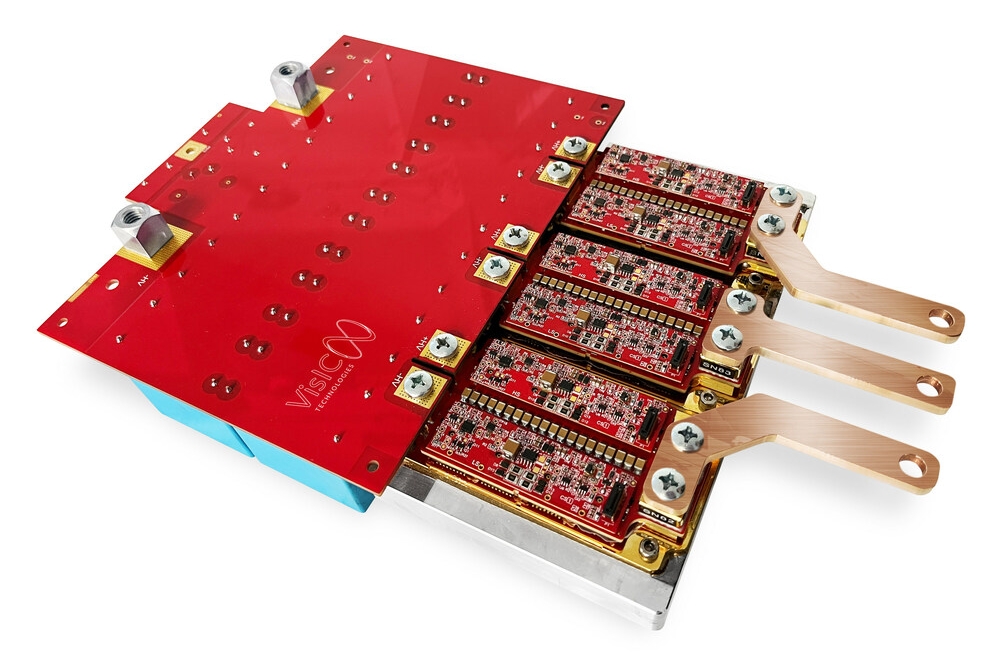 Demonstrates an efficient GaN based 3-phase traction inverter with an automotive-grade PMSM motor

VisIC Technologies has successfully tested its 2.2mΩ 650V half-bridge power module, consisting of four parallel 8mΩ Power FET, in a 3-phase configuration on a dyno-test-bench using a PMSM motor at a major automotive OEM.

The company say this proves its D³GaN (Direct Drive D-Mode GaN) technology is well-suited even for the most challenging high-power automotive applications. Concerns about parallelisation and oscillations caused by fast-switching transients have been addressed.
The inverter phase current reached 350Arms (500A peak) at 400V, although test system set-up limitations prevented higher currents, which the 2.2mΩ Power Module is capable of.
Worldwide Harmonised Light Vehicles Test Procedure (WLTP) driving cycle testing was executed and achieved comparable efficiency with commercial Silicon Carbide-based modules, despite using early non-optimised module prototypes. VisIC says this means that D³GaN will deliver its promise of the highest efficiency, improving car costs through lighter, smaller power systems and a smaller battery size, without compromising the car's driving range. In addition, the D³GaN technology, based on GaN-on-Silicon semiconductor process, is delivering better than SiC performance at the more competitive Silicon cost level.
"With this great accomplishment, acknowledged by a leading automotive OEM, VisIC Technologies has provided overwhelming evidence for higher-efficiency at lower-cost future EV traction inverters, for the automotive world," said Tamara Baksht, CEO & co-founder of VisIC technologies. "The automotive market demands high-power, high-voltage, high-reliability GaN, and our D³GaN die and module solutions are the answer."
VisIC Technologies 3-phase prototype inverter system will be available for testing across additional customer sites towards the end of the 2nd quarter of 2023.