New home for the Institute for Compound Semiconductors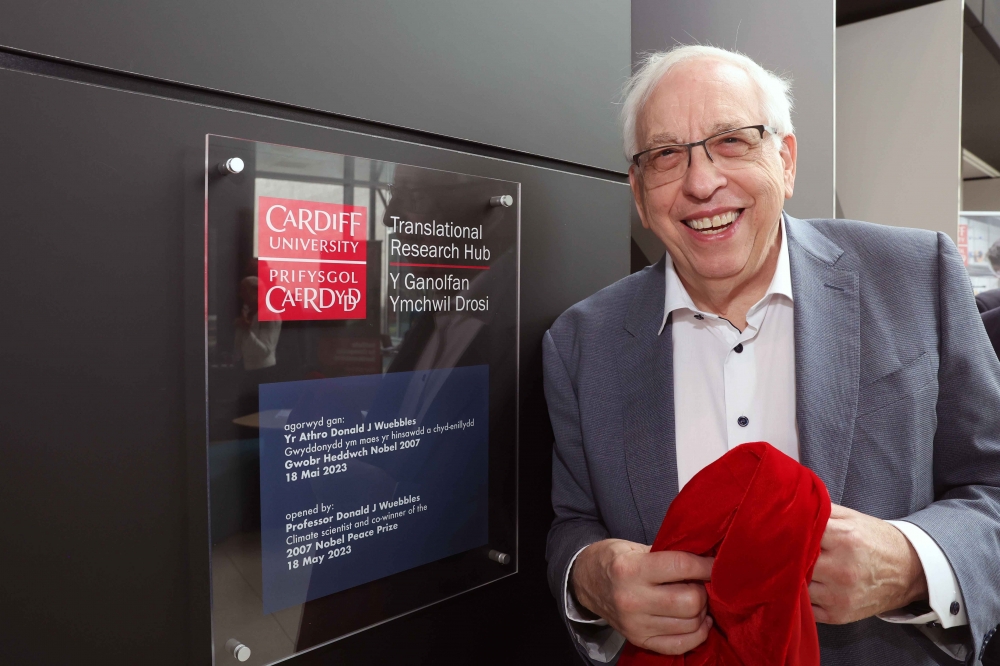 Nobel-prize-winning climate scientist Donald Wuebbles opens Cardiff University's Translational Research Hub, a new home for the Institute for Compound Semiconductors.
BY RICHARD STEVENSON, EDITOR, CS MAGAZINE
One the cornerstones of the world's first compound semiconductor cluster, situated in South Wales, is the Institute for Compound Semiconductors (ICS). Launched in 2015, the long-term plans for this driver of device development have always included a move to a new, purpose-built facility with the capability to process wafers up to 200 mm in diameter. Now finally – and to the immense relief of some of those involved – this has been accomplished, with the new facility up and running and open for business.
On-wafer measurements of VCSELs and edge-emitting lasers are undertaken at the ICS.

To mark this key milestone in the life of the ICS, which is part of Cardiff University, this institute held an official opening on Thursday 18 May. At that celebration for what is now the largest building on the Cardiff Innovation Campus, and the new home to both the ICS and Cardiff Catalysis Institute – together they form what is known as the Translational Research Hub – Nobel-prize-winning climate scientist Professor Donald Wuebbles unveiled a plaque to mark the occasion. He also delivered one of a number of talks that formed the centrepiece of this joyous occasion, showcasing the new capabilities of the ICS.
Those that spoke included Cardiff University's Pro Vice Chancellor Professor Rudolf Alleman, who discussed the many challenges associated with the construction of the Translational Research Hub, which is located on a site previously occupied by railway sidings. Initially the ICS was slated to be up and running in its new home in 2020, but who could have foreseen the problems caused by the Covid pandemic, or material supply issues associated with Brexit.
A reminder of the motivation for forming the ICS came from its Managing Director, Professor Peter Smowton. He explained that the vision for the facility, which is a resource that academia and UK industry are able to use, came together in 2013 to address what he describes as 'the valley of death'. This phrase relates to the pitfalls that arise when trying to take a promising device technology from the fab and use it to establish a successful, high-volume product.