Moving in the right direction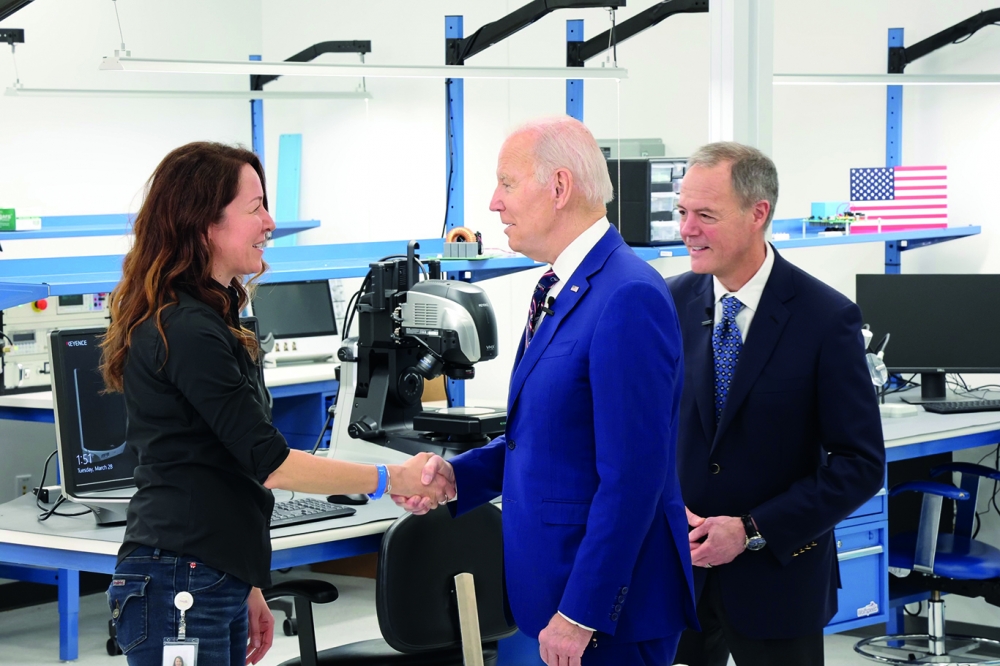 With a handful of women now in high-profile leadership positions within our industry, the extreme level of male dominance at the very top is starting to fade away.

BY RICHARD STEVENSON, EDITOR, CS MAGAZINE

One of the weaknesses within the compound semiconductor industry is that it is so male dominated, particularly at the board level. But at least there are signs it is starting to move in the right direction, with more women than ever now holding key leadership positions.

Here we tell the fascinating stories of four of those leaders. With such a small sample size, drawing any significant conclusions is fraught with danger. However, what is clear from all these first-hand accounts is that there's not a single formula behind success. The foundation for rising to the top can be an advanced degree or an apprenticeship; leadership progression can come from working up through an organisation or launching a company; and while some may move continents to further their career, others may never leave the region where they grew up.

Crystal clear objectives
One of the most high-profile women within our industry, Wolfspeed's CTO Elif Balkas, has always had a strong interest in crystalline materials, the foundation for the production of all our devices. She grew up surrounded by them – not that surprising, given that her father is a geologist – and after gaining undergraduate and masters degrees in materials science and engineering in Turkey, she headed overseas, enrolling in a PhD programme at NC State University.

"My project was on gallium nitride bulk crystal growth," says Balkas. However, during her doctoral studies, she also devoted a lot of effort to studying the material at the heart of Wolfspeed, SiC, in the hope that previous breakthroughs in its development could be applied to GaN.

Like the key conclusions from many PhDs, while Balkas' findings were important, they were not revolutionary. "Our conclusion was that the PVT method is not the most suitable for gallium nitride." Colleagues working in the lab that also pursued GaN crystal growth enjoyed more success with high-temperature chemical transport methods and approaches that combine high pressures with high temperatures. However, even those superior alternatives suffered from really slow growth rates that plague the formation of bulk GaN.
Undeterred by the tremendous challenges associated wide bandgap crystal growth, Balkas looked for opportunities to continue to work in this branch of materials science after her PhD. She loved this topic in its own right, and she also valued the now-fulfilled promise that it had a role to play in trimming energy consumption and aiding the environment.

Balkas considered whether she should continue to investigate crystal growth in academia. But as she mulled this over, she realised that was not the path for her, because the pace of progress is too slow. While she has tremendous respect for the advances made by academics, her preference is to work in an environment where results are faster, along with their impact on society.

She had no doubts that her move to industry would keep her in the US, arguing: "This is where innovation happens." One option would have been to stay local and work for Wolfspeed, but this did not fit with Balkas' desire to see more of the US. This led her to consider several opportunities on the West Coast. However, in the end she headed in the opposite direction, deciding to go and work for Intrinsic Semiconductor, a small start-up in Washington DC that's best known for its development of SiC substrates. She joined the company at the start of 2005. Part of the attraction of that move was the chance to work with what she describes as a brilliant group of people, who she knew through reading their papers and hearing them speak at conferences.

Balkas loved her time at Intrinsic, revelling in the great pace of advance made by the company. She also appreciated the hands-on nature of her role, common for staff working at fledgling firms.

Initially, Balkas focused on the epitaxy of GaN on SiC, developing HEMT heterostructures for RF devices. However, through interactions with other researchers developing SiC epi-processes for power devices, she also started to make contributions to that endeavour.

Wolfspeed, in its former guise as Cree, admired the success of Intrinsic, and by the summer of 2006 it had negotiated the acquisition of the start-up. This led Balkas to move to North Carolina, initially working in epitaxy, before moving to crystal growth. Here she played her part in magnifying crystal dimensions, so substrate diameters could increase from 100 mm to 150 mm and then 200 mm.

Over the years, Balkas has sought and received more responsibility. Her interest in management can be traced back to her undergraduate days, where she took courses on this, and continued as she refined her knowledge with technical leadership seminars at Cree.

Balkas has the right mindset to lead a company, because she ponders on the crucial questions that determine its success. She is keen to work out how to turn great ideas and innovation into a technology with impact, and gives much consideration to what's needed to build successful teams and organisations.

During her climb up the career ladder, Balkas briefly moved out of R&D, spending two years within the manufacturing team. "That was actually a very good experience for me, because it gave me the experience to see things from both sides."

Subsequent promotions led Balkas to Director and ultimately VP of Research and Development, Materials, positions that led her to report directly to the late John Palmour, the CTO of the time. Palmour, who Balkas describes as a natural leader, gave her a great deal of freedom, while ensuring that any small mistakes that she might make would never snowball out of control. "The trust and the relationship was wonderful for me."

Balkas really appreciated the chance to draw on Palmour's amazing breath of knowledge. While he came from a materials background, he had device-related experience accumulated over 30 years.

Late last year Palmour passed away, five years after being diagnosed with lymphoma. During the latter stages of his illness he started to slow down and help prepare Balkas to take over. However, his death came far faster than anyone expected, leading to a tricky transition for the new CTO, who started that role in January.

Balkas knows that Palmour's shoes are too big for any individual to fill: "I was upfront that there's no way one person can replace JP. It's just not possible". So rather than trying and failing to do just that, Balkas has turned to teamwork. "Everybody is actually doing a little bit of what he used to do. It's like we diffuse all of his strengths in multiple people."