Full-angle DBR boosts mini-LED efficiency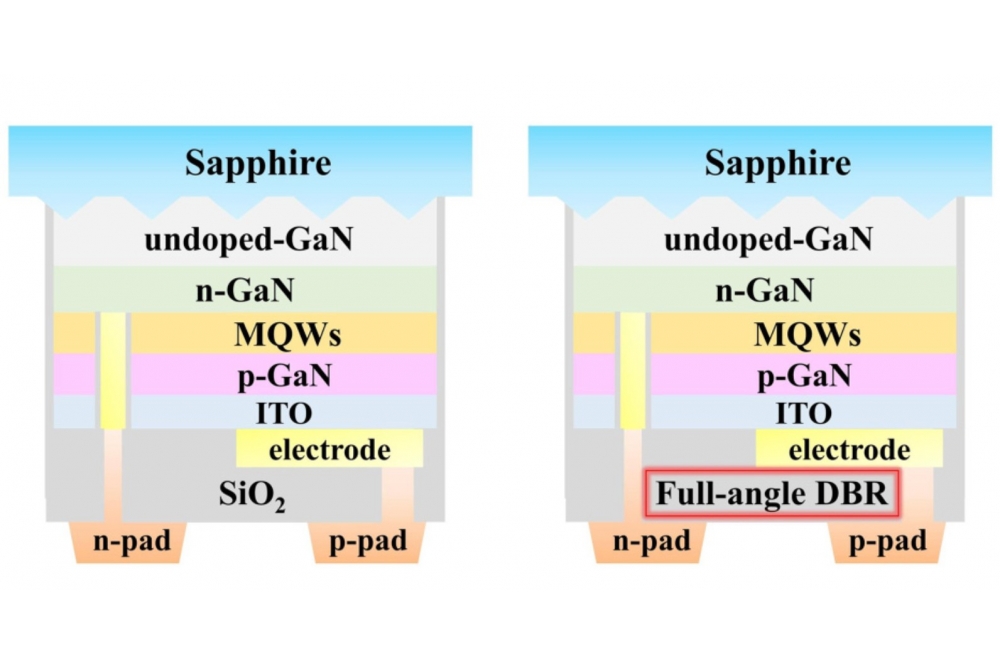 WHU team shows improved performance of yellow flip-chip mini-LEDs by using full-angle distributed Bragg reflector

A research team led by Shengjun Zhou at Wuhan University has reported a full-angle distributed Bragg reflector (DBR) for efficient yellow flip-chip miniaturised light-emitting diodes (mini-LEDs).
They have proposed a novel full-angle DBR structure that consists of different stacks of Ti3O5/SiO2 layers optimised for multiple central wavelengths, enabling less dependence of reflectance on the light incident angle and wider reflectance bandwidth. The team revealed the mechanisms of full-angle DBR, and investigated its impact on optoelectronic properties of yellow flip-chip mini-LEDs.

Due to the high brightness and long lifetime, mini-LEDs have gained much attention for liquid crystal displays back-light and self-emissive displays. Rapid growth of the market albeit, LED devices suffer from undesirable reduction in quantum efficiency with the decreasing chip size and the increasing emission wavelength.
DBR-based reflective p-electrodes show great advantages in promoting the flip-chip mini-LEDs performance. Nevertheless, conventional DBR structures consisting of single-stack DBRs and double-stack DBRs are limited by narrow reflective bandwidth and strong angular dependence, calling for the optimisation of DBR structure. Besides, the effect of DBR on flip-chip mini-LEDs with long wavelength is still not fully understood, which is of great interest to improve the device performance.
The researchers introduced a full-angle DBR structure and investigated the effect of indium-tin oxide (ITO)/full-angle DBR as highly reflective p-type electrodes on optoelectronic properties of yellow flip-chip mini-LEDs. The reflectance properties of single-DBR stacks and full-angle DBR were compared at incident angles from 0° to 50° for different polarised light.
Numerical and experimental results show that full-angle DBR can alleviate the angular dependence and enlarge the reflective bandwidth, yielding high reflectance above 99 percent at the incident angle of 50° within the wavelength region from 400 to 700 nm. Mini-LED with full-angle DBR achieved 1.33-fold enhancement in light output power at 5 mA due to the enhanced light extraction efficiency.
Reference
'Performance improvement of yellow flip-chip mini-LEDs via full-angle distributed Bragg reflector' by Xiaoyu Zhao et al, Journal of Applied Physics, 133, 235703, 2023