Belgium start-up rolls out flexible CIGS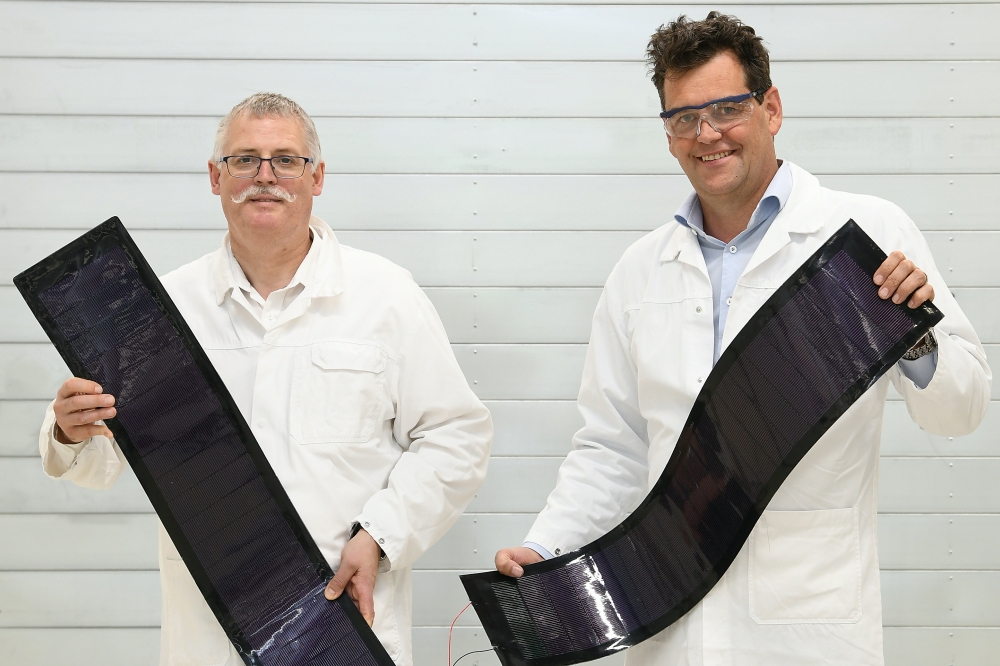 Enfoil's flexible millimetre thick panels suitable for trucks, tents, tiles, and swimming pool covers

Enfoil, a spin-off from Hasselt University and Imec in Belgium, is offering pliable, robust CIGS solar panels of only a few millimetres thick that can be integrated on a wide range of surfaces. The company says it is already talking to companies to integrate them onto the roofs of trucks.
Standard silicon solar panels cannot be placed on every surface due to their weight or shape. For years, UHasselt and Imec have been investigating new types of solar cells that are easier and cheaper to integrate onto surfaces beyond roofs. With Enfoil, "we are now taking a very big step," says Dominique Coster, CEO of the company.
Until now, to integrate solar cells on surfaces of trucks, buildings or tents, consumers were limited to standard, typically flat products of a pre-defined size, and handled the integration themselves. "This mainly limited the technology to exclusive construction projects, or as an expensive opt-ins for cars. With Enfoil, we aim to change this," says Marc Meuris, CTO of EnFoil. "We intend to make custom solar foils in any size and shape at a large scale (mass-customisation). The solar foils will be directly installed or further integrated into our customers's products. The production will be done locally and we will guarantee the feasibility and integration of the final products."
EnFoil combines CIGS technologies and processes that are patented and developed within UHasselt and Imec. "This technology offers lightweight, flexibility and impact resistance which is crucial for many new applications," says Bart Vermang of Imo-imomec, Imec's associate lab at UHasselt. "And the solar cells achieve almost the same efficiency as standard panels".

EnFoil has ongoing discussions with industry to bring its solar foil to market. "A wide array of applications will be possible, such as integrating the solar cells on swimming pool covers or roof tiles. Currently, we mostly focus on the logistics sector, aiming to integrate our materials on roofs and sidewalls of trucks to power their sensors and track & trace systems. It would save the battery, and under abundant sunlight, the battery could even be charged," says Marc Meuris, CTO of EnFoil.
ERC grant
The project has already received support from the European Research Council through an ERC Proof of Concept. This grant, worth €150,000, aims to bring new technologies to the market. With this, UHasselt will recruit a researcher who will continue to work with EnFoil on product development. "The ERC jury includes several industry experts. We, therefore, see this grant as great recognition and a sign that the industry believes in our product and sees the potential to bring it to the market," says Bart Vermang.