Seeking dividends with diversification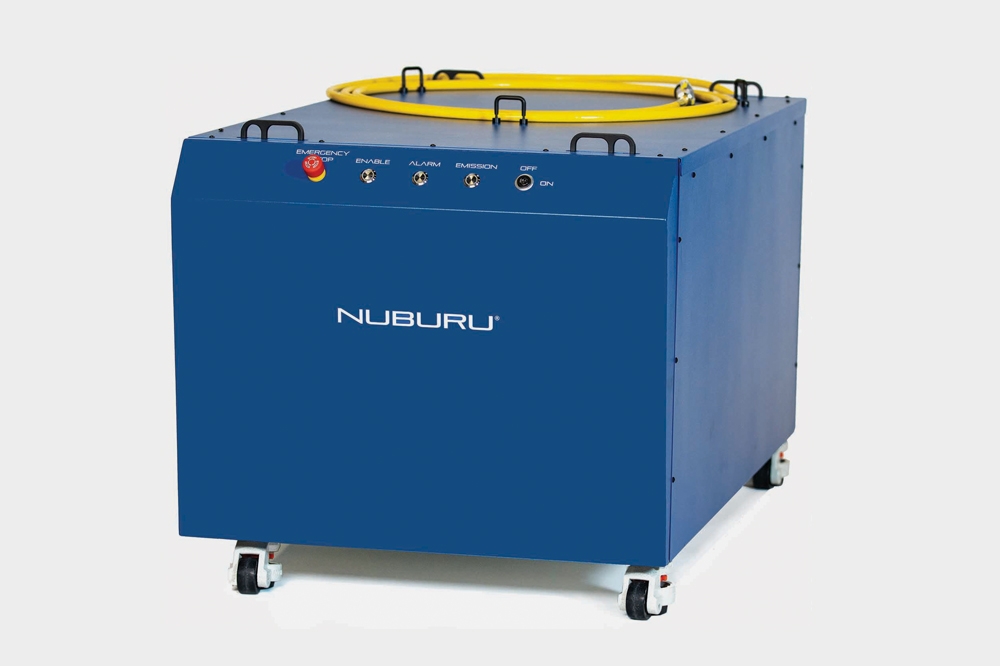 The pioneer of powerful blue lasers is expanding its portfolio and targeting new markets.
BY RICHARD STEVENSON, EDITOR, CS MAGAZINE
As companies grow, they tend to diversify. That's certainly the case for Nuburu, the trailblazer of powerful blue lasers that began by producing systems for welding metals that are highly reflective in the IR, such as copper, aluminium and gold. Over the last year or so it has expanded its target markets with the addition of the 3D printing of metals, as well as launching more powerful lasers and transitioning from a private company to one that is traded on the stock market.
While the 3D printing of metals is not as well-known as that of plastics, it is a substantial and growing market. According to the analyst Grand View Research, the 3D metal printing market was worth over $6 billion in 2022, and is forecast to climb at a compound annual growth rate of almost 25 percent throughout this decade.
Printing of metals involves directing them, in their powder form, into a powerful laser beam. This is a very capable approach for printing high-density copper. It could be employed for the production of heat exchangers in rocket motors, and for making parts for electric vehicles, such as battery packs.
While infra-red lasers are the incumbent source for metal printing, blue lasers offer distinct advantages for a number of metals, just as they do for welding. The levels of optical absorption are 13 and 66 times higher in the blue than the infra-red, respectively, for copper and gold. This translates into a more efficient process that generates far fewer fumes.
Nuburu has demonstrated the superiority of its blue lasers over infra-red variants for 3D metal printing by evaluating the performance provided by both light sources in a commercial tool, the EOS M 100, using copper and stainless-steel powders.
According to Mark Zediker, the company's founder and CEO, the EOS M 100 could not print copper when fitted with a 200 W infra-red laser.
"We put a 150 watt blue laser into the machine and immediately got great results, printing copper with densities up to 97.5 percent," says Zediker. He anticipates even higher densities in the very near future, following an upgrade to the tool that involves a switch to a 250 W blue laser.
The team also obtained excellent results with stainless steel. "The 150 watt blue laser printed at a speed approximately three times faster than the 200 watt infra-red laser that came with the machine." This gain in speed, realised without compromising the density of the printed metal, is incredibly valued – within this industry, increases in speed of just 10-to-20 percent matter to those that use these tools.
In addition to copper and stainless steel, an EOS M 100 employing a Nuburu blue lasers can print other metals. The full palette includes titanium and a copper alloy that's currently used for making rocket engines.
"In all cases, the blue laser was substantially faster, with better surface finish and porosity control," enthuses Zediker.
Nuburu is expanding the capabilities of 3D metal printing through a contract with the US Air Force. "Rather than just writing a single dot on the surface, we're imaging an image of a plane onto the surface and melting," says Zediker. By using a digital light engine from TI, the partnership can address around 4000 spots simultaneously.
According to Zediker, all services within the US Department of Defense are looking at this 3D metal printing technology, because it could allow them to print larger parts in their depots in a speedy, cost-effective manner.
While helping to develop this technology, Nuburu is enhancing its reputation with suppliers of parts for electric vehicles, including producers of batteries. "We're getting excellent results with them," remarks Zediker. "We think we will be able to move into larger scale welding of batteries and the electric contacts for batteries next year."
Responding to demands from this sector, which places a premium on systems with higher welding speeds, this June Nuburu launched its most power source to date, the BL-1000-F.

This system couples light into a fibre with a diameter of 200 mm, which is double the width of that used in the 250 W laser.