Could silicon outperform GaAs in photodetectors?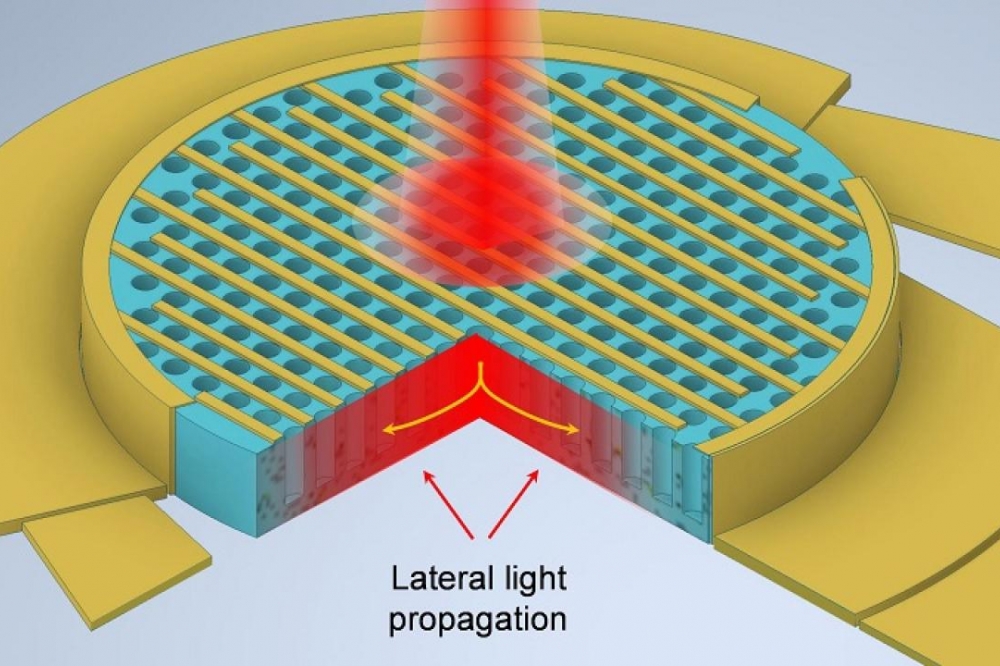 US researchers show how silicon 'sponge' approach could dramatically increase photon absorption

Silicon is not a great material for photonic applications because it shows poor absorption of near-infrared light compared to compound semiconductors such as GaAs. On the other hand, GaAs is difficult to integrate with silicon microelectronics.

Now Saif Islam and colleagues at the UC Davis Department of Electrical and Computer Engineering have come up with an approach that dramatically increases the photon absorption of silicon. The work was published July 24 in Advanced Photonics Nexus.
They created a micrometer-thick wafer of silicon with regular tiny holes in it. When infrared light hits the wafer, it is "trapped" by these structures, bends almost 90 degrees and travels sideways through the wafer, increasing contact with the semiconductor and enhancing the absorption of near infrared photons.
Simulations by the team showed that this photon trapping increases absorption by several times over a plain silicon wafer and actually outperforms GaAs.
Because the approach is compatible with chip manufacturing technology, the team says it could enable a new generation of cheaper photoelectronic devices.
Reference
'Achieving higher photoabsorption than group III-V semiconductors in ultrafast thin silicon photodetectors with integrated photon-trapping surface structures' by Wayesh Qarony et al; Advanced Photonics Nexus, Vol. 2, Issue 5, 056001 (July 2023)