Shin-Etsu Chemical promotes QST substrate business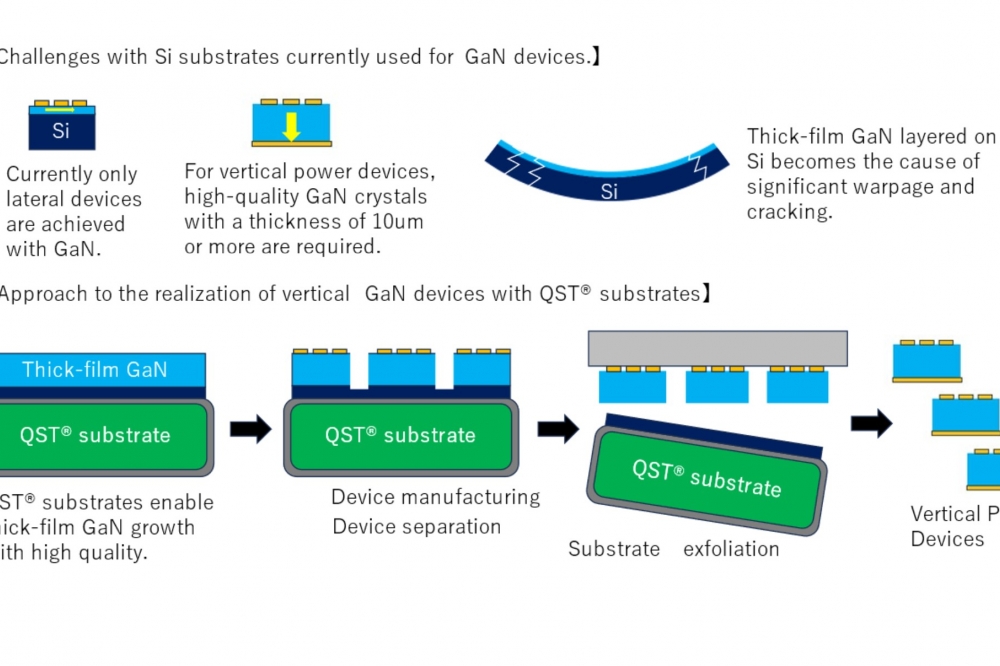 Substrate allows large-diameter, high-quality thick GaN epitaxial growth, making it suitable for power, RF and MicroLED devices

Japanese firm Shin-Etsu Chemical has announced the availability of QST (Qromis Substrate Technology) substrates for GaN power devices. In addition, it will sell GaN grown QST substrates upon customer request. Currently, the company has a line-up of 6 inch and 8 inch diameter substrates, and is working on 12 inch substrates.

The substrate has the same coefficient of thermal expansion (CTE) as GaN, enabling suppression of warpage and cracking of the GaN epitaxial layer. This allows large-diameter, high-quality thick GaN epitaxial growth, making it suitable for power devices and RF devices,, as well as MicroLED growth for MicroLED displays, according to the company.
Customers in Japan and globally have been evaluating samples since 2021 for power devices, RF devices and LEDs. Ffr power devices, continuous evaluation is underway for devices in the wide range of 650V to 1800V.
Shin-Etsu Chemical says it has been steadily improving the QST substrate technology. One example is the lowering defects originating from the bonding process. In addition, for thicker GaN films, it has promoted the provision of template substrates with optimised buffer layers, to enable stable epitaxial growth of more than 10 μm thickness. The company has also achievemd thick-film GaN growth exceeding 20 μm using QST substrates and 1800V breakdown voltage in power devices.
Shin-Etsu Chemical and Oki Electric have jointly developed atechnology to exfoliate GaN from QST substrates and bond it to substrates made of different materials using Crystal Film Bonding (CFB) technology. Until now, most GaN power devices have been lateral devices, but CFB technology takes advantage of the characteristics of QST substrates to realise vertical power devices that can control large currents by exfoliating a thick layer of high-quality GaN from an insulating QST substrate (see figure above).
For customers who manufacture GaN devices, Shin-Etsu Chemical will provide QST substrates or GaN grown QST substrates and Oki Electric Industry will provide its CFB technology through partnering or licensing. In this way, the two companies hope to contribute to the advancement of vertical power devices.