Navitas launches GaNSafe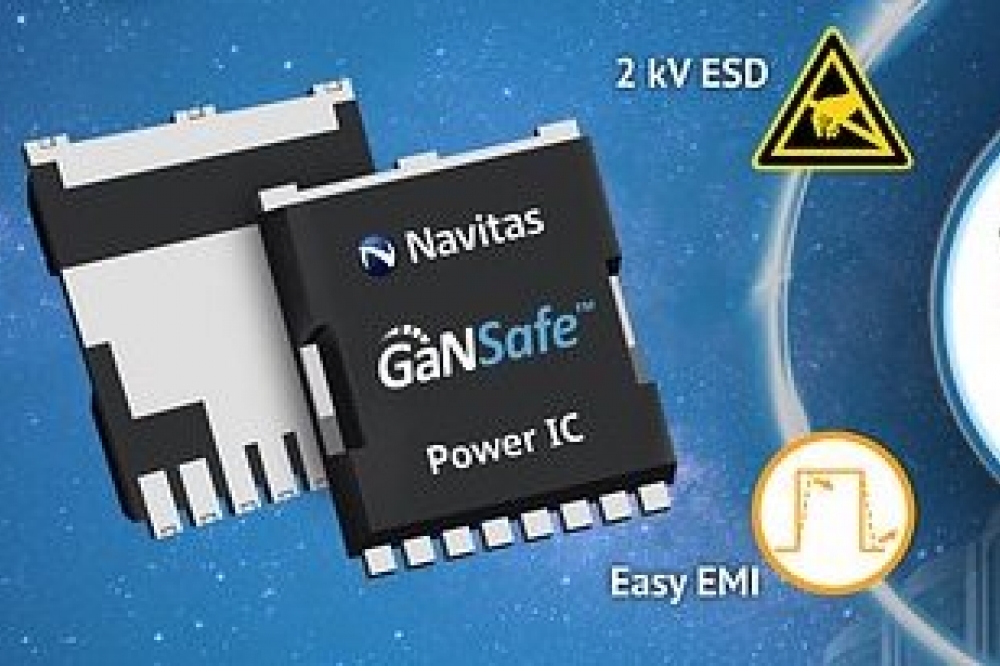 Next-gen power ICs feature new protection features and high-power packaging for gruelling high-temperature, long-duration conditions

Navitas Semiconductor has launched GaNSafe, a new, high-performance wide bandgap power platform for applications in data centres, solar / energy storage and EV markets. The new chips are manufactured in Hsinchu by long-term Navitas partner TSMC.

Navitas' current generation of GaNFast power ICs integrate GaN power and drive, with control, sensing, and protection. Now, the new GaNSafe platform has been engineered with additional, application-specific protection features, functions and new, high-power packaging to deliver enabling performance under grueling high-temperature, long-duration conditions.
The initial, high-power 650/800 V GaNSafe portfolio covers a range of RDS(ON) from 35 to 98 mΩ in a novel, robust, and cool-running surface-mount TOLL package, to address applications from 1,000 to 22,000 W.
"Our original GaNFast and GaNSense technologies have set the industry standard for mobile charging, establishing the first market with high-volume, mainstream GaN adoption to displace silicon," said Gene Sheridan, CEO and co-founder. "GaNSafe takes our technology to the next level, as the most protected, reliable and safe GaN devices in the industry, and now also targeting 1-22 kW power systems in AI-based data centres, EV, solar and energy storage systems. Customers can now achieve the full potential of GaN in these multi-billion dollar markets demanding the highest efficiency, density and reliability."
GaNSafe has a number of integrated features . These include protected, regulated, integrated gate-drive control, with zero gate-source loop inductance for reliable high-speed 2 MHz switching capability to maximise application power density. They also have high-speed short-circuit protection, with autonomous 'detect and protect' within 50 ns. ESD protection is 2 kV, compared to zero for discrete GaN transistors.
In addition, 650V continuous, and 800V transient voltage capability aid survival during extraordinary application conditions. Programmable turn-on and turn-off speeds (dV/dt) are said to simplify EMI regulatory requirements.
Navitas says that unlike discrete GaN transistor designs, with voltage spikes, undershoot and specification breaches, GaNSafe delivers an efficient, predictable, reliable system. GaNSafe's robust 4-pin TOLL package has achieved the tough IPC-9701 mechanical reliability standard, and delivers simple, strong, dependable performance as compared to multi-chip modules which require 3x as many connections, and have poor cooling capability.
The GaNSafe portfolio is available immediately to qualified customers with mass production expected to begin in Q4 2023. 40 customer projects are already in progress with GaNSafe in data centre, solar, energy storage and EV applications.