£300k award for Quinas ULTRARAM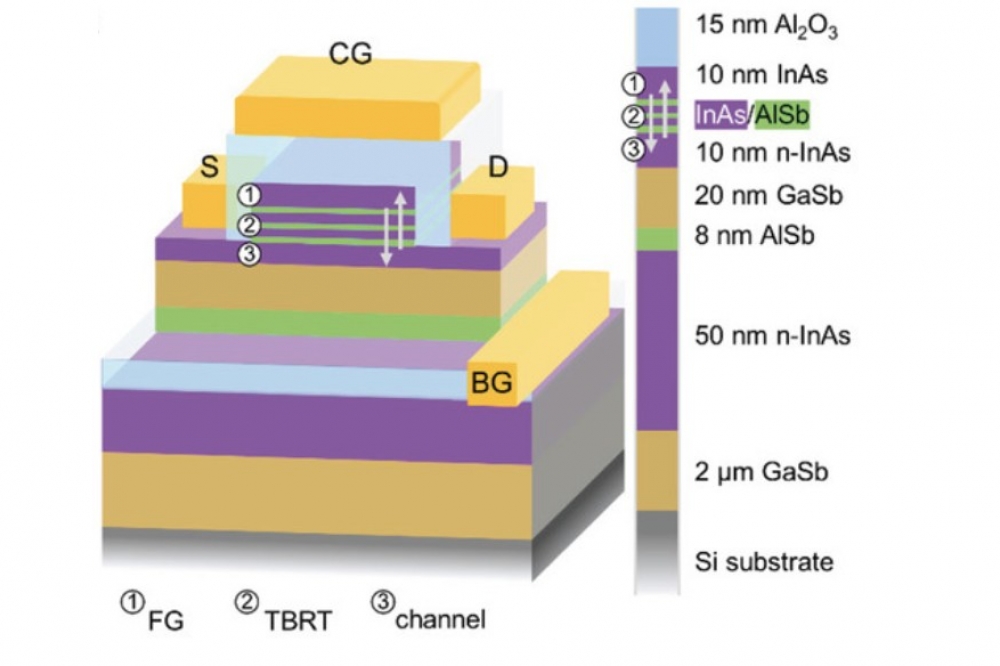 Lancaster University spinout gets funding to commercialise compound semiconductor memory

Lancaster University spinout company Quinas Technology has been awarded £300,000 from Innovate UK to commercialise the universal compound semiconductor-based computer memory ULTRARAM.

ULTRARAM is described as combining the best properties of DRAM and flash into a single device. It is fast, non-volatile, has high endurance and is orders of magnitude more energy efficient than other memory technologies. It achieves these properties by harnessing a quantum mechanical process called resonant tunnelling.
In a paper 'ULTRARAM: A low-energy, high-endurance, compound semiconductor memory on silicon', published in Advanced Electronic Materials (2022), the team described implementing ULTRARAM on a silicon substrate; a vital step toward cost-effective mass production.
The ULTRARAM outlined in this paper uses InAs quantum wells (QWs) and AlSb barriers to create a triple-barrier resonant-tunnelling (TBRT) structure. The 2.1 eV conduction band offset of AlSb with respect to the InAs that forms the floating gate (FG) and channel, provides a barrier to the passage of electrons that is comparable to the SiO2 dielectric used in flash memory. However, inclusion of two InAs quantum wells (of different thicknesses) within the TBRT structure, as shown in the figure above, allows it to become transparent to electrons when a low voltage (≈2.5 V) is applied, due to resonant tunnelling.
By using the TBRT heterostructure as the barrier between FG and channel, rather than the usual monolithic material, the paper authors say that a charge-based memory with extraordinary properties can be achieved. The memories showed clear 0/1 logic-state contrast after ≤10 ms duration program/erase pulses of ≈2.5 V. Furthermore, the Quinas team found that the combination of low voltage and small device capacitance per unit area resulted in a switching energy orders of magnitude lower than DRAM and flash, for a given cell size. Extended testing of the devices revealed retention in excess of 1000 years and degradation-free endurance of over 107 program/erase cycles, surpassing recent results for similar devices on GaAs substrates.
The inventor of ULTRARAM is Manus Hayne, professor of the Physics Department at Lancaster University and chief scientific officer at Quinas. He said: "This is a significant first step for a newly formed company and has fired the starting gun in the race to commercialise ULTRARAM, but it will be a marathon, not a sprint. We look forward to tackling the challenges that lie ahead."
The award from the UK's national innovation agency follows the completion of the intensive and highly competitive ICURe programme, which is designed to validate the commercial viability of leading-edge science and aid spinout formation. Only the most-promising ideas successfully 'graduate' from pitching to the ICURe panel, and even fewer are subsequently awarded funding.
Quinas' CTO, Peter Hodgson, who led the ICURe submission, said: "This award is a ringing endorsement of ULTRARAM and its commercial potential. The funding will allow us to demonstrate the performance of the memory devices at near-state-of-the-art feature sizes and help secure the significant investment required to bring a new technology to market."
Assessors were particularly impressed by the highly innovative nature of the project, with potential game-changing impact in the global $160bn memory market and the prospect of establishing a new UK industry-sector.
Quinas Technology is headed up by CEO and deep-tech entrepreneur, James Ashforth-Pook.