Scientists grow Ga2O3 films with MOVPE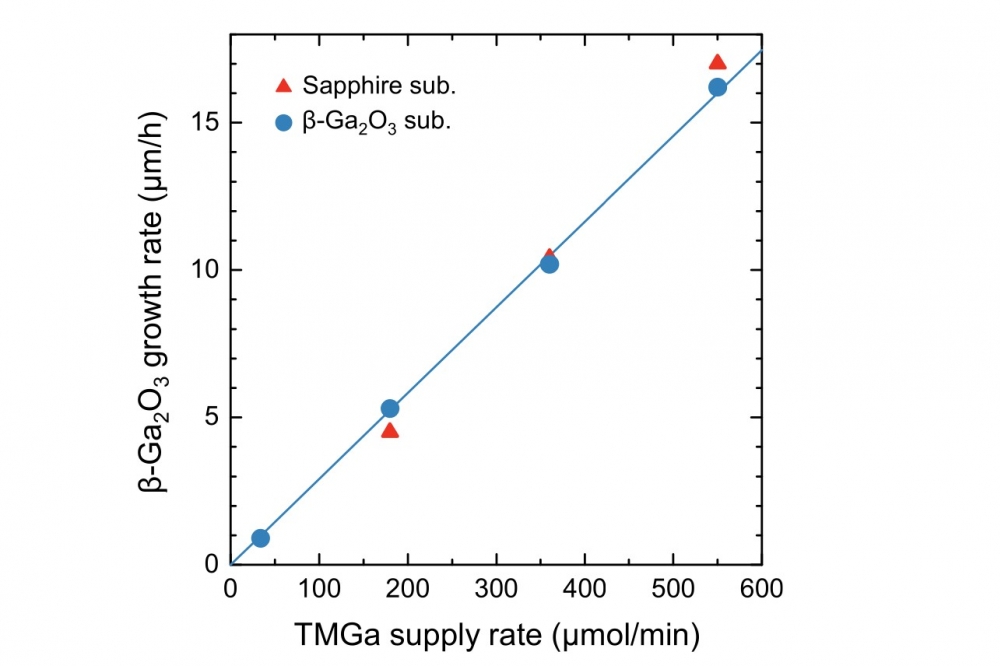 Japanese team achieves high-speed growth of thick high-purity β-Ga2O3 layers by low-pressure hot-wall MOVPE
Scientists from the Tokyo University of Agriculture and Technology in collaboration with Taiyo Nippon Sanso have achieved high-speed growth of high-purity β-gallium oxide (β-Ga2O3) thick films using MOVPE.
The team used trimethylgallium (TMGa) as the Ga precursor, and grew a thick layer at a rate of 16.2 μm h−1. They found that the growth rate of β-Ga2O3 could be increased linearly by increasing the TMGa supply rate. The graph above shows the TMGa supply rate dependence of the MOVPE growth rate of β-Ga2O3 layers on (0001) sapphire and (010) β-Ga2O3substrates at a reactor pressure of 2.4 kPa.
The results were published in the paper 'High-speed growth of thick high-purity β-Ga2O3 layers by low-pressure hot-wall metalorganic vapor phase epitaxy' in Applied Physics Express (APEX) on September 28th 2023.
The achievement is expected to lead to the practical application of mass production technology for β-Ga2O3 power devices, according to the team.