FBH to present latest UV LED developments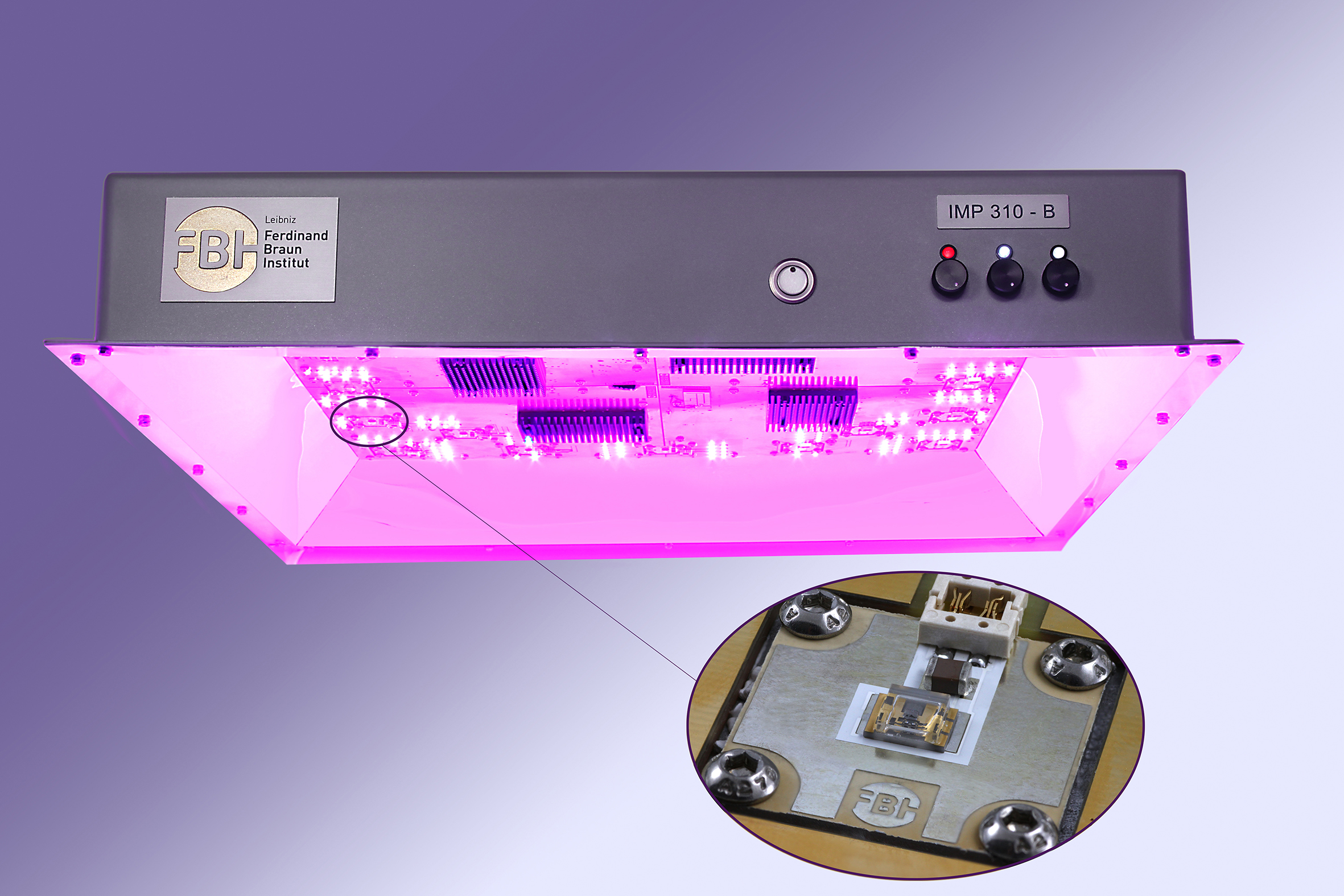 Berlin conference to feature UV-B LEDs with L50 lifetimes of 8,000 hours, diode laser-based light sources with an emission wavelength of 222 nm, and special packaging for UV LEDs in greenhouses
Ferdinand-Braun-Institut (FBH) and its spin-off UVphotonics NT will be presenting their latest UV LED developments at the International Conference on UV LED Technologies & Applications 2018 (ICULTA-2018 ) from April 22 to 25 in Berlin.
Increased efficiency and output powers plus small size make UV LEDs increasingly attractive for a constantly growing number of applications including disinfecting water, air and surfaces as well as for curing of synthetic materials. UV LEDs can be quickly switched and dimmed, and heat losses are efficiently dissipated via heat sinks. Unlike mercury vapour lamps, UV LEDs consist of non-toxic substances, and their wavelengths can be flexibly adjusted over a wide spectral range.

FBH and UVphotonics NT will be talking about their progress in manufacturing technologies, current developments, applications and trends related to UV LEDs.
They have identified, for instance, a degradation mechanism pointing to an operation-induced electro migration of hydrogen in the UV-B LED structure during the first hours of operation, which is accompanied by a drop in the optical power of the device.
After respective design adjustments, UV-B LEDs with L50 lifetimes of 8,000 hours could be demonstrated. Optimisation of the devices has led to even further improvements in the reliability of the LEDs with significantly longer L50 lifetimes expected. In addition, their output power at 350 mA could be increased to 30 mW. Methods to increase internal quantum efficiency and for efficient light extraction have been investigated in detail, too.
At the conference, FBH scientists will also present a compact diode laser-based light source for the deep UV spectral range with an emission wavelength of 222 nm and therefore in a region difficult to access with LEDs. The device converts the light of a GaN-based high-power diode laser into the UV spectral range via frequency doubling (single pass) and offers the potential for miniaturisation. The wavelength-stabilised, narrow-band light source is particularly suited for spectroscopy applications, such as absorption and Raman spectroscopy applied in medical diagnostics but also in substance analysis
Customised housings and ready-to-use modules
The FBH also develops packaging, supported by its Prototype Engineering Lab, even complete modules that are tailored precisely to fit the range of use.
For one of its research partners, for example, FBH has developed and realised several illumination systems, irradiating plants with LED light of specific wavelengths.
The system pictured shows a UV- LED light system with three different wavelengths. Their brightness and irradiation intensity can be adjusted individually in order to determine the optimum irradiation for structurally diverse vegetable secondary metabolites.
For use in greenhouses, UV LEDs need to be protected by special packages against enhanced degradation caused by the warm and humid environment. FBH displays one of these plant illumination modules along with a small water disinfection system at its exhibition booth.