Saule opens up licence for perovskite solar windows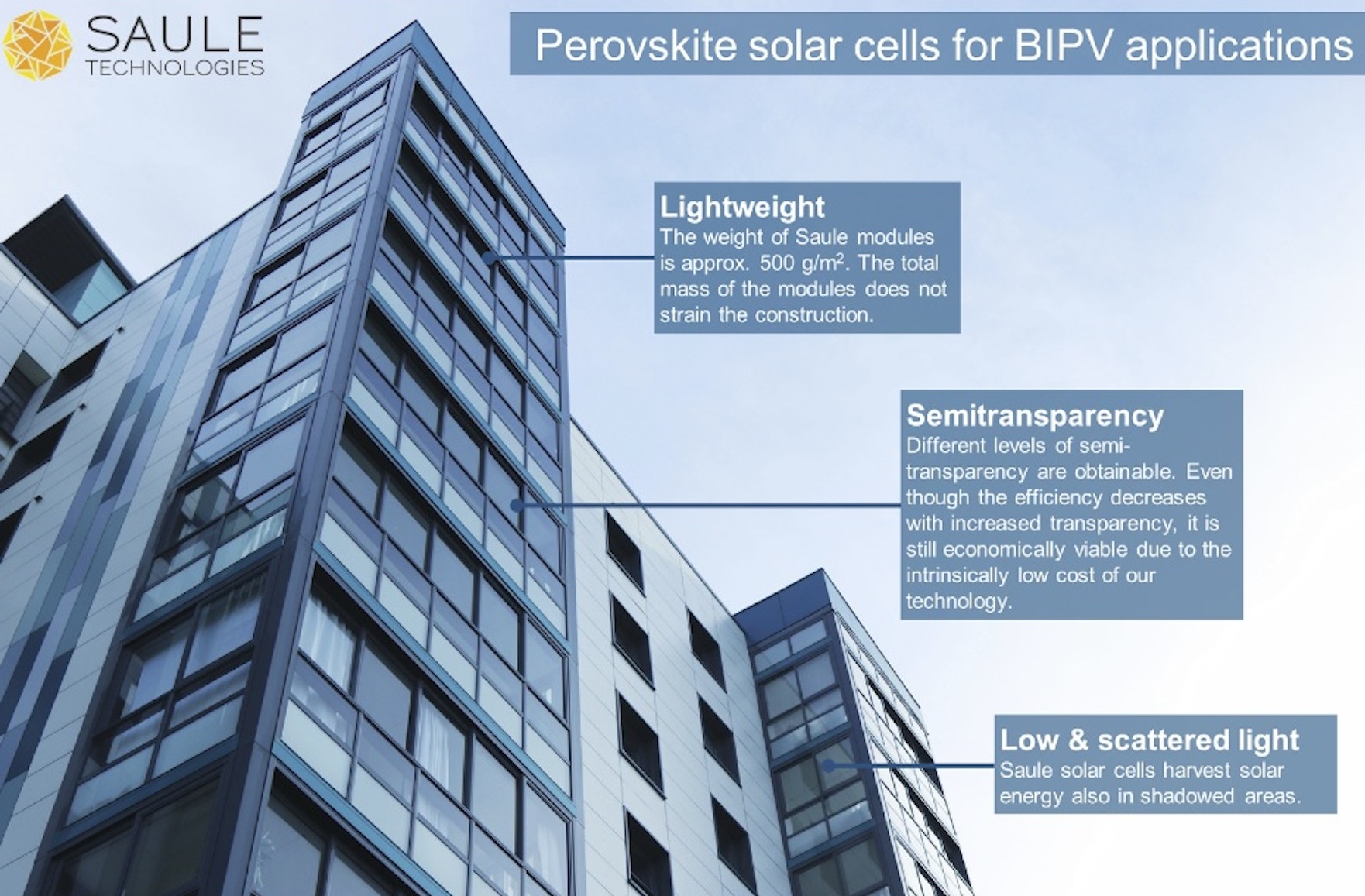 Company issues open call for companies interested in licence agreements for Middle Eastern countries
After announcing the first commercial contract in BIPV with Norwegian construction company Skanska, Saule Technologies has issued an open call for companies interested in licence agreements for Middle Eastern countries.

Saule, a high-tech company from Poland, signed a cooperation agreement with one of the biggest European construction companies in January, 2018. This has been described as the first step towards the market entrance of perovskite solar cells. Skanska will implement semi-transparent perovskite solar cells into office buildings on a commercial scale.
The Polish company is now offering flexible licence-based cooperation opportunities for companies active in the Middle East, available for entities interested in the development, distribution and integration of Saule's solar cells in BIPV applications.
The subject of the licence is an opaque PV product with very high energy conversion efficiency which can be easily integrated with building facades, and an efficient, translucent perovskite cell in any colour (so-called 'solar window'). Conditional licence (Exclusive Licence and Non-Exclusive Licence) for the use of any future product can be granted for a chosen country or group of countries not covered by the licence agreement with another entity.
"Our technology has advanced to a perfect stage now for our customers to take part in the product development process to make sure we meet all their needs and expectations. The goal is to cooperate with companies with a long-term renewable energy strategy, including solar energy harvesting technologies," says Piotr Krych, co-founder and CEO of Saule Technologies.
Saule Technologies has been working on the application of ink-jet printing for the fabrication of free-form perovskite solar modules since 2014. This technique allows the shapes and areas covered by each layer to be customised according to requirements. The stability and water resistance of the modules makes them ideal for the construction industry, according to the company.
The company cooperates with universities in the UK, Israel, Germany, Italy and Spain on advanced research on perovskite applications in solar energy harvesting and optoelectronics. In order to meet the conditions concerning the encapsulation of perovskites, Saule is leading the specific project for the ultra high barrier film with Ergis Group - a rigid plastics film producer in Europe. With a Japanese investor on board, along with support from the Polish National Centre for Research and Development and several research grants worth more than €20 million, Saule Technologies is now working on a large-scale, prototype production line.

"We find Middle East as one of the most promising regions for BIPV applications of our product. The latitude works obviously in favour of solar technology development and makes it one of the most desirable renewable energy sources there. We also noticed activities of local governments investing in solar energy development as a part of a long-term strategy of shifting from fossil fuels, " concludes Piotr Krych
Companies interested in licence-based cooperation opportunities are invited to reach Saule Technologies for specific details for a chosen country and terms and conditions of future cooperation.